"India that is Bharat is in Constitution" Jaishankar Mocks Opposition's G20 Invite Controversy
6 September, 2023 | Akshara Tyagi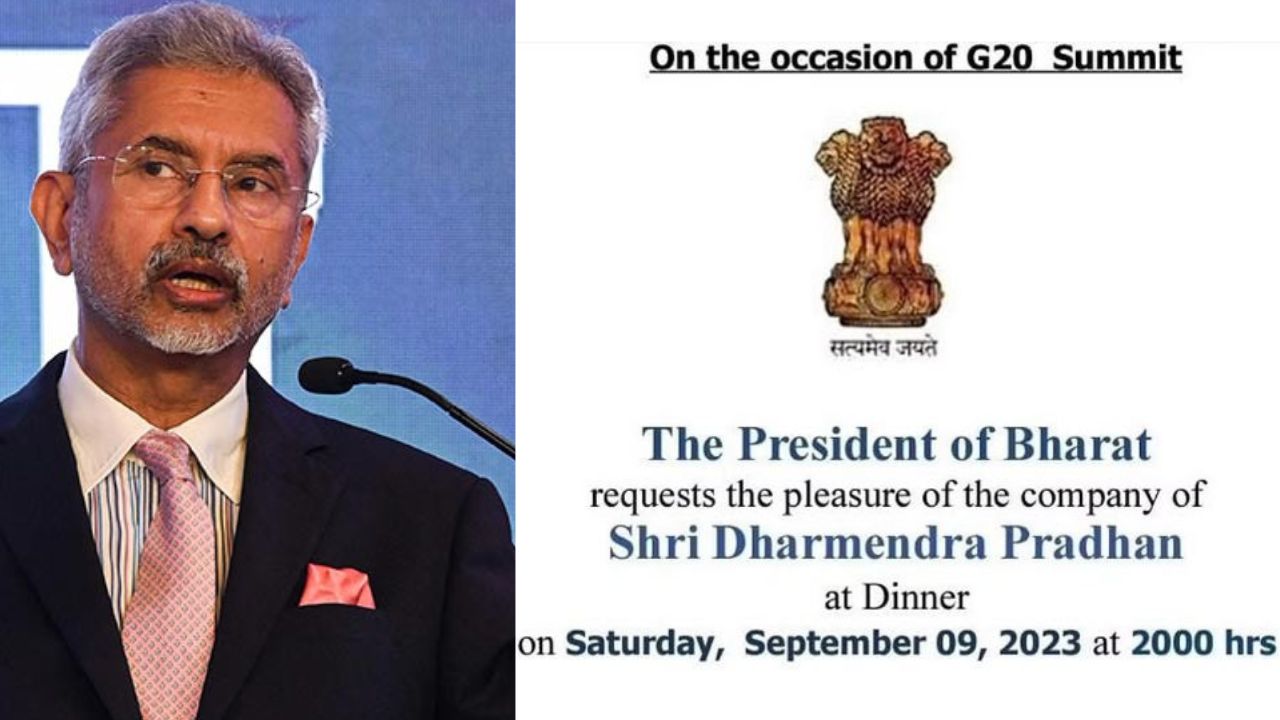 External Affairs Minister S. Jaishankar highlighted that the term 'India that is Bharat' is explicitly referenced in the Constitution
In a subtle jab at opposition parties regarding their remarks on the G20 dinner invitations sent on behalf of the 'President of Bharat,' External Affairs Minister S. Jaishankar highlighted that the term 'India that is Bharat' is explicitly referenced in the Constitution. During an exclusive interview with ANI, the minister emphasized that the Constitution echoes the significance of the term 'Bharat.'
India, that is Bharat; it is there in the Constitution. Please, I would invite everybody to read it," Jaishankar said.
The minister was questioned regarding the response of opposition parties and whether the government intends to rebrand India as Bharat in conjunction with the G20 summit.
Look, when you say Bharat in a sense, there is a meaning and understanding and a connotation that come with it, and that is reflected in our Constitution as well," Jaishankar said.
Opposition parties claim that the government's actions are mere theatrics, attributing them to their collective identification as India." In contrast, BJP leaders are firmly endorsing the government's initiative. Union Minister Dharmendra Pradhan shared a photo of the dinner invitation from the President on 'X' and included a few lines from the national anthem in his post.
"This should have happened earlier. This gives great satisfaction to the mind. 'Bharat' is our introduction. We are proud of it. The President has given priority to 'Bharat'.
This is the biggest statement to come out of the colonial mindset," the minister told ANI.
"So the news is indeed true. Rashtrapati Bhawan has sent out an invite for a G20 dinner on September 9th in the name of 'President of Bharat' instead of the usual 'President of India'.
Now, Article 1 in the Constitution can read: "Bharat, that was India, shall be a Union of States. But now even this "Union of States" is under assault," he said in a post on 'X', formerly known as Twitter.
The Congress leader accused the Modi government of attempting to manipulate history and stated that "Bharati" represents the objective of Indian parties, which is to "bring harmony, amity, reconciliation, and trust." Jairam Ramesh remarked, "Judega BHARAT Jeetega India!"
Jaishankar also discussed the government's initiatives to host G20 events across various regions of the nation, emphasizing the importance of contemporary India cultivating a heightened global awareness.
In various cities and states, across diverse professions and generations, there exists a feeling of involvement and responsibility.
This extends beyond just the G20 and reflects a broader mindset. It encompasses aspects such as the methods for choosing political leaders today as well as the distribution of economic and social advantages.
"It could be about educational access or health access; I think the country in the last ten years has become much more democratized. That it isn't in the capital; it isn't only in the metropolitan cities; it isn't even in the big cities; you've taken it out; anything good that has happened in this country has been taken out to the entirety of this country," the foreign affairs minister said.
"It's absolutely essential that today's India develop sharper global awareness. Global awareness, because we do see when the Prime Minister speaks about Amrit Kaal that we have these 25 years where enormous possibilities are there before us. But those possibilities are realizable only when you understand the world," Jaishankar said.
Also Read: National Capital Gears Up to Welcome G20 Summit Delegates
Catch all the Latest Business News, Breaking News Events, and Latest News Updates on NewsX