Jal Jeevan Mission surpasses target, provides tap connections to 13 crore rural households
5 September, 2023 | Srishti Ruchandani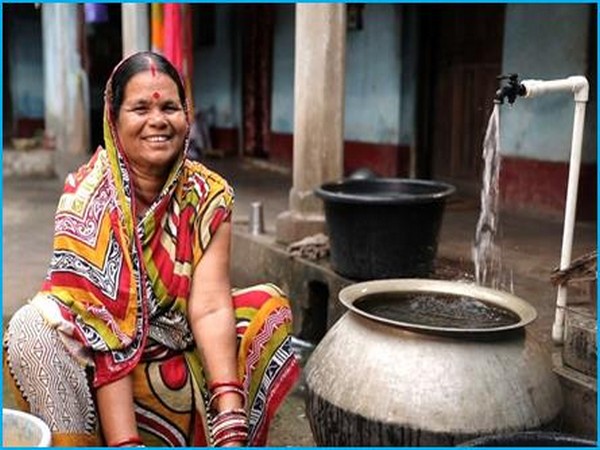 As of now,6 states& 3 UT have reported 100% coverage and they are Goa, Telangana, Haryana, Gujarat, Punjab, Himachal Pradesh, Puducherry, Daman and Diu, Dadra and Nagar Haveli and the Andaman.
The Jal Jeevan Mission (JJM) has marked a milestone by providing tap water connections to 13 crore rural households. Over the course of four years, this mission has increased rural tap connection coverage, soaring from 3.23 crore households in August 2019 to the current remarkable figure. Initiated by Prime Minister Narendra Modi on India's 73rd Independence Day on August 15, 2019, the Jal Jeevan Mission has been working diligently to transform rural India's access to safe and reliable drinking water, read the Ministry of Jal Shakti press release.

As of now, six states and three union territories have reported 100 percent coverage and they are Goa, Telangana, Haryana, Gujarat, Punjab, Himachal Pradesh, Puducherry, Daman and Diu, Dadra and Nagar Haveli and the Andaman and Nicobar Islands.
Other regions like Bihar (96.39 percent) and Mizoram (92.12 percent) are also swiftly moving towards saturation. In states and union territories certified as 'Har Ghar Jal' regions, villagers have confirmed that all households and public institutions receive sufficient, safe, and regular water supply, read the press release.

This certification has been granted to Goa, Haryana, Punjab, Andaman and Nicobar Islands, Puducherry, Daman, and Diu, and Dadra and Nagar Haveli read the release.
Moreover, the Jal Jeevan Mission has made notable progress in providing tap water supply to schools and Anganwadi centers across the country.
Currently, 88.73 percent of schools and 84.69 percent of Anganwadi centers have access to tap water supply.

Uttar Pradesh has taken the lead in the current fiscal year, installing 61.05 lakh Functional Household Tap Connections (FHTC) since January 2023, according to the release.
The mission has not only transformed the water supply landscape but also contributed to significant socio-economic benefits for rural communities.
Regular access to tap water has freed women and young girls from the arduous task of carrying heavy water loads, allowing them to engage in income-generating activities, acquire new skills, and support children's education.

Community participation has been a core principle of the Jal Jeevan Mission, involving local communities in the planning, implementation, operation, and maintenance of rural piped water supply schemes.
More than 5.27 lakh Village Water & Sanitation Committees (VWSC)/ Pani Samitis have been formed, and 5.12 lakh Village Action Plans (VAPs) have been developed, encompassing plans for drinking water source augmentation, greywater treatment and reuse, and regular maintenance of in-village water supply systems, read the release.

Furthermore, the mission has addressed the challenges of arsenic and fluoride contamination in drinking water sources. Now, safe drinking water is available in all habitations previously affected by arsenic and fluoride contamination.

The Jal Jeevan Mission is committed to providing not just water but ensuring the delivery of quality water consistently. Regular water testing is conducted from source to delivery points to maintain the highest standards of water quality.
This mission is a testament to the government's dedication to providing safe and affordable water to all, in line with Sustainable Development Goal 6 (SDG 6), which focuses on ensuring access to clean water and sanitation for all