7 killed after Katra-bound bus falls into gorge in Jammu, concerns over transport and infra
30 May, 2023 | Vaishali Sharma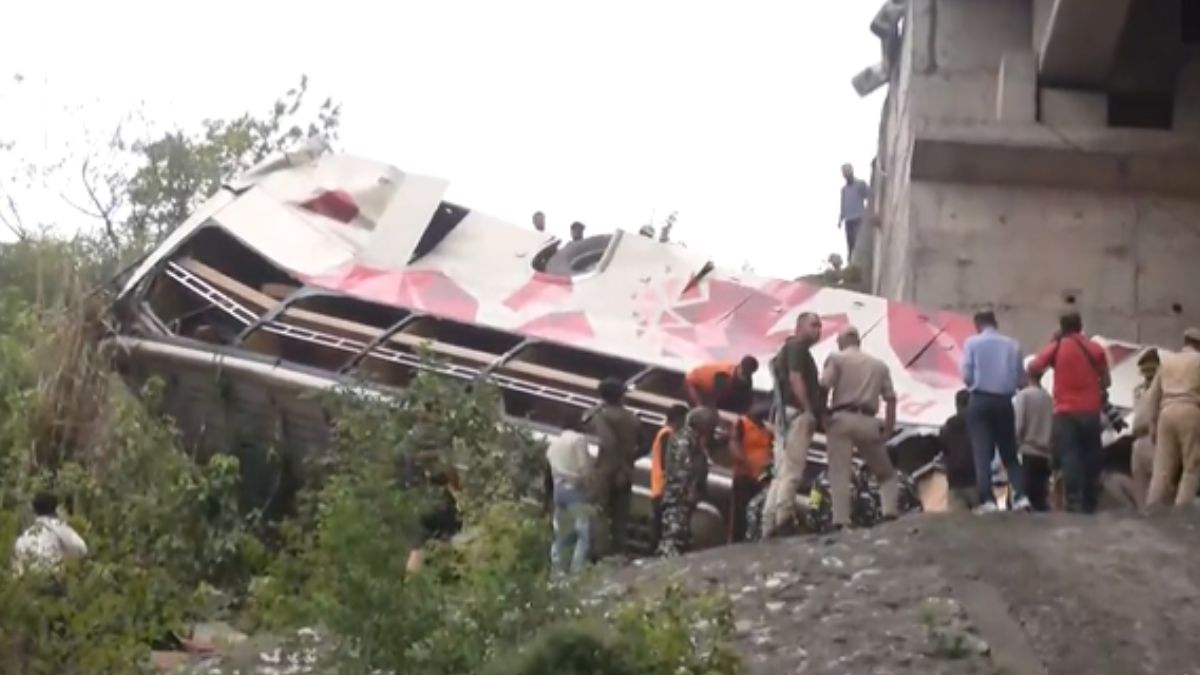 A tragic incident occurred on the Jammu-Srinagar National Highway, resulting in the loss of several lives and injuries to numerous individuals.
A tragic incident occurred on the Jammu-Srinagar National Highway, resulting in the loss of several lives and injuries to numerous individuals. This report provides an overview of the accident, including details of the incident, casualties, and subsequent developments. Furthermore, it highlights the need for enhanced attention to infrastructure and transport safety across India.
On Tuesday, a bus travelling from Amritsar to Katra veered off the road and plunged into a deep gorge near Jhajjar Kotli, approximately 15 kilometres from Katra in the Jammu district. The accident took place on the Jammu-Srinagar National Highway, a vital roadway connecting the two regions. Officials confirmed that at least seven people lost their lives, while four others sustained severe injuries. The injured individuals were promptly transferred to GMC Jammu, and an additional 12 people received medical care at the Local Public Health Centre.
Second Accident in the Region
This recent tragedy marks the second fatal accident in the area within a short span of time. Just a week prior, on May 21, another accident occurred in Katra's Moori locality, claiming the life of a pilgrim and injuring 23 others. These incidents emphasize the pressing need to address safety concerns and implement preventive measures in the region.
Additional Accident in Rajasthan: Only a day prior to the Jammu accident, a separate incident unfolded in Rajasthan's Jhunjhunu district. A tractor-trolley fell into a gorge, resulting in the death of eight individuals, including six women and two minors. An additional 26 people suffered injuries in this unfortunate incident, as reported by the Press Trust of India (PTI).
Concerns and Analysis
The recurrence of such incidents across various regions of India underscores the need for a comprehensive assessment of infrastructure and transport safety. While the construction of highways and expressways has been a priority, the recent accidents highlight the urgency of redirecting attention toward improving overall safety standards.
The development and maintenance of robust infrastructure, including roads, bridges, and safety barriers, are crucial to ensuring the safety of commuters. Additionally, implementing stricter regulations for vehicle maintenance and driver training can play a pivotal role in mitigating risks associated with transportation.
The tragic bus accident on the Jammu-Srinagar National Highway, along with the incident in Rajasthan, raises concerns about infrastructure and transport safety throughout India. These incidents underscore the need for a comprehensive evaluation of existing safety measures and the allocation of resources to address potential shortcomings. By prioritizing infrastructure development and enhancing transportation safety protocols, authorities can work towards preventing similar accidents and safeguarding the lives of citizens.