"Journey began with 2 Lok Sabha seats is now at 303 seats,": Modi
29 March, 2023 | Pragati Singh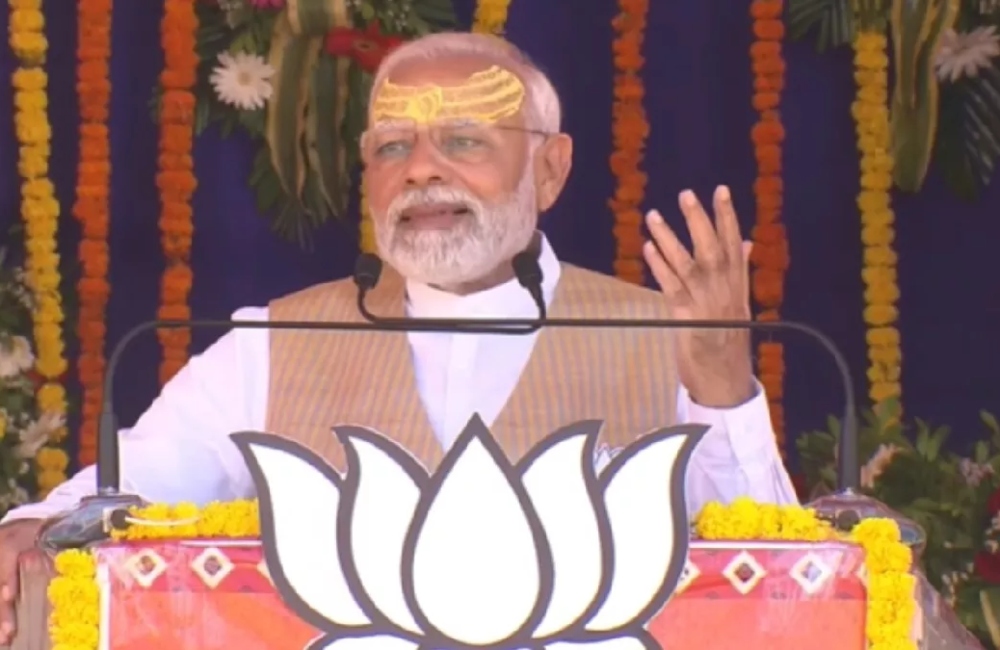 The Prime Minister described the party's 44th founding anniversary as "tireless and continuous."
After inaugurating the newly constructed BJP Central Office (extension) on Tuesday, Prime Minister Narendra Modi said the party's journey from two Lok Sabha seats in 1984 to 303 seats in 2019 has been an inspirational journey of thought and ideology expansion.
On the occasion, PM Modi also inaugurated the presidential campus and auditorium here in the national capital. Addressing the inaugural event, PM Modi said, "When I inaugurated the party office in 2018, I had said that our workers are the soul of our office. Today, when we are expanding our office, it is not just the expansion of one building but it is also an expansion of the aspirations of every worker, and their commitment towards the BJP. I bow to crores of workers and founder members of the party".
The Prime Minister described the party's 44th founding anniversary as "tireless and continuous."
"In the coming days, our party will celebrate its 44th inauguration day. It has been a tireless and continuous journey. It is a culmination of hard work, the pinnacle of dedication and resolutions, expansion of thought and ideology, and is very inspirational," PM Modi said.
"Bharatiya Jana Sangh had started with a small office near Ajmeri Gate in Delhi. At that time, we were a very small party with big dreams for the country. In 1980, after BJP was formed, for some time, 10 Rajendra Prasad Marg became our office, where Nanaji Deshmukh stayed earlier. Some workers would also remember our office at 11 Ashoka Road. Our office also shifted at Deendayaal Upadhyay Marg," PM Modi said while recalling the party's journey and rise through ups and downs.
The Prime Minister stated that even during the Emergency, the BJP was willing to sacrifice itself in order to save democracy.
"What happened in 1984, the country can never forget that. Elections after the 1984 riots saw a huge majority for the Congress party. It was an emotionally charged atmosphere, and we were also almost wiped out in that storm. But, we didn't lose hope. Instead of blaming someone else, we focussed on strengthening our organisation. The journey that started from two Lok Sabha seats back then reached 303 in 2019," PM Modi further said.
He went on to say that the BJP is the only pan-India political party that spans the entire country.
"Among the family-run political parties, BJP is a political party that gives opportunities to the youth. Today in many states we have more than 50 percent of the votes. Today from North to South, from East to West, BJP is the only Pan-India party. In North East, we have a coalition government in two states and one with the majority. In Tamil Nadu and Karnataka, our party is getting stronger at the district and booth levels," he said.
The Prime Minister stated that the BJP is currently being discussed and compared to other major political parties around the world.
"Today, BJP is not just the world's largest party, but also India's most futuristic party. Our sole target is making the developed and advanced India for the future. The slogan of 'Sabka Saath, Sabka Vikas, Sabka Vishwas' is being translated and used by other parties of the world," PM Modi further said.
"BJP is not about contesting and winning elections. It is an idea, and that is unity. And it is synonymous with development," he added.
PM Modi and other leaders also performed prayers and paid respects to the party's founders during the event. Union Home Minister Amit Shah, party president JP Nadda, senior party leader Murli Manohar Joshi, and several other senior party leaders attended the event.