Judicial custody of TN Minister Senthil Balaji extended to Aug 8
26 July, 2023 | Srishti Ruchandani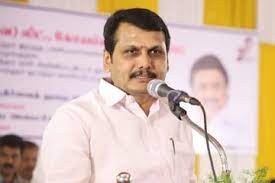 On Wednesday, Tamil Nadu sessions court extended the custody of accused minister V Senthil Balaji in judicial custody till August 8, 2023.
Senthil Balaji's judicial custody has been extended by the Chennai Sessions Court until August 8 as of this Wednesday. Judge S Alli, the principle judge, issued the order.
Earlier on Friday, the Tamil Nadu Minister appealed the Madras High Court's decision holding the ED's detention of him in a money laundering case to be valid. The Supreme Court responded by sending a notice to the ED. On July 14, the Madras High Court upheld as valid Balaji's detention by the ED and subsequent judicial custody award by a lower court on accusations of money laundering against him related to the cash-for-jobs scandal.
The High Court order further clarified that time spent by Balaji under medical treatment in a private hospital would be excluded from the period of custody allowed to the ED.
Senthil Balaji, who is still a Minister without a portfolio, was detained by the ED last month in connection with the cash-for-jobs scandal that took place in the state's transport department.
Balaji, the minister for excise, prohibition, and electricity, was detained on June 14 and taken to a government hospital in Chennai after reporting chest pains. On June 15, the Madras High Court allowed his relocation to the private hospital of his choice.
Later, he was taken from the Tamil Nadu government's Multi Super Speciality Hospital to Kauvery Hospital at Alwarpet. Doctors attending to him recommended bypass surgery.
Balaji was arrested by the ED in connection with an Enforcement Case Information Register (ECIR) that was submitted in 2021 under the Prevention of Money Laundering Act. The three FIRs that the local police filed against him in 2018 as a result of his alleged involvement in a cash-for-jobs scandal while serving as the Transport Minister in Jayalalithaa's Cabinet in 2015 led to the registration of the ECIR.
The charges date back to his tenure as transport minister during the All India Anna Dravida Munnetra Kazhagam (AIADMK) government from 2011 to 2015. He joined the Dravida Munnetra Kazhagam (DMK) in December 2018 and assumed office as the Electricity Minister after the party came to power in May 2021