Plane's Technical Problem Resolved, Justin Trudeau Set to Return to Canada Today
12 September, 2023 | Akshara Tyagi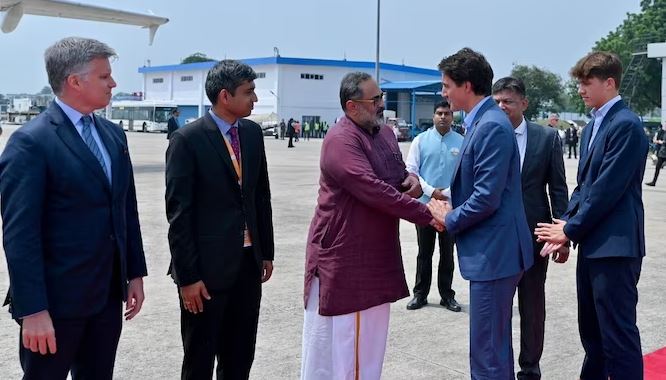 The Canadian Prime Minister, Justin Trudeau, along with his delegation, is scheduled to leave in the afternoon on Tuesday, as the technical problem with his plane has been fixed
The Canadian Prime Minister, Justin Trudeau, along with his delegation, is scheduled to leave in the afternoon on Tuesday, as the technical problem with his plane has been fixed, confirmed Mohammad Hussain, the Press Secretary of Canada's Prime Minister's Office.
"The technical issue with the plane has been resolved. The plane has been cleared to fly. The Canadian delegation is expected to depart this afternoon," Hussain told ANI.
The Canadian Prime Minister, who had arrived in India for the G20 Summit on Friday, had to extend his stay in New Delhi due to a technical problem with his plane.
Trudeau, accompanied by his son Xavier and a Canadian delegation, had originally planned to depart on Sunday night. However, a replacement aircraft dispatched to pick up Trudeau was redirected to the UK, with departure from the UK slated for early Tuesday morning (London time). According to Canada-based CBC News, Trudeau continued to conduct his work from his hotel in New Delhi.
Earlier reports indicated that the Royal Canadian Air Force dispatched a CC-150 Polaris from CFB Trenton to India on Sunday night to retrieve Justin Trudeau and the Canadian delegation. Canada's National Defence had clarified that the issue involved a component that needed replacement.
Canada's National Defence in a statement earlier said, "The safety of all passengers is critical to the RCAF and pre-flight safety checks are a regular part of all of our flight protocols," CBC News reported.
It further said, "The discovery of this issue is evidence that these protocols are effective."
According to the news report, a problem with the 36-year-old CC-150 Polaris aircraft was detected during the preflight inspection. This isn't the first instance where the Polaris fleet has caused issues for Prime Minister Trudeau.
Back in October 2016, an issue with the aircraft forced it to return to Ottawa just 30 minutes after takeoff with Trudeau on board. In October 2019, the aircraft was involved in an incident where it collided with a wall while being towed into a hangar at 8 Wing Trenton, resulting in significant structural damage to the nose and right engine cowling, as reported by CBC News, citing information from the Air Force.
In 2019, the VVIP plane remained out of service for 16 months. To address these challenges, the Canadian government has purchased nine aircraft, including some new and used ones, to replace the existing fleet.
These widebody jets will replace the Royal Canadian Air Force's (RCAF) Airbus A-310s, also known as the Airbus CC-150 Polaris, which are used for the Prime Minister's international trips and transporting security personnel.
In addition to participating in the G20 Summit, Prime Minister Trudeau held a meeting with Prime Minister Narendra Modi during the Summit in New Delhi. Trudeau also extended congratulations to PM Modi for the successful India G20 Presidency. During their meeting, PM Modi emphasized that the relationship between India and Canada is founded on shared democratic values, respect for the rule of law, and strong people-to-people connections, according to the Ministry of External Affairs.
Furthermore, PM Modi raised "serious concerns" about ongoing "anti-India activities" carried out by extremist elements in Canada and stressed the importance of both nations collaborating to address such threats.
Also Read: Punjab CM Mann Distributes Job Offer Letters to 249 Candidates in Different Departments
Catch all the Latest Business News, Breaking News Events, and Latest News Updates on NewsX