LJP to decide on alliance with NDA in next 2-3 meets says Party chief Chirag Paswan
9 July, 2023 | Anupam Shrivastava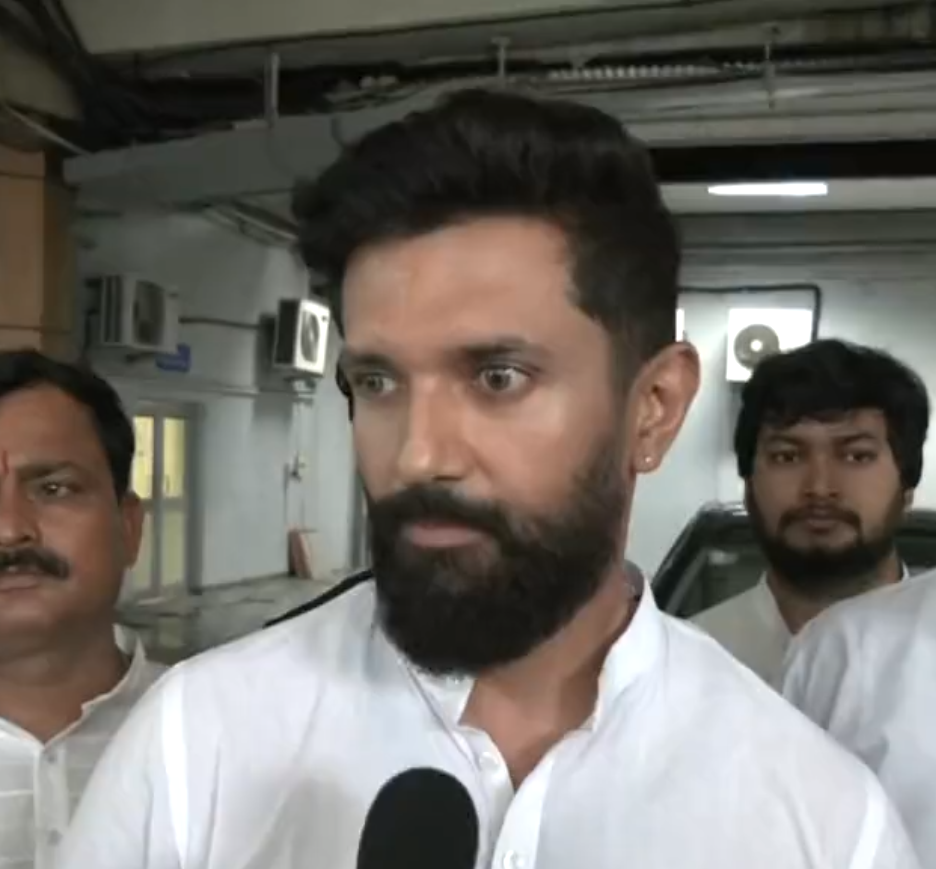 After party gathering at his home in Patna, Chirag Paswan announced that he was given full authority by the party leaders to decide on forming an alliance for the 2024 Lok Sabha elections.
Chirag Paswan, head of the Lok Janshakti Party (Ram Vilas), denied rumours that he would join the NDA on Sunday, saying that he would make a decision about creating an alliance for the next 2024 Lok Sabha elections after another one to two meetings with party leaders.
After presiding over a significant gathering of the party's national and state officeholders at his home in Patna, Bihar, Paswan told the media that the party's leaders had "authorised" him to make any decisions on the formation of an alliance for the upcoming 2024 Lok Sabha elections.
 "Party leaders today have authorised me to take any decision regarding forming an alliance for the upcoming 2024 Lok Sabha elections and also state elections, but till now, it would not be good to talk publicly on alliance," Chirag Paswan said.
Chirag Paswan had formed LJP(RV) after disagreements with Uncle Pashupati
He did not, however, answer inquiries about taking an oath in front of the Union cabinet. Following Chirag Paswan's disagreements with his uncle Pashupati Kumar Paras, a Union minister, the Lok Janshakti Party (Ram Vilas) was founded in October 2021 after receiving a unique emblem from the electoral commission.
In order to rebel against Bihar Chief Minister Nitish Kumar, Paswan, who would serve as the national president of the Lok Janshakti Party in the 2020 assembly elections, left the NDA.
The LJP received only 5.66% of the vote in the 2020 Bihar assembly elections, obtaining one seat. The lone MLA who was elected with the LJP emblem eventually joined the JD(U).
Nityanand Rai attacked opposition after meeting Chirag on June 23
Chirag Paswan visited Nityanand Rai, the BJP politician and minister of state for home affairs, in Patna before to the meeting with the party leaders. Following the meeting, Nityanand Rai attacked the June 23 opposition party gathering in Patna and said that the opposition's unity was motivated by concern about Prime Minister Narendra Modi's popularity.
Additionally, he remarked that it was nice to see Ram Vilas Paswan and the BJP because they had worked hard for public welfare.
"This is our old home. It is always good when we meet. Ram Vilas Paswan and BJP have worked for the welfare of the people. The opposition unity is due to fear of PM Modi's popularity. Neither do they have a leader nor any policy…They should learn about policy, service and leadership from PM Modi…," Nityanand said.