Masters' Union launches world's first program for Content Creators
4 July, 2023 | newsx bureau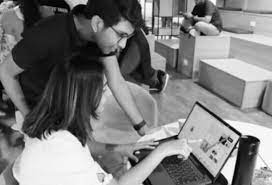 Influencers earn an average of $2,970 (approximately Rs 2.44 lakhs) per month from their Instagram account.
Masters' Union, the new-age practitioner-led B-school, has launched India's and the world's
first-ever formal education programme for content creators. Recognising a lack of professional training,
this innovative initiative seeks to bridge the education gap in the rapidly expanding $104 billion Creator
Economy and provide aspiring content creators with the skills and knowledge required to thrive in this
dynamic industry.
The creator economy has grown at an exponential rate in recent years, transforming how people
interact with content and monetize their skills. The overall creator economy market size is anticipated to
be around $104.2 billion, and the global influencer market is worth an estimated $16.4 billion. The
influencer marketing industry in India was worth more than $146 million in 2022. Over the next five
years, it was expected to grow at a compound annual growth rate of 25%. The industry is providing
content creators with opportunities to earn salaries on par with those of MBAs, data scientists, doctors,
and other highly skilled individuals.
According to HypeAuditor, influencers earn an average of $2,970 (approximately Rs 2.44 lakhs) per month from their Instagram account. This varies significantly depending on the number of followers; micro-influencers earn $1,420 (approximately Rs 1.17 lakhs) per month, while mega-influencers earn $15,356 (approximately Rs 12 lakhs) per month. With over 207 million content creators worldwide and full-time creators utilising an average of 3.4 channels for audience engagement, the demand for comprehensive education in content creation and entrepreneurship is evident.
Despite the growth of the Creator Economy and 'Creator-preneurship' emerging as one of the most
popular skills and professions, there has been a notable lack of professional education programmes
tailored specifically to content creators. Recognising this critical gap, Masters' Union has taken the
necessary step of providing aspiring content creators with the tools they need to succeed in this
competitive environment. The Masters' Union 4-month programme has been meticulously curated by
industry experts who have extensive experience in the fields of content creation, digital marketing,
branding, and storytelling. The intensive programme will be delivered by some of the most successful
content creators and strategists. Students will gain a thorough understanding of content strategy,
audience engagement, monetization models, intellectual property rights, and the ethical aspects of
content creation through a combination of theoretical knowledge and practical training.
"Masters' Union is dedicated to unlocking the limitless potential of aspiring content creators and
preparing them for resounding success in the ever-changing creator economy. We hope to bridge the
critical gap between creativity and entrepreneurship with our transformative programme for
'Creatorpreneurs', empowering individuals to forge not just fleeting success but enduring and
sustainable careers as content creators. This structured professional course aims to place participants at
the forefront of this exciting industry and empowers them to forge their own path to success," said
Pratham Mittal, Founder, Masters' Union.
"Today marks a significant milestone in the world of content creation with the introduction of the first-
ever professional programme for content creators. I have witnessed the transformative power of
technology firsthand. With LLA's transition to the digital landscape in 2017 and the success of ThinkVID,
India's premier YouTubers' conference, it became evident that content creators needed a comprehensive
platform to enhance their skills and navigate the complexities of the industry. Looking back, I wish I had
access to such a programme earlier in my career; it would have enabled me to achieve even greater
heights. Today, I am thrilled that Masters' Union is unveiling this pioneering endeavour, driven by the
vision to unlock new opportunities, foster innovation, and shape the future of this dynamic industry",
said Rishab Jain, Founder and Labor Law Consultant at Labour Law Advisor (LLA).
The programme serves as the ultimate launchpad for aspiring content creators, equipping them with the
tools and strategies necessary to succeed as entrepreneurial creators. The curriculum is diverse,
covering a wide range of content formats such as video production, editing, blogging, social media
management, influencer marketing, and more. Students will also have access to cutting-edge technology
and state-of-the-art facilities to hone their creative skills and gain hands-on experience in a professional
setting.
Renowned creators like Sumit Singh and Raj Shamani will provide mentorship through workshops, sharing invaluable insights and inspiration. Understanding algorithms on platforms like YouTube, Instagram, and LinkedIn is crucial, and the programme will provide participants with deep insights and effective strategies to maximise reach and engagement. Additionally, the top three participants would have the opportunity to secure grants up to INR 10 lakh, providing financial support for further channel development and exceptional content creation.