Modi in France: Indian diaspora extends a warm welcome to PM Modi
13 July, 2023 | Srishti Ruchandani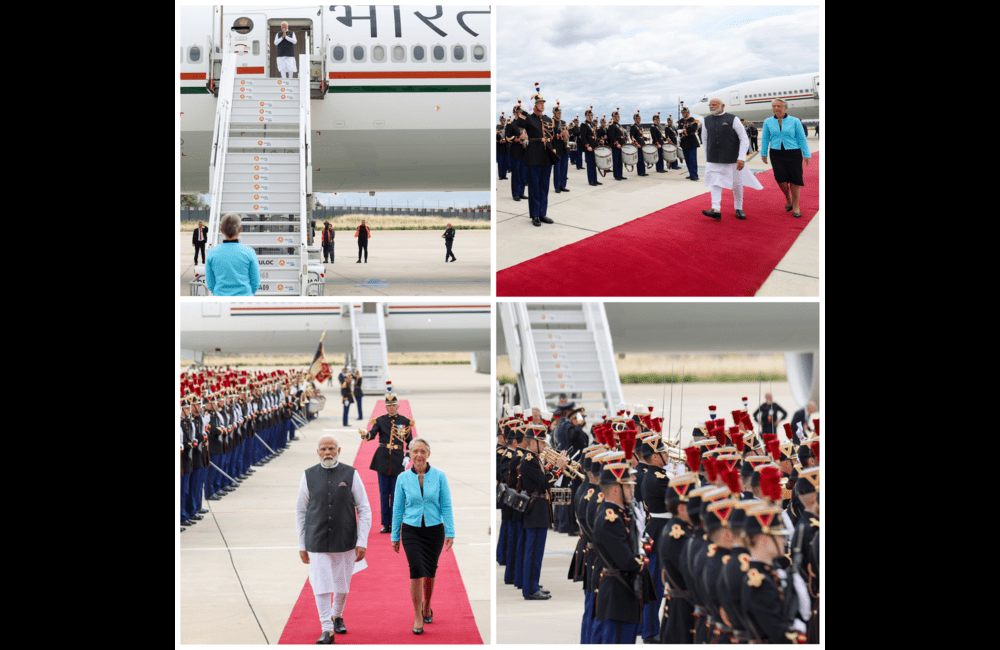 Prime Minister Narendra Modi, who landed in Paris, on Thursday for a 2-day visit to the France, gets a ceremonial welcome by French counterpart and Indian community.
Prime Minister Narendra Modi arrived in Paris on Thursday afternoon for a two-day visit.
The strategic alliance between the two nations celebrates its 25th anniversary this year.
In his remarks before leaving, Prime Minister Modi stated that strong cooperation exists between India and France in a number of domains, such as military, space, civil nuclear, the blue economy, commerce, investment, education, culture, and people-to-people ties. He termed the visit as "particularly special".
In a special gesture, French PM Elisabeth Borne received PM Modi at the airport.
A ceremonial welcome and Guard of honour were accorded to Prime Minister Modi.
"Vive l'amitié franco-indienne! PM @narendramodi alights at the Paris airport. Accorded a ceremonial welcome. In a special gesture, PM @Elisabeth_Borne received him at the airport. PM's intensive program in Paris includes participation in the Bastille Day celebrations & a slew of engagements with the French leadership, Indian diaspora, CEOs and prominent personalities," tweeted the Ministry of External Affairs spokesperson upon PM Modi's arrival.
PM Modi received a rousing welcome from the Indian diaspora in Paris. They warmly welcomed PM Modi while raising slogans of "Bharat Mata Ki Jai" and "Vande Matram." While others sang songs and presented gifts to PM Modi, several were spotted taking photographs with him. It was a show of unity in diversity in Paris as people from different faiths and different walks of life thronged at the hotel to shower love on PM Modi. One Indian woman even became emotional when taking a photo with PM Modi and dedicated a song to him. A large number of people of the Indian community had gathered outside the hotel in Paris.