Mumbai hosts the Durand Cup trophy tour
8 July, 2023 | Poorti Buttan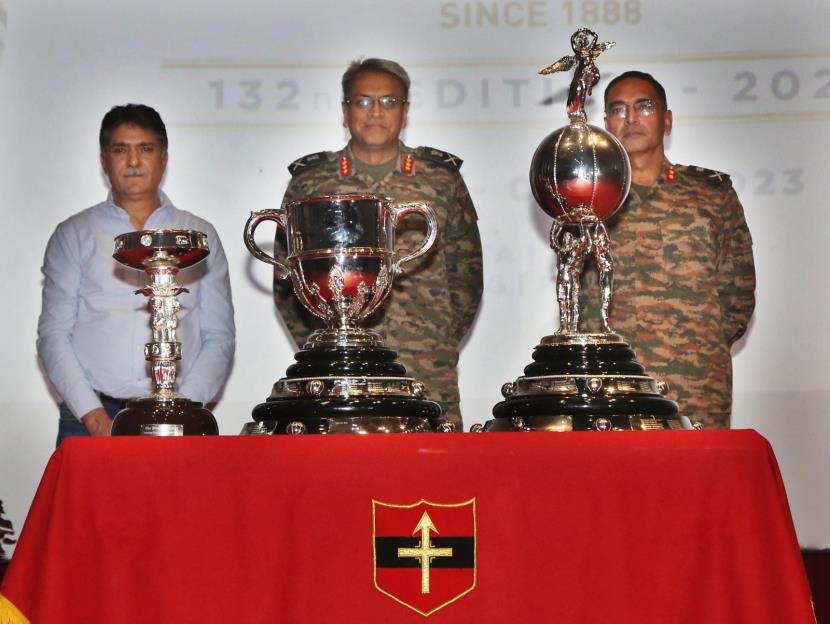 3 magnificent Durand Trophies were received at the Army Officers Institute (AOI) in Colaba in a poignant ceremony.
Mumbai conducted the Trophy Tour for the 132nd Edition of the historic Durand Cup Football Competition with great zeal and excitement. Chief Guests, V Adm Dinesh K Tripathi, AVSM, NM, FOC-in-C, Western Naval Command, and Lt Gen HS Kahlon, AVSM, SM, GOC, HQ MG & G Area received the three magnificent Durand Trophies at the Army Officers Institute (AOI) in Colaba, Mumbai in a touching ceremony.
The trophies during the tour were showcased across Mumbai at historic and famous landmarks like the Gateway of India, the shores of the iconic Marine Drive and so on.
The Durand Cup (the first trophy awarded in the competition), the Shimla Trophy (the first given by a Shimla resident in 1904), and the President's Cup (for permanent keep and first presented by Dr.Rajendra Prasad, India's first President, in 1956) are the three trophies that are exclusive to the competition.
Lt Gen HS Kahlon, AVSM, SM GOC, HQ MG & G Area exclaimed that he was honored to be a part of the commemorations of such a legendary competition. He commented that the Durand Trophies are visiting Mumbai for the second year in a row and Mumbai City FC is one of the most exciting teams in Indian football that also finished as runners-up in the 131st edition. He also wished the Eastern Command, who have been organizing this tournament marvelously for the last four editions, and the Indian Army and the Services all the very best for this edition of the tournament.
General Manoj Pande, PVSM, AVSM, VSM, ADC, Chief of Army Staff, Indian Army, Air Chief Marshal VK Chaudhary, Chief of Air Staff, and Shri. Kalyan Chaubey, President, of All India Football Federation (AIFF) jointly flagged off the trophies for a 17-city trophy tour on Friday, June 30, 2023, in Delhi after which the trophies will cover Dehradun, Udhampur, Pune, Mumbai, Jaipur, Karwar, Kochi, Ezhimala, Bengaluru, Hyderabad, Guwahati, Kokrajhar, Shillong and Aizawl and will finally reach Kolkata.
The competition will begin on August 03, 2023, IN Kolkata, and is scheduled to end by September 03, 2023, at the Yoba Bharati Krirangan (VYBK).
Including all 12 clubs from the Indian Super League (ISL), the Durand Cup will now have 24 teams, up from 20 last year. Additionally, service teams from adjacent nations like Bangladesh, Bhutan, and Nepal, will take part in the legacy tournament, marking the first time in 27 years that foreign teams will compete in the legendary competition.
A local Bodoland squad will also be competing, while Kokrajhar in Assam will be the newest addition to the list of Durand host cities this year.