NEW DELHI: We wonder the connection between this ice-cream and Hitler that the makers actually chose to name the 'chilling' product after the Nazi leader. 'Hitler Ice Cream Cone' is what they call it which has not gone too well in Germany.
While some of the packets of the ice-cream will exhibit the pierced eyes of the Austrian-born German politician glaring at you, others might just show his military get up. One of the packets even showed him dressed in a tuxedo with a red bow tie. However, the twist is that he is actually been made to repeat the pose of Uncle Sam, a short name for United States federal government.
We do not want to create hype by stating that it is a famous brand in India that is enjoyed across the country because it is definitely not. Yes, it is definitely found in different parts of the country but is not the best choice amongst the ice-cream lovers.
However, the 'Hitler Ice Cream Cone' has actually come into the notice of people ever since its pictures started doing rounds on internet.
Not only this, it has even flashed an outrage especially amongst the Germans.
#hitlericecream would have that with a Luftwaffle

— paul uttley (@stealthley1) May 28, 2015
#India popular #HitlerIcecream #Cyanid flavour …… ? pic.twitter.com/9QZIAmhHJv

— orli sagi (@SagiOrli) May 28, 2015
It's 120 degrees in India and they're serving Hitler ice cream, would you eat it?  If so, where would you draw the line?

— Tom Joyner (@TJMShow) May 29, 2015
They're selling Hitler Ice Cream in India I bet they taste Nazi pic.twitter.com/GXZWnFdP1i

— Lukehoostawking (@LukeHoosTawking) May 27, 2015
Ice cream cone named after Adolf Hitler in #India sparks anger in #Germany

— Dus News (@Dus_News) May 28, 2015
Congress leader Shashi Tharoor too made a statement regarding the recent 'Hitler' controversy.
Height of tastelessness; Indian ice-cream named after Hitler. Would the Germans name a sausage after Godse? http://t.co/fr4KuvQ15h

— Shashi Tharoor (@ShashiTharoor) May 29, 2015
Well, it's not the first time that India has become a joke for using Hitler's name as a brand.
Following a media report in 2006 that a restaurant in Mumbai existed under the name of Hitler, consul general of Israel started receiving calls from innumerable Jews across the globe after which a request was sent to the authorities of Navi Mumbai requesting the restaurant owner to rename his food joint.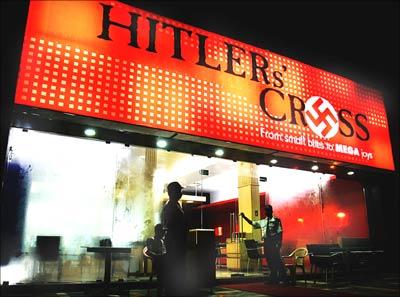 According to the Israeli authorities, a trick like this hurts the sentiments of a community and is thus a criminal offence.