Festival of Ideas 2023: Nawazuddin Siddiqui's Inspiring Journey and Vision Illuminate the Stage
25 August, 2023 | Anupam Shrivastava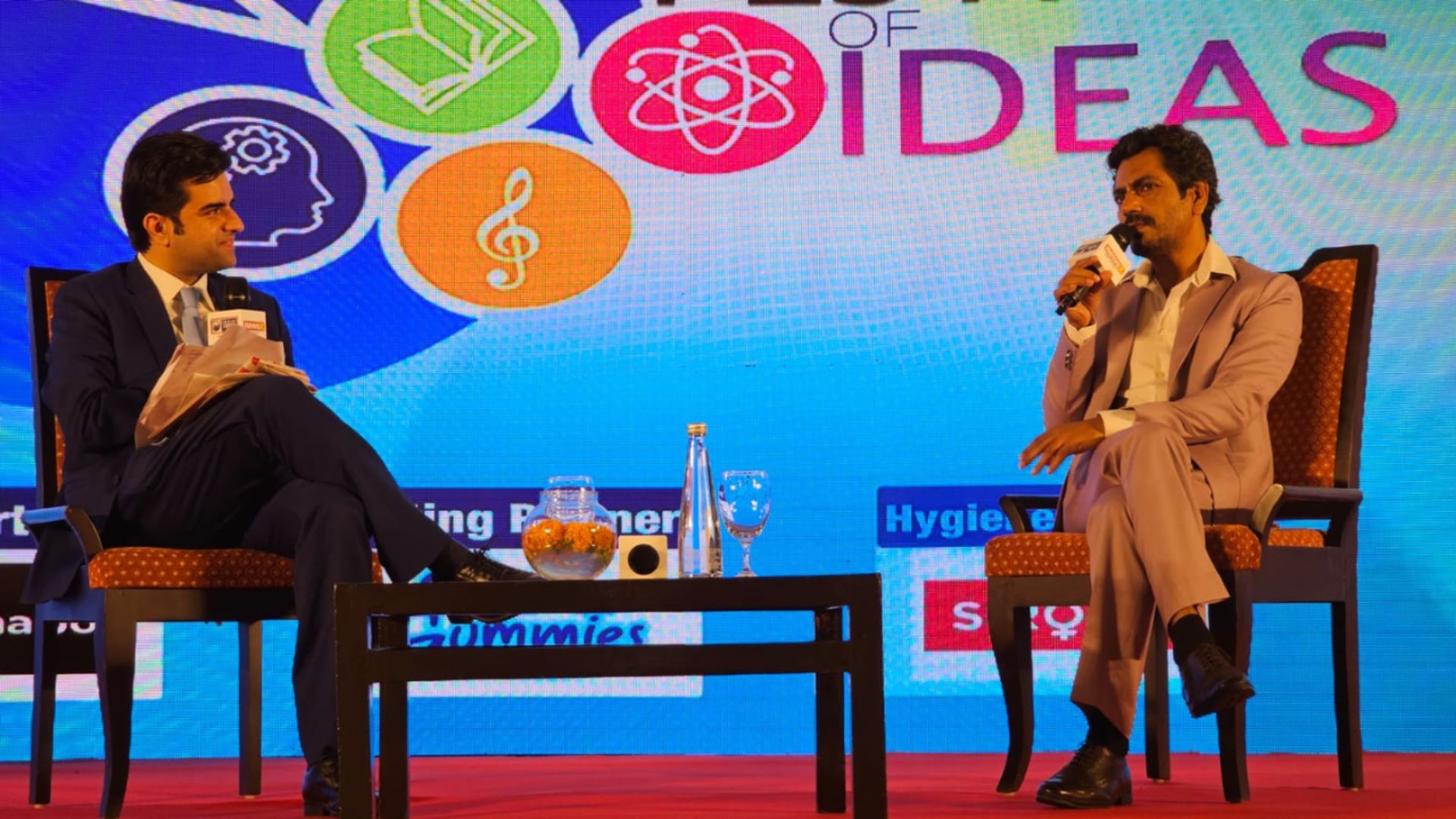 Festival of Ideas 2023 celebrated the veteran actor Nawazuddin Siddiqui who stands as an embodiment of humility, talent, and dedication, read what he had to say about his journey so far.
The NewsX Festival of Ideas illuminated the stage with the presence of the esteemed actor, Nawazuddin Siddiqui, a name synonymous with versatility and excellence in Hindi cinema. Known for his impeccable performances in iconic films like "Gangs of Wasseypur" (2012), "The Lunchbox" (2013), "Raman Raghav 2.0," and "Manto," Siddiqui's acting prowess has earned him a place of prominence in the industry. His achievements are not limited to national boundaries; a remarkable eight films in which he's starred have graced the prestigious Cannes Film Festival. Among his accolades, he proudly boasts a National Film Award, a Filmfare Award, and two Filmfare OTT Awards.
The Festival of Ideas provided a platform for Nawazuddin Siddiqui to receive the NewsX Vicharjivi Award for his outstanding contributions to the realm of entertainment. Graciously accepting the award, Siddiqui expressed his gratitude for the recognition he received.
In an engaging interview by Uday Pratap Singh, Nawazuddin Siddiqui delved into his journey, inspirations, and perspectives, providing the audience with insights into the mind of the enigmatic actor.
Siddiqui's journey from humble beginnings to international acclaim is nothing short of inspiring. From a young age, he was captivated by the works of philosophical thinkers such as Swami Vivekananda, John Paul, Nietzsche, Osho, Socrates, and Plato. These luminaries left an indelible mark on his thoughts and perspective, shaping his approach to life and his craft.
Even amidst the glitz and glamour of the film industry, Siddiqui remains grounded. When India achieved a significant milestone with Chandrayaan-3's successful moon landing, Nawazuddin Siddiqui's reaction was one of immense pride. He humorously quipped, "I felt like 'Main Khud Chand Par Hai' (I'm on the Moon myself)," emphasizing the collective achievement that every Indian should cherish.
Siddiqui's acting journey began on the theater stage, where he found an outlet for his passion and authenticity. Rejecting falsehoods and recommendations, he was drawn to the honesty of theater, where one's performance directly correlated with the audience's response. His early years were marked by unwavering dedication and determination, eventually leading him to the renowned National School of Drama.
Upon entering the film industry, Nawazuddin Siddiqui faced the challenge of securing meaningful roles. He steadily climbed the ladder, accepting even small parts in notable films like "Sarfarosh" and "Jungle." His focus was not on stardom, but on his love for acting. These early experiences taught him the value of taking small steps and nurturing his craft.
An encounter with the legendary Irrfan Khan proved to be a turning point in Siddiqui's career. A small cameo in "New York" caught Irrfan's attention to the extent that he shed tears of appreciation. Siddiqui reminisced about the camaraderie and encouragement shared between them, a testament to Irrfan's generosity and recognition of Siddiqui's talent.
Undeterred by the challenges and the enormity of the cinematic realm, Nawazuddin Siddiqui remains dedicated to his craft. He expressed, "I just want to become a good actor because I find the whole depth of my field very scary." His humility and commitment reflect an artist's eternal pursuit of perfection, constantly seeking to bridge the gap between visualization and execution.
When contemplating the future of Indian cinema on the global stage, Siddiqui highlighted the potential of the Indian youth to create exceptional films. However, financial constraints often hinder the realization of these creative aspirations. He emphasized the need for individuals with resources to invest in meaningful cinema, transcending the pursuit of mere profits.
Siddiqui's journey through the realm of digital entertainment was marked by a mix of curiosity and reluctance. His foray into the world of OTT platforms began with "Sacred Games," where his initial lack of knowledge about the concept of OTT was humorously evident. He fondly recalled Anurag Kashyap's persuasion, opening his eyes to the international reach of such platforms.
Nawazuddin Siddiqui's journey is a testament to the power of unwavering passion and dedication. From a small village to the global stage, he has transcended barriers and achieved excellence. His story is a reminder that success is not merely measured in awards or fame, but in the authenticity and honesty one brings to their craft.
As the Festival of Ideas celebrated Nawazuddin Siddiqui's contributions, it became evident that his legacy will continue to inspire generations of aspiring actors and artists with his unique blend of humility, talent, and dedication.
Also Read: RSS From The Outside: Professor Walter K. Anderson's In-depth Dialogue on the organization at the Festival of Ideas 2023
Catch all the Latest Business News, Breaking News Events, and Latest News Updates on NewsX