"Country Experiences Immense Pride": Neeraj Chopra's Family Revels in His Triumph in Budapest
28 August, 2023 | Pooja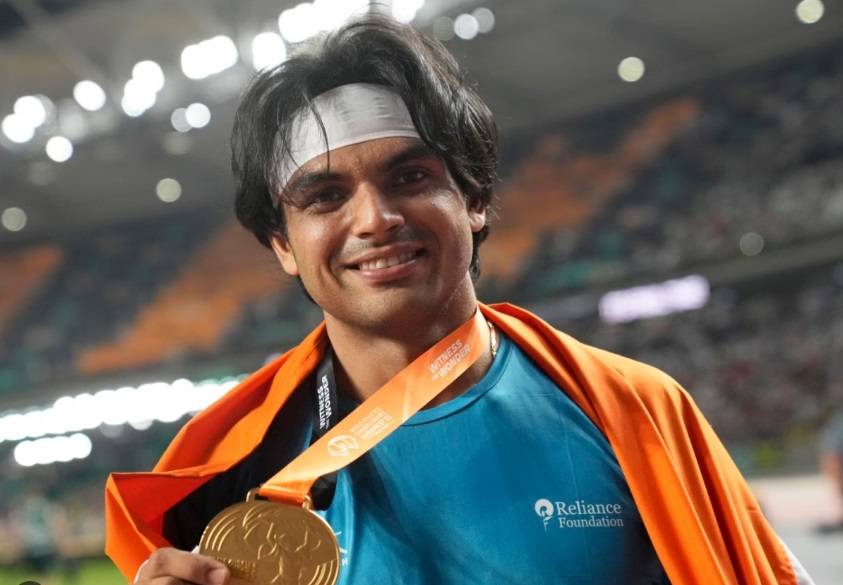 India's Neeraj Chopra wins inaugural javelin gold at World Athletics Championships, sparking celebrations among family members
After India's top javelin thrower, Neeraj Chopra, delivered yet another remarkable performance with the javelin, securing the nation's inaugural gold at the esteemed World Athletics Championships in Budapest on Sunday, his family members erupted in joyful festivities.
Basking in his son's golden moment, Neeraj's father Satish Kumar told ANI, "This is a moment to savour and celebrate not just for our family but the entire village and the country. He has brought great joy to the country."
Bhim Chopra, the uncle of the star Indian javelin thrower, also expressed his delight saying, "The entire country is rejoicing this moment. It is a very proud moment for the country. We will celebrate when Neeraj comes back. He has a busy schedule right now."
Neeraj Chopra, India's celebrated champion from the 2020 Olympic Summer Games, etched his name in history once more in Budapest on Monday, outperforming his rival Arshad Nadeem from Pakistan and clinching India's inaugural gold medal in the World Athletics Championships. In the men's javelin throw final, Neeraj surpassed his Pakistani counterpart by a margin of less than one meter to secure the gold.
The 25-year-old athlete from Haryana achieved an impressive throw of 88.17 meters during his second attempt, maintaining his lead over the Pakistani contender until the very conclusion. Arshad Nadeem, the victor of the Commonwealth Games, secured a silver medal with a throw measuring 87.82 meters. The bronze was earned by Jakub Vadlejch of the Czech Republic, who accomplished a best throw of 86.67 meters.
While Neeraj once again claimed the top position, his fellow Indians Kishore Jena (with a best throw of 84.77 meters) and DP Manu (with a best throw of 84.14 meters) secured the fifth and sixth spots, respectively. With this achievement, India has now secured medals of all types at the World Championships.
Notably, this marks Neeraj's second medal at the World Championships, having previously earned a silver last year. The last Indian to medal in this prestigious event was Anju Bobby George in 2003, who secured a bronze in the women's long jump.
Also Read: Karnataka: Arrest Made as Man Fatally Attacks Partner with Cooker
Catch all the Latest Business News, Breaking News Events, and Latest News Updates on NewsX