Overloaded boat carrying wedding guests capsizes in Nigeria, over 100 feared dead
14 June, 2023 | Disha Singh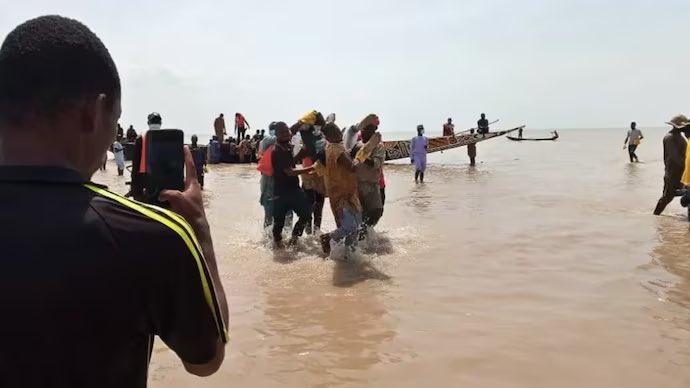 The accident occurred at 3 a.m as the locals from nearby villages rushed to rescue the people.
At least 103 people, including children, have died in a tragic boat accident in northern Nigeria. The incident occurred on Monday when an overcrowded boat returning from a wedding capsized on the Niger River in Kwara state. Local residents and police are still searching for dozens of missing individuals. So far, 100 people have been rescued from the river.
The majority of the victims were relatives from different villages who had attended the wedding together and were returning home after celebrating late into the night. Due to heavy rainfall that flooded the road, they had to rely on the locally made boat to cross the river. Tragically, the overloaded boat struck a large log in the water, causing it to split into two.
"The boat was overloaded and close to 300 persons were in it. While they were coming, the boat hit a big log inside the water and split into two," said Lukpada.
The wedding had taken place in the village of Egboti in the neighbouring Niger state. As the accident occurred at 3 a.m., it took several hours before the news reached many people. Nearby villagers immediately rushed to the scene and managed to rescue around 50 individuals initially, although the early rescue efforts were slow and challenging.
Rescue operations and the search for bodies in the river, which is one of Nigeria's largest, are ongoing. The operation will continue throughout the night until Wednesday. The recovered bodies have been buried near the river according to local customs.
The governor of Kwara state, Abdulrahman Abdulrazaq, expressed deep sadness for the families of the victims and assured that rescue efforts are being closely monitored. Boat accidents are unfortunately common in remote Nigerian communities, often attributed to overloading and the use of poorly maintained vessels made locally.