No-Confidence Motion Debate Updates: Smriti Irani hits back at Rahul Gandhi in Lok Sabha
9 August, 2023 | Gautam Thakral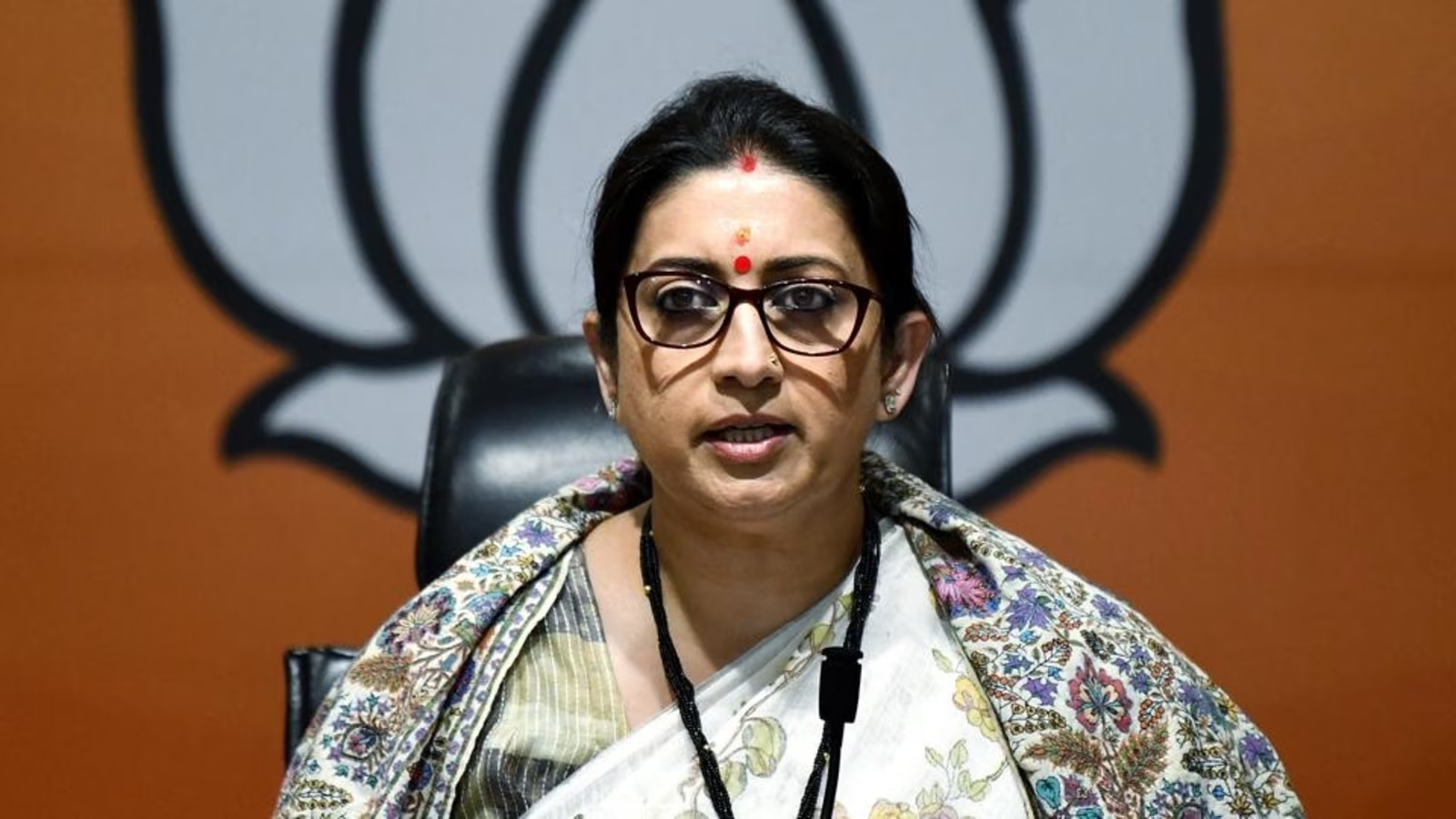 No-Confidence Motion Debate Updates: Smriti Irani hits back at Rahul Gandhi in Lok Sabha
No-Confidence Motion News Updates: As Gandhi started the discussion on the no-confidence resolution presented by the opposition coalition INDIA today against the BJP-led government, Congress leader Rahul Gandhi unleashed an all-out assault on the BJP. He declared, "They killed India in Manipur. PM avoids Manipur because Indians have been killed there. Rahul Gandhi's comments were disputed by Union Minister Smriti Irani, who stated, "Manipur is not split. It belongs to India. Tuesday, the INDIA group in the Rajya Sabha lodged a privilege motion against Piyush Goyal, the leader of the House, for referring to its members as "traitors." Till Thursday, when Prime Minister Narendra Modi is anticipated to respond, the no-trust discussion will go on.
Rahul Gandhi disrespected women through flying kiss: BJP MP Shobha Karandlaje
"As soon as Smriti Irani started to speak, he (Rahul Gandhi) disrespected women through gesture of a flying kiss. This is for the first time that a Member of Parliament has shown such a behaviour. We have filed a complaint with the Speaker and requested a stringent action," says BJP MP Shobha Karandlaje
'Quit India': Smriti Irani's Counter After Rahul Gandhi's Attack
On Wednesday in the Lok Sabha, Union Minister Smriti Irani responded to Rahul Gandhi's comments on Manipur. Irani said that this was the first time that the "murder of Bharat Mata" has been discussed in Parliament and she criticised Rahul Gandhi's conduct there. Her comments followed Rahul Gandhi's claim that the BJP had "murdered Bharat Mata in Manipur".
The BJP MP from Amethi pointed guns at the Congress in her ferocious speech and declared, "They are not India." Irani was alluding to the new name for the opposition group, INDIA.
"You are not India because India isn't corrupt, India believes in merit, not in dynasties, and today, of all days, people like you need to remember what was told to the British – Quit India. Corruption Quit India and dynasty Quit India. Merit now finds a place in India…," Union Minister Smriti Irani said.
Total misbehaviour': BJP MP on Rahul Gandhi giving flying kiss in Parliament
Union Minister and BJP MP Shobha Karandlaje says, "By giving a flying kiss to all women members, Rahul Gandhi went away. This is a total misbehaviour of a Member. This is inappropriate and indecent behaviour of a Member. Senior members are telling that this has never happened in the history of Parliament of India…What is this behaviour? What kind of a leader is he? That is why, we have complained to the Speaker to take CCTV footage of it and take action against him. This is what we have demanded."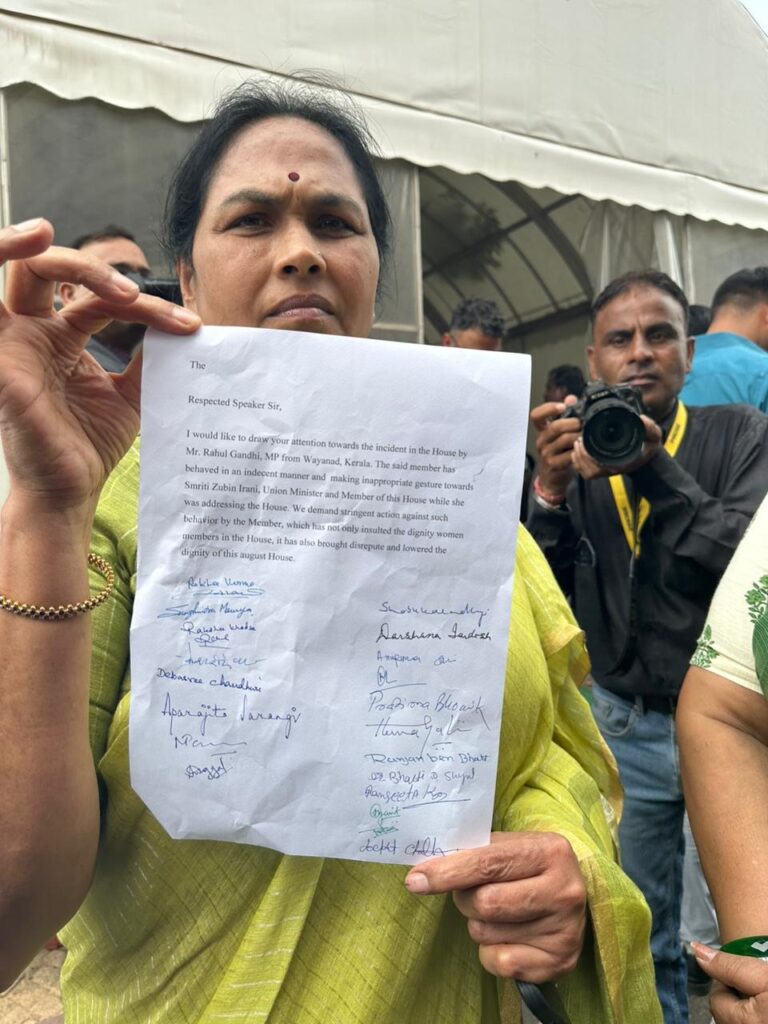 Smriti Irani slams Congress over Rahul's 'murder of India' remark
Rahul Gandhi, the head of the Congress, came under fire on Wednesday for claiming in the Lok Sabha that "India was murdered in Manipur." Union Minister Smriti Irani said that this was the first time in parliamentary democracy that such a claim had been made.
The BJP member, who is the minister for women and child development, spoke shortly after Gandhi finished his remarks about the no-confidence vote in the House and asserted that Manipur is a fundamental part of India.
"I condemn the behaviour that was displayed. This is the first time that someone talked about the murder of India, and Congress leaders were thumping desks," Irani said.
"Manipur is not divided, it is a part of this country. A member of his (opposition) alliance said in Tamil Nadu that India only means north India. If he has the courage, Rahul Gandhi should comment on this… another Congress leader said there should be a referendum on Kashmir," she said.
Women BJP MPs file complaint against Rahul Gandhi for giving flying kiss
Union Minister of State for Agriculture & Farmers' Welfare Shobha Karandlaje has filed a complaint with the Speaker against "inappropriate" behaviour against Rahul Gandhi. Women MPs have signed a letter and have demanded stringent action.
Only a misogynistic man…: Smriti Irani on Rahul Gandhi giving flying kiss in Parliament
"Only a misogynistic man can give a flying kiss to women MPs in Parliament. Such an instance was never witnessed before. This shows what he thinks of women. This is obscene. Smriti Irani said in Parliament.
Her remarks came as Rahul Gandhi gave a flying kiss to BJP members in Parliament while leaving.
Congress's history smeared in blood: Smriti Irani recounts horrors of Emergency
Smriti Irani recounted horrors of Emergency to attack Congress, says their history is smeared in blood
Also Read: Parliamentary Panel recommends to increase retirement age of judges in High Courts, Supreme Court
Catch all the Latest Business News, Breaking News Events and Latest News Updates on NewsX)