NSA Ajit Doval Meets Chinese Diplomat Wang Yi in South Africa
25 July, 2023 | Anamika Singh Parihar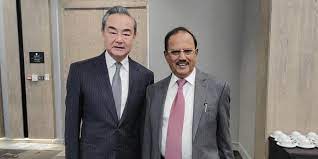 On July 24, Doval and Wang Yi met on the sidelines of a  of a meeting of the BRICS National Security Advisors in Johannesburg.
National Security Advisor Ajit Doval met with top Chinese diplomat Wang Yi on the sideline of the BRICS meeting in South Africa. While their meeting both sides acknowledged that the India-China relationship is not only significant for both countries but also for the region and the world.
Wang Yi is the Director of the Office of the Central Commission for Foreign Affairs and a Member of the Political Bureau of the CPC Central Committee.
On July 24, Doval and Wang Yi met in Johannesburg as a side event to a gathering of the BRICS National Security Advisors. Brazil, Russia, India, China, and South Africa are together known as BRICS.
According to a statement from the Ministry of External Affairs, NSA Doval stated during the meeting that the situation along the Line of Actual Control (LAC) in the Western Sector of the India-China border since 2020 had weakened strategic trust as well as the public and political foundation of the relationship.
The statement of the Ministry of External Affairs further noted that "NSA Doval emphasized the importance of the continuing efforts to fully resolve the situation and restore peace and tranquility in the border areas, so as to remove impediments to normalcy in bilateral relations. The two sides agreed that the India-China relationship is significant not only for the two countries but also for the region and world."
Earlier, on July 15, in Jakarta, Indonesia, during the ASEAN Regional Forum (ARF) Ministerial Meeting, External Affairs Minister S. Jaishankar had a meeting with Wang Yi. Instead of Qin Gang, the Chinese Foreign Minister, who was ill and unable to go, Wang Yi represented China at the ASEAN meetings.
Earlier External Affairs Minister S Jaishankar met with Wang Yi on the side events of the ASEAN Regional Forum Ministerial (RAM) Meeting that happened in Jakarta, Indonesia on July 15.
Jaishankar tweeted about the meeting and stated that it covered "outstanding issues related to peace and tranquility in border areas." "Our conversation also covered the EAS/ARF agenda, BRICS, and the Indo-Pacific," Jaishankar stated.
Since 1962, there have been numerous boundary conflicts between China and India. The most recent conflict took place in the Galwan Valley in June 2020 between Indian and Chinese troops.
Doval attended the "Freinds of BRICS" summit in Johannesburg earlier on July 24 and, according to reports, he stressed that the emergence of disruptive technologies like Artificial Intelligence, Big Data, and the Internet of Things will cause the gravity of cyber dangers to dramatically expand.
He also held multiple bilateral meetings and discussions with other members of BRISC.