One More Cheetah Dies in Kuno National Park, tally Rises to Nine
4 August, 2023 | Anamika Singh Parihar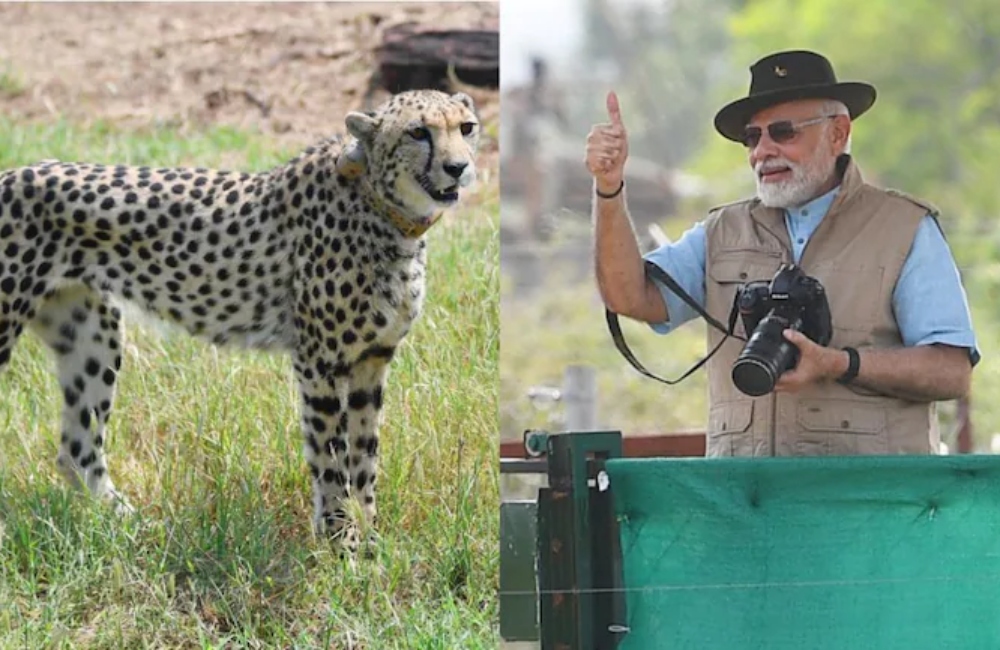 A female cheetah named "Dhatri" died in Kuno National Park, Madhya Pradesh, on August 2. Officials are conducting a post-mortem to determine the cause. This marks the ninth death since March.
On Wednesday morning, August 2 a female cheetah named "Dhatri" was discovered dead in the Kuno National Park in Madhya Pradesh. A post-mortem is being performed by officials to determine the cause of death.
At the Kuno National Park, where 20 cheetahs were brought in from South Africa and Namibia as part of the large-scale Project Cheetah project, this is the ninth death since March in the National Park. The project's goal is to bring these magnificent cats back to India, where they were declared extinct over 70 years ago.
In all of the Nine Cheetahs that have died including three cubs that were born from Cheetahs brought from Africa
Numerous factors have been identified as the causes of these deaths. Intraspecies conflicts, illnesses, mishaps both before and after release, and wounds from hunting are among the theories put forth by some specialists as possible causes. Heatstroke and other animal predatory attacks have also been suggested as potential causes.
The use of radio collars on cheetahs is a topic of controversy as well. Certain specialists contend that the use of collars for the purpose of tracking and monitoring the animals has resulted in skin diseases thanks to continuous moisture throughout the monsoon season. According to reports, these diseases attracted flies, which resulted in infestations of maggots and septicaemia, a dangerous blood infection that killed several of the cheetahs.
Samajwadi Party leader Akhilesh Yadav while reacting to the death of Cheetah has targeted the BJP. He said, India's image is being tarnished at the global level due to the deaths.
He stated in a tweet in Hindi "Who is responsible for the death of the ninth cheetah at the Kuno National Park? Where are all those now who were busy promoting the event (release of cheetahs into Kuno National Park) as a symbol of the power of the BJP government?"
A number of actions have been implemented by authorities amid deaths in order to protect the health & welfare of the remaining cheetahs. These include catching and evaluating all surviving cheetahs medically, treating them as a preventative measure, and conferring with foreign specialists for additional instruction and capacity building in cheetah care.
Having said that the alarming death rate of Introduced Cheetahs in Kuno National Parks continues to raise concern over the feasibility of the projects.
Also Read: CM Kejriwal Accuses BJP of 'Betrayal' as Lok Sabha Passes Delhi Services Bill