Opposition Meeting:Key dinner meeting concludes in Bengaluru
17 July, 2023 | Srishti Ruchandani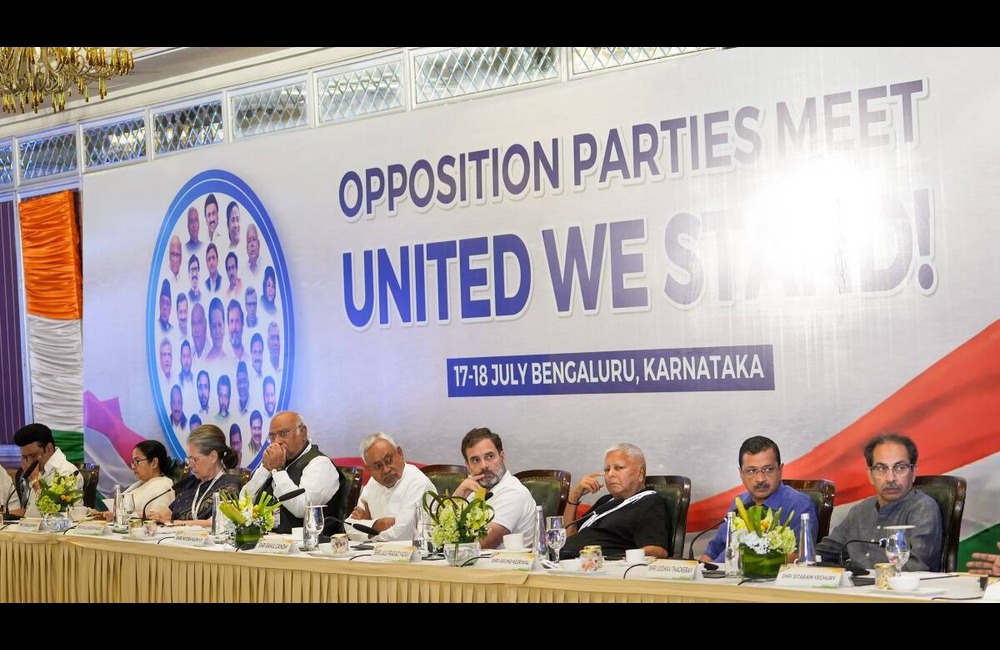 On the first day of the conclave, the Opposition dinner meeting in Bengaluru came to an end with the presence of the leaders of 26 opposition parties.
Leaders from the opposition parties, including Mallikarjun Kharge, Rahul Gandhi, Sonia Gandhi, MK Stalin, Arvind Kejriwal, Nitish Kumar, Lalu Prasad Yadav, Mamata Banerjee, and others, concluded their dinner meeting in Bengaluru.
Earlier, RJD leader Lalu Prasad Yadav and party leader Bihar Deputy CM Tejashwi Yadav were welcomed by Karnataka Chief Minister and Congress leader Siddaramaiah at the location of the Opposition dinner meeting in Bengaluru. They also received Delhi CM Arvind Kejriwal, AAP MP Sanjay Singh and AAP MP Raghav Chadha at the venue of the Opposition meeting. JD(U) leader and Bihar CM Nitish Kumar also arrived for the Opposition dinner meeting in Bengaluru.
After the meeting concluded, Congress president Mallikarjun Kharge said that like-minded opposition parties will closely work together to foster an agenda of social justice, inclusive development and national welfare. "We want an India which is governed by Constitutional principles of justice, liberty, equality and fraternity," he said.
The opposition parties meeting was for the second time to formulate the roadmap for the 2024 Lok Sabha Elections with the aim of defeating the BJP-led National Democratic Alliance (NDA).
The meeting took place on Monday at Taj West End Hotel in Bengaluru.
The meeting on Tuesday will start at about 11 am and will continue till 4 pm.
The agenda of this meeting include setting up a sub-committee for drafting the common minimum program and communication points for the alliance for the 2024 Lok Sabha polls and also to discuss the process for the decision on seat sharing on a state-to-state basis.
Congress has rallied support from 26 parties for the second opposition unity meeting to take on the BJP in the 2024 Lok Sabha polls. The first opposition unity meeting was held in Patna last month.