Over 100 Individuals Arrested for Vandalizing Churches in Faisalabad, Pakistan
17 August, 2023 | Vishakha Ahuja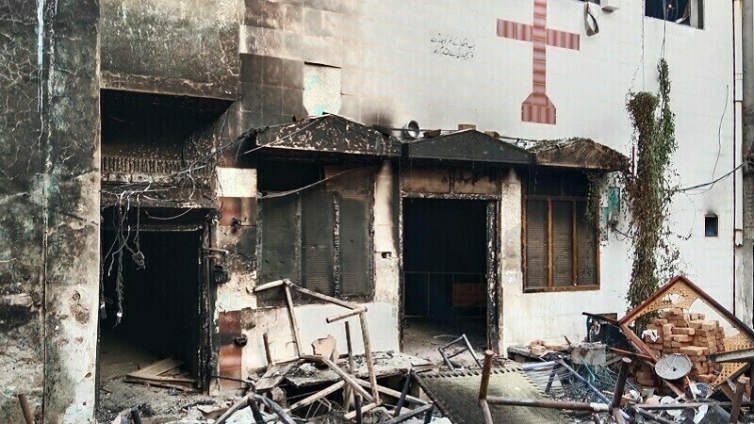 Punjab government apprehends over 100 in Pakistan, Faisalabad riots targeting Christians
According to a spokesperson from the interim government of Punjab, over 100 individuals have been apprehended in connection with riots directed at Christians due to alleged blasphemy in Faisalabad, Pakistan, as reported by Geo News on Wednesday. As reported by Pakistan's Dawn, several churches in the Jaranwala district of Faisalabad were subjected to vandalism following allegations of blasphemy.
Officials confirmed this incident. Additionally, the provincial government of Punjab has initiated a comprehensive investigation into the matter, as stated by a spokesperson.
Amir Mir, the temporary Punjab Information Minister, had earlier stated that "dozens of people who disturbed peace" in the area were detained.The minister claimed in a statement that the violence in Jaranwala was done under a "well-thought-out conspiracy".
"There was a plan to disturb the peace by inciting public sentiments. After the desecration of the Holy Quran, the angry protesters reacted strongly," The situation in Faisalabad is now completely under control, Mir added, according to a quote from Geo News. The information minister of the province also mentioned that a swift investigation is currently in progress regarding the unfortunate event involving the desecration of a sacred book.
The minister emphasized that immediate arrests would be made for anyone attempting vigilantism or unauthorized enforcement of the law.
Enhanced security measures have been implemented for churches, with a substantial deployment of law enforcement personnel, as indicated. Geo News reported the presence of over 6,000 policemen and Rangers staff in the impacted regions.
However, according to the Dawn report, Christian leaders have accused the police of passivity, asserting that they stood by as mere observers. President Bishop Azad Marshall of the Church of Pakistan expressed concerns about the mistreatment and intimidation being faced by Christians.
Bishop Azad Marshall, posted on X, formerly known as Twitter, "Words fail me as I write this. We, Bishops, Priests, and lay people are deeply pained and distressed at the Jaranwala incident in the Faisalabad District in Pakistan. A church building is being burnt as I type this message. Bibles have been desecrated and Christians have been tortured and harassed having been falsely accused of violating the Holy Quran".
"We cry out for justice and action from law enforcement and those who dispense justice and the safety of all citizens to intervene immediately and assure us that our lives are valuable in our own homeland that has just celebrated independence and freedom," he added.Notably, over the past few years, minorities in Pakistan have been the victims of numerous persecutions and attacks.
President of Human Rights Focus, Pakistan, Naveed Walter, stated in July that since Pakistan's independence in 1947, the percentage of minorities in the country has decreased from 23% to 3%.
Also Read: Commencement of Two-Day Delhi Assembly Session Takes Place