Pakistan: Amid Inflation, Karachi citizens Purchase "Most Expensive" Flour
17 July, 2023 | Srishti Ruchandani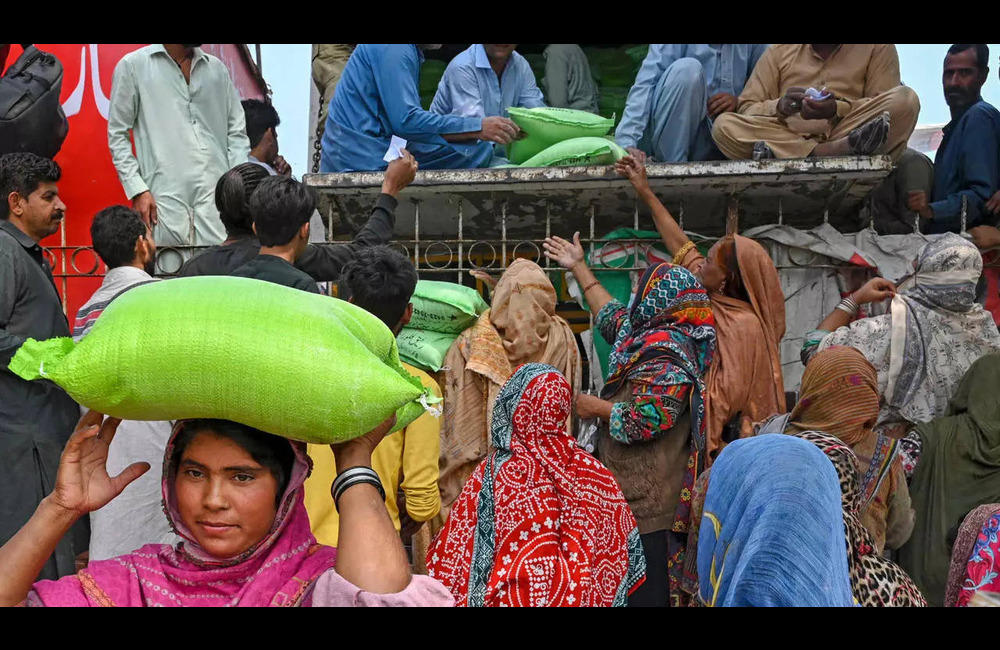 Inflation in Pakistan is at a record level. In Karachi, the price of 1 kg flour has become Rs 320. Price of sugar in the country is also skyrocketing.
Pakistan is currently going through its worst period ever. The cost of flour has been rising rapidly across the nation for the past few weeks. In Karachi and other regions of the nation, all previous records for flour prices have been shattered. A 20 kilogramme bag of wheat flour has now, for the first time in Karachi, cost 3200 Pakistani rupees. That is, the price of 1 kg of flour in Karachi has become Rs.320.
In this case, it wouldn't be inaccurate to claim that consumers are probably purchasing the "most expensive" flour in the world. Pakistan's citizens are the ones who are suffering the most as a result of the steep price rise. Long queues are being seen for government-subsidized flour.
How deep is the flour crisis in Pakistan?
According to reports, the price of flour in Karachi is higher than the price in Islamabad and Punjab. A 20 kg bag of flour in Karachi has seen a hike of Rs 200, taking the prices to Rs 3,200. Meanwhile, a 20 kg bag in Hyderabad was selling for Rs 3,040 after a hike of Rs 140. Whereas, in Islamabad, Rawalpindi, Sialkot and Khuzdar, the prices of 20 kg bags have been increased by Rs 106, Rs 133, Rs 200 and Rs 300 respectively.
Besides this, the price of a 20 kg bag of flour in Bahawalpur, Multan, Sukkur and Quetta increased by Rs 146, Rs 93, Rs 120 and Rs 110 respectively.
Sugar too expensive
The price of sugar in the country is also skyrocketing. Earlier, it was reported that sugar prices had also touched a record high of up to Rs 160 per kg in retail markets in different parts of Pakistan amid rising inflation.
Citing PBS, ARY News further reported that sugar prices at the retail level increased by up to Rs 150 in various parts of the country – such as Karachi, Islamabad and Rawalpindi. Meanwhile, sugar is available at Rs 145 per kg and Rs 142 per kg in Lahore and Quetta respectively.
What is the reason for the crisis?
Pakistan's central and provincial governments are blaming each other for the crisis. At the same time, experts believe that the Russia-Ukraine war, the devastating flood of 2022 and wheat smuggling in Afghanistan are the reasons for the crisis. Wheat prices have increased massively in Sindh and Baluchistan, whose stocks have been destroyed due to floods. According to the Planning Commission of Pakistan, the floods caused a loss of $3.725 billion to agriculture and its allied sectors.
The smuggling of wheat in Afghanistan is also a major reason, why there is a shortage. Khyber Pakhtunkhwa shares the Porus border with Afghanistan. People smuggle wheat to the neighbouring country to get more profit.
Pakistan imports wheat to meet its consumption needs, most of which come from Russia and Ukraine. In 2020, Pakistan imported wheat worth $1.01 billion, according to data from the Observatory of Economic Complexity (OEC). The maximum wheat worth $496 million came from Ukraine, while wheat worth $394 million came from Russia.