Pakistan thwarts a major cross-border Taliban attack from Afghanistan; 4 soldiers die
7 September, 2023 | Shubhi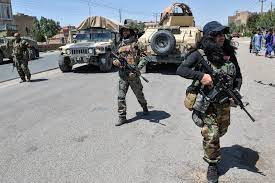 Taliban spokesperson Abdul Basir Zabali in Nangarhar Province claims that clashes at Torkham crossing began due to actions by Pakistani border guards.
The spokesperson for the Taliban in the Nangarhar Province Security Command, Abdul Basir Zabali, said that clashes between the Taliban forces and Pakistani military at the Torkham crossing on Wednesday were "started by Pakistani border guards." Reports indicate that the attackers, consisting of hundreds of armed individuals with a range of light and heavy weapons, targeted two military outposts in the challenging terrain of the Chitral District.
According to the reports, the conflict between the two sides has now been resolved. At least two Taliban soldiers and four Afghan children were killed, according to Torkham locals. There were ambulances in the area, transporting the injured and deceased. The Torkham crossing is still inaccessible.
Afghanistan and Pakistan border situation As a result of the altercation between the security forces and the Afghan Taliban, the Torkham border was closed to all traffic.
The increase in violence can be attributed to the Taliban's resurgence in Afghanistan in 2022, which has emboldened Pakistan's indigenous Tehreek-e-Taliban Pakistan (TTP) organization, as reported by AFP. Despite Afghanistan's refutations, Islamabad has consistently alleged that its neighboring country is providing refuge to these militants.
Chitral's deputy commissioner, Mohammad Ali, stated that preparations had been in progress following the surveillance of suspicious border activities by security forces for several days.
"Informers have also sent us information about the militant group movement," AFP quoted Ali as saying. "They were in hundreds and were armed with light and heavy weapons. We were ready to face the attack, and the exchange of fire continued for some four hours."
Pakistan's military successfully thwarted the attackers, as stated by Pakistan's Inter-Services Public Relations (ISPR). The operation resulted in the loss of four soldiers, while the ISPR reported the deaths of 12 militants. Subsequently, the TTP claimed responsibility for the attempted intrusion and asserted that they had seized two Pakistani military posts in Chitral's Bomburit area. However, this claim remains unconfirmed.
In response to the incident, Chitral, a picturesque region popular among domestic tourists for its rugged terrain, has bolstered its security measures. This district is situated approximately 200 kilometers northwest of Islamabad, the capital of Pakistan.
Following the Taliban's return to power in Afghanistan, Pakistan has experienced a 50% increase in militant activities along its western border, as reported by the Pak Institute for Peace Studies.
Also Read: TMC Sends a New Letter to Delhi Police Requesting Permission for City Rally