'Partisan politics more important than national progress':Jaishankar over Parliament disruption
28 July, 2023 | Srishti Ruchandani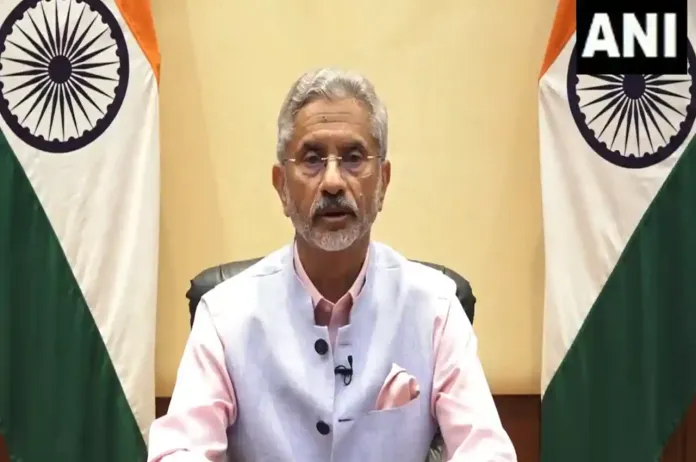 Partisan politics are more important to the Opposition, according to Jaishankar, who claimed that his address on foreign affairs was interrupted in both Houses of Parliament.
One day after S Jaishankar's speech in the Rajya Sabha was disrupted by protests, the union minister on Friday lashed out stating that for the Opposition "partisan politics" held more importance than national progress.
Slamming the Opposition party MPs for "repeatedly disrupting" his address in Parliament, the minister said he would present the thrust of his statement in a video message. Giving an overview of the Prime Minister's recent foreign visits over the last few months, and several high-level engagements through which India has advanced its national objectives and interests, the external affairs minister said that said it is unfortunate that these matters were not allowed to be debated in Parliament with the seriousness that they deserve.
"Yesterday, I sought to apprise the Parliament and the people of India of some important developments pertaining to foreign policy. These include achievements that truly advance our national interests significantly in critical spheres. Sadly, the Opposition repeatedly disrupted my statement in both Houses of Parliament," Jaishankar said.
He added, "Obviously, for them, partisan politics was more important than national progress. Since, I believe these matters are important to discuss in the public domain, I am presenting a thrust of my statement yesterday".
In the last few months, several high-level engagements have taken place involving the President, the Vice President and the Prime Minister with foreign counterparts and abroad.
"Through these efforts at multiple levels, we were able to advance our national objectives and interests in a volatile and uncertain world," he added.
Heaping praise on Prime Minister Narendra Modi's state visit to the United States last month, Jaishankar said that it has given a huge boost to the 'Make in India' initiative and space exploration objectives.
"The official state visit to the United States of PM Narendra Modi from June 20-23 was only the second by an Indian Prime Minister. He was accorded the rare privilege of addressing the joint session of the US Congress for a second time. 'Make in India' in the defense sector got a big boost with an agreement between GE Aerospace and HAL to manufacture the GE414 jet engine in India for the light combat aircraft. India had been pursuing this for decades and this breakthrough marks a significant jump in technology cooperation," he said.
Jaishankar added, "ISRO and NASA signed the ARTEMIS accords for the exploration of outer space for peaceful purposes. They would cooperate in human space flights and launch a joint effort to the International Space Station in 2024".
"At a time when international affairs have become unprecedented and complex, our people-centric foreign policy is guided by the demands and aspirations of our society. Today the world recognizes that when India speaks, it speaks not only for itself but for many others and that India speaks as the voice of peace, of security, and prosperity for all," Jaishankar said.
On Thursday, Jaishankar while giving a suo motu statement in the Rajya Sabha on India's foreign policy in the past few months was faced with sloganeering by Opposition MPs.
His statement was completely superseded amid constant sloganeering by the opposition. Jaishankar said that he felt bad that the opposition was not ready to listen to anything adding that the Opposition's objective is to criticise any progress India makes and prevent its message to spread in the country.
"I wanted to inform the House of the developments made in the past month. You saw a very successful visit of the PM to the US…I felt bad that the Opposition was not ready to listen. It seemed that they wanted to criticise any and every achievement of the country," Jaishankar said addressing reporters yesterday.
Opposition MPs were firm in their protest over the Manipur issue, demanding an 'elaborate' statement by Prime Minister Narendra Modi on the matter.
Jaishankar urged the Opposition to "display a united front" and said "This is India's foreign policy, not any party's foreign policy. So when we present the achievements of India's foreign policy in front of the house but we saw that the opposition was not ready to listen at all."
He said that foreign policy is an area where both the Government and Opposition work together.
"Foreign policy is one area where we must work together. If there is a dispute between each other in the country, we should keep India's image united outside the country," added Jaishankar.
He further advised the Opposition to set aside their differences when there is a discussion of national interest.
"We may debate within the country but outside the country, we should display a united front. Opposition's conduct today should be looked into, when it comes to the national interest, politics should be set aside and it should be appreciated," said Jaishankar.
NDA (National Democratic Alliance ) MPs chanted "Modi, Modi" in Rajya Sabha as EAM S Jaishankar was making his statement on the latest developments in India's Foreign Policy. To counter this, the opposition INDIA alliance MPs chanted "INDIA, INDIA."
Later the Rajya Sabha was adjourned till 2 pm amid a ruckus created by both treasury benches and the Opposition.