PM Modi chairs 8th governing council meeting of Niti Aayog; 8 chief ministers absent
27 May, 2023 | Vaishali Sharma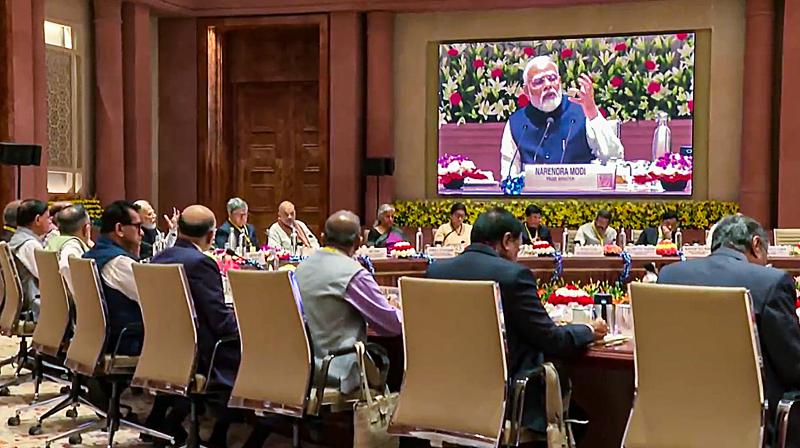 Prime Minister Narendra Modi presided over the eighth meeting of the Niti Aayog's governing council on Saturday.
Prime Minister Narendra Modi presided over the eighth meeting of the Niti Aayog's governing council on Saturday.
The meeting, titled 'Viksit Bharat @2047: Role of Team India,' was held at the new Convention Centre in Pragati Maidan in the national capital. PM Modi presided over the meeting as chairman of NITI Aayog, which discussed issues such as health, skill development, women empowerment, and infrastructure development, with the goal of making India a developed nation by 2047.
Home Minister Amit Shah, Finance Minister Nirmala Sitharaman, and Defence Minister Rajnath Singh attended the council meeting, as did Chhattisgarh Chief Minister Bhupesh Baghel, Andhra Pradesh Chief Minister Jagan Mohan Reddy, Jharkhand Chief Minister Hemant Soren, Arunachal Pradesh Chief Minister Pema Khandu, and Maharashtra Chief Minister Eknath Shinde.
"Eight prominent themes will be discussed during the day-long Meeting including (i) Viksit Bharat@2047, (ii) Thrust on MSMEs, (iii) Infrastructure and Investments, (iv) Minimising Compliances, (v) Women Empowerment, (vi) Health and Nutrition, (vii) Skill Development, and (viii) Gati Shakti for area development and social infrastructure," the NITI Aayog stated ahead of the meeting.
"The Meeting will see the participation of Chief Ministers/Lt Governors of all States and Union Territories, Union Ministers as ex-officio Members, and the Vice Chairman and Members of NITI Aayog", it stated.
As a preparatory prelude to the 8th Governing Council Meeting, the second Chief Secretaries Conference was held in January 2023, where these themes were extensively discussed.
"Wide-ranging stakeholder consultations and brainstorming sessions with subject experts, academia and practitioners were held prior to the Conference in order to gain well-rounded grassroots-level perspectives," it further said.
The NITI Aayog further said, "This 8th Governing Council Meeting is also being held in the backdrop of India's G20 Presidency. India's G20 motto 'One Earth, One Family, One Future' conveys its civilisational values and its vision of the role of each country in creating the future of our planet."
This will be the guiding spirit of India's inclusive and sustainable vision for the next quarter century.
In order to achieve this vision, the 8th Governing Council Meeting would provide a platform for strengthening Centre-State cooperation and forging partnerships for achieving the goal of Viksit Bharat @2047.
Seven Chief ministers- Arvind Kejriwal of Delhi, Bhagwant Mann of Punjab, Mamata Banerjee of West Bengal, K Chandrashekar Rao of Telangana, Ashok Gehlot of Rajasthan, Nitish Kumar of Bihar and Pinarayi Vijayan of Kerala did not attend the meeting of the Niti Aayog. Chief Minister of Tamil Nadu, who is on a visit to Japan and Singapore, was also not present at today's meeting.