PM Modi reaches Abu Dhabi, received by President Sheikh Mohammed on his arrival in UAE
15 July, 2023 | Anupam Shrivastava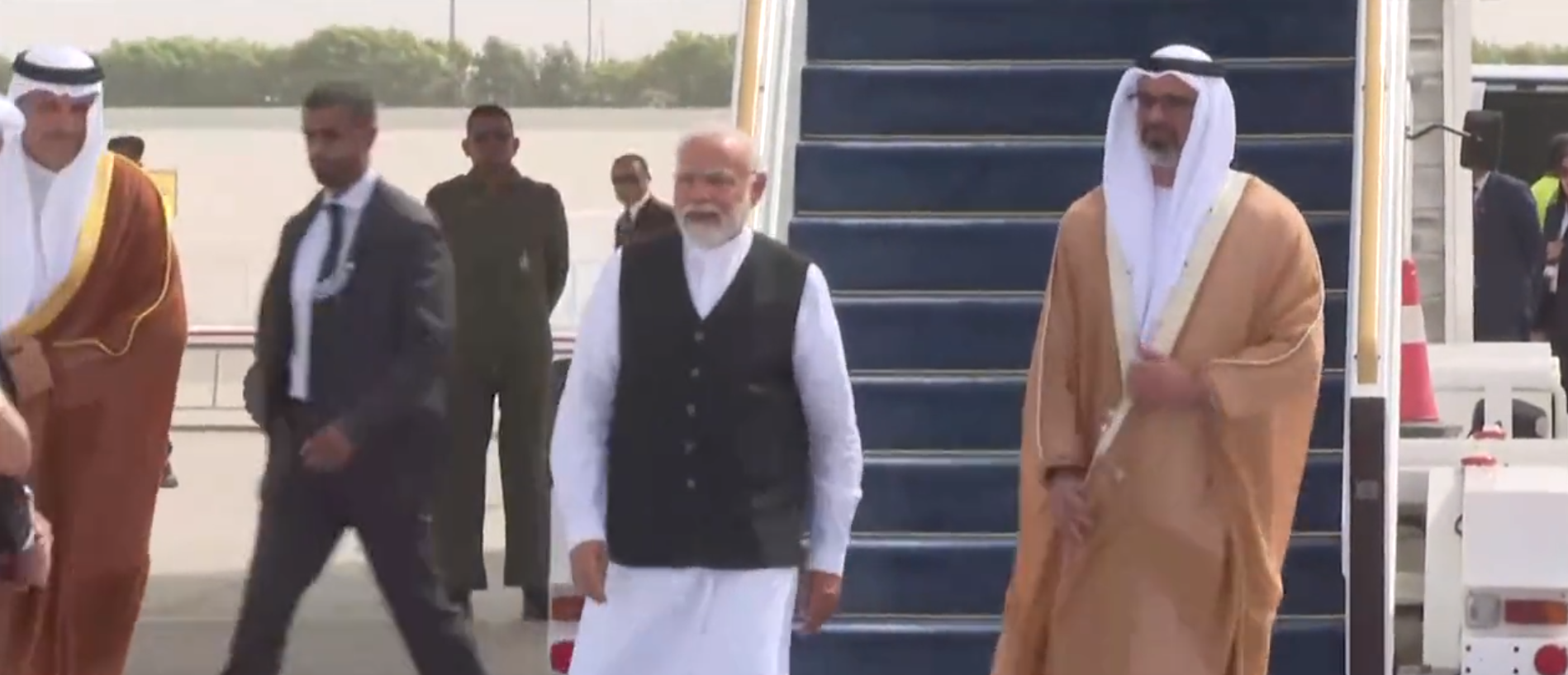 PM Modi arrived in Abu Dhabi for an official visit, following his trip to France. During his visit, he will meet UAE President Sheikh Mohamed bin Zayed Al Nahyan to discuss key bilateral issues and...
Prime Minister Narendra Modi landed in Abu Dhabi on Saturday for one day visit to the UAE. Prime Minister Modi will meet with UAE President Sheikh Mohamed bin Zayed Al Nahyan to discuss important bilateral issues during his visit. After ending his two-day visit to France, the PM departed for the UAE early on Saturday.
PM Modi described his trip to France as "memorable" and said that it was made even more meaningful by his participation in the Bastille Day festivities. He also thanked the French government, people, and President Emmanuel Macron for their generosity and kindness.
PM Modi posted on his official Twitter account, "This France visit was a memorable one. It was made even more special because I got the opportunity to take part in the Bastille Day celebrations. Seeing the Indian contingent get a pride of place in the parade was wonderful. I am grateful to President @EmmanuelMacron and the French people for the exceptional warmth and hospitality. May friendship continue to soar!"
During his two-day official visit to France, PM Modi took part in Friday's Bastille Day festivities as the Guest of Honour. The French president, Emmanuel Macron, invited him to visit France.
"To mark the 25th anniversary of the India-France Strategic Partnership, 241-member tri-service Indian armed forces contingent led by a military band also participated in the Parade," a PMO statement read.
The Rajputana Rifles Regiment and the Punjab Regiment served as the Indian Army's marching contingent. The PM met with Macron, the president of France, and went through all of the relationships.
Top CEOs were also met with by PM Modi and President Macron to discuss ways to broaden commercial ties.
In a tweet, Prime Minister Modi said, "The talks with my friend, President @EmmanuelMacron were very productive. We reviewed the full range of India-France relations. I am particularly enthusiastic about deepening cooperation in futuristic sectors like green hydrogen, renewable energy, AI, semiconductors and more."
The Ministry of External Affairs said on Wednesday that PM Modi will receive a ceremonial welcome upon his arrival in the UAE. Thereafter, a number of bilateral meetings and other activities would be scheduled in celebration of the Prime Ministers visit.
PM Modi to meet President Sheikh Mohamed on his trip to UAE: Foreign Secretary Vinay Kwatra
"After concluding his visit to France, the Prime Minister would depart for UAE and reach there on the fifteenth of July where he will meet His Highness Sheikh Mohamed bin Zayed Al Nahyan, president of the UAE and ruler of Abu Dhabi. To be followed by a ceremonial welcome, bilateral talks and other events organized in honour of prime minister's visit to UAE," Foreign Secretary Vinay Kwatra told the media on Wednesday.
Kwatra said that the most recent meeting between Prime Minister Modi and Mohammed bin Zayed Al Nahyan took place in June in Abu Dhabi during the Prime Minister's visit to the UAE after the G7 conference in Munich.
"They have since also met on many virtual platforms, including in July last year, during the I2U2 (India, Israel, the United Arab Emirates, and the United States) summit," Kwatra said to the media.