PM Modi criticises the Gehlot administration and claims it is "ruining the future" of Rajasthani youth.
27 July, 2023 | Don Tomslee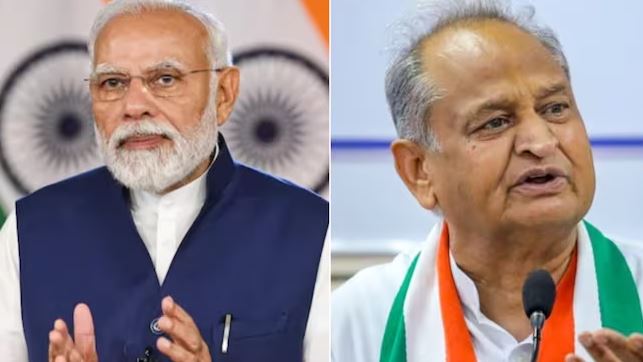 "Our administration is standing shoulder to shoulder with the nation's farmers".-PM Narendra Modi
On Thursday, Prime Minister Narendra Modi criticised the Ashok Gehlot administration in Rajasthan over allegations of document leaks and said that it was jeopardising the state's youth.
PM Modi said during his speech to a crowd in Sikar that the federal government is trying to advance young. "However, what's going on in Rajasthan? In Rajasthan, youth's future is being manipulated. In the state, there is a paper leak industry. Although the state's kids are talented, the current administration is destroying their future", said PM Modi.
The state administration was accused of corruption and participating in the leak of test papers, according to Prime Minister Narendra Modi.
In Rajasthan, the Congress pretended to administer the government while actually operating a market of falsehoods. 'Red Diary' is the most recent offering. The dark actions of Congress are purportedly detailed in this journal."
The Indian National Developmental Inclusive Alliance (I.N.D.I.A.) was also the target of his critical criticism, and he asserted that, in the same manner that Mahatama Gandhi coined the phrase "Quit India," it is now time for corruption and appeasement to leave the country.
"They seek to conceal their previous actions—the actions of the UPA—by using the moniker of INDIA. Would they have invited outsiders to intervene in India if they had truly cared about India?
"Instead of the current slogan, which is Bhrashtachar (Corruption) Quit India, Parivarwad Quit India, and Tushtikaran (Appeasement) Quit, which was first used by Mahatma Gandhi,
Quitting India will preserve the nation and advance our country, he continued.
The phrase "Indira is India, India is Indira" was proposed by a prominent Congressman, according to PM Modi, however the Congress was defeated by the people.
"They once used the phrase, 'Indira is India, India is Indira.' They were exiled at that time by the populace. This has been done once more by these haughty individuals, he remarked.
"The Congress has devolved into an aimless party. Just like the previous scam firms, Congress and its sympathisers have changed their identities. They changed their name to get rid of the stigma associated with giving in to terrorists. They follow the adversary of the nation's practises.
As he opened PM Kisan Samriddhi centres and medical colleges in Rajasthan's Sikar district earlier today, Prime Minister Narendra Modi declared that his administration is "standing shoulder to shoulder with the farmers" of the nation.
"Farmers take gold from the land with their strength and laborious labour. Because of this, Prime Minister Modi remarked, "Our administration is standing shoulder to shoulder with the nation's farmers".