Prime Minister Modi Designates August 23 as the National Space Day
26 August, 2023 | Akshara Tyagi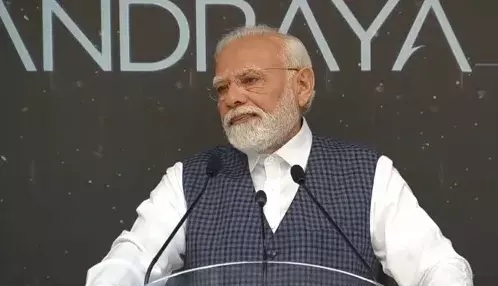 PM declares August 23rd National Space Day, names lunar landing points Shivshakti and Tiranga.
On Saturday, Prime Minister Narendra Modi declared that August 23rd will be observed as National Space Day, commemorating the successful lunar landing of Chandrayaan-3. Additionally, PM Modi revealed the new names assigned to specific points on the Moon: the Vikram lander's touchdown site will be referred to as the 'Shivshakti' point, and the location of Chandrayaan-2's lunar landing will be known as the 'Tiranga' point
"This will be an inspiration for every effort made by India. it will remind us any failure is not final…," PM Modi said.
Showing evident emotions, Prime Minister Narendra Modi spoke to the scientists at the command center of the Indian Space Research Organisation (ISRO) in Bengaluru. These scientists had played a pivotal role in the Chandrayaan-3 mission, and he praised their dedicated endeavors
"On August 23rd, India hoisted the flag on the Moon. From now onwards, that day will be known as National Space Day in India", said PM Modi
"Today, I am very feeling a new kind of happiness among you," a beaming PM added.
"Such kind of happiness… these are very rare occasions when the whole body and soul is drenched in happiness," PM Modi said while addressing the scientists at ISRO's
In Bengaluru, there is the Telemetry Tracking and Command Network Mission Control Complex. PM Modi mentioned that the scientists had extended the Make In India campaign to the lunar realm, underscoring how Chandrayaan 3's triumph had spurred domestic production. Despite being on a two-country trip to South Africa and Greece, PM Modi emphasized that his thoughts were wholly dedicated to the scientists
He said that he wanted to salute the scientists as soon as possible. "I could not stop myself as I was not in the country, but I decided to visit Bengaluru first and meet our scientists right after visiting India," he said as the scientists cheered and broke into applause.
"…I can see before my eyes every second of that day of August 23…" PM Modi said recalling the final 15 challenging minutes of the Chandrayaan-3.
"I salute your dedication. I salute your patience. I salute your hard work. I salute your inspiration," said PM Modi as he turned emotional.
This morning, the Prime Minister received a warm reception upon his arrival at the ISRO headquarters. He engaged with the team of scientists responsible for the nation's third lunar mission, Chandrayaan-3, and warmly embraced ISRO chief Somanath.
Local residents carrying posters and the national flag assembled along the streets outside the airport to give a hearty welcome to PM Narendra Modi. After landing at the HAL airport in Bengaluru, he exchanged greetings with the gathered crowd and enthusiastically chanted the slogan 'Jai Vigyan Jai Anusandhan' outside the airport.
On Wednesday evening, India made history by becoming the first country to successfully position a lander on the uncharted lunar South Pole.
Also Read: Amidst the Cheers of 'Bharat Mata ki Jai,' PM Modi Warmly Greeted During Enthusiastic Reception in Greece
Catch all the Latest Business News, Breaking News Events, and Latest News Updates on NewsX