Praggnanandhaa, Chess World Cup Silver Medalist, Receives Enthusiastic Reception in Chennai
30 August, 2023 | Akshara Tyagi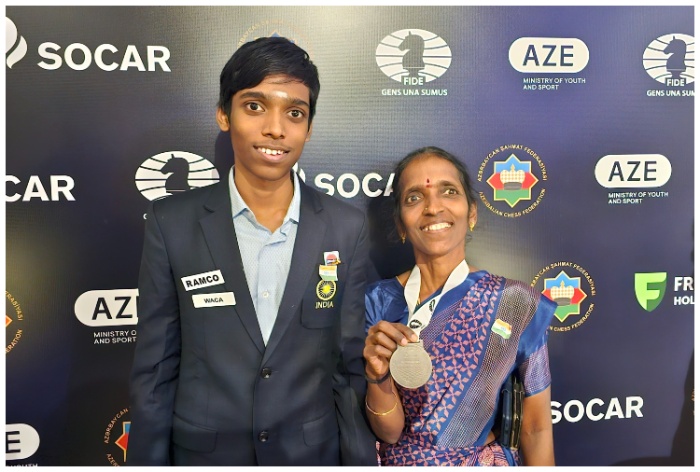 Indian chess prodigy Rameshbabu Praggnanandhaa arrives at Chennai Airport, greeted by students
Indian chess prodigy Rameshbabu Praggnanandhaa, who clinched a silver medal in the FIDE World Cup 2023 held in Baku, Azerbaijan, was heartily greeted upon his arrival at Chennai Airport on Wednesday. Outside the airport, students enthusiastically waved the national flag and displayed banners with the title 'World Cup Runner Up' to honor the young Indian talent.
R Praggnanandhaa, the shining star of India's chess scene, expressed his profound delight, stating that he experienced an immense sense of accomplishment.
After returning to Chennai, Praggnanandhaa said, "I am very happy to see so many people coming here and it is good for Chess."
Representatives from the All India Chess Federation and the State Government were present at the airport to greet the return of India's emerging chess sensation.
Praggnanandhaa's sister, Vaishali, was overjoyed to witness the warm reception that her brother had received upon his airport arrival.
"I had witnessed something like this 10 years back, when Viswanathan (Anand) sir had won World Championship match. He had a fantastic welcome. We went to the airport actually to welcome him. It's amazing to see that Pragg is getting the same love from all the people" she said.
During the FIDE World Cup final, Praggnanandhaa exhibited an exceptional performance against the top-ranked Magnus Carlsen. However, Carlsen prevailed over Praggnanandhaa, securing the International Chess Federation World Cup championship title, while the Indian chess prodigy had to settle for the runner-up position in the 2023 FIDE World Cup. Notably, Praggnanandhaa's consolation lies in his qualification for the FIDE Candidates tournament.
In the Rapid Chess tie-breaker, Carlsen emerged victorious in the first game with the black pieces and managed to secure a draw in the subsequent game with the white pieces. Despite Praggnanandhaa's determined efforts, Carlsen capitalized on his significant experience in crucial moments. Earlier, Praggnanandhaa and Carlsen played two draws in the Classical Chess segment.
Looking ahead, the 2024 Candidates Tournament, scheduled from April 2 to April 25, 2024, in Toronto, Canada, will feature an eight-player chess competition. The winner of this tournament will earn the opportunity to challenge for the 2024 World Chess Championship title.
Praggnanandhaa's outstanding performance in the tournament included a victory over World No. 2 Hikaru Nakamura in a tie-breaker, ultimately leading him to the final after defeating World No. 3 Fabiano Caruana.
Also Read: India Firmly Dismisses China's Baseless Territorial Claims Presented in 'Standard Map
Catch all the Latest Business News, Breaking News Events, and Latest News Updates on NewsX