Tamil Nadu Farmers to Stage 'Rail Roko' Protest on September 19 Over Cauvery Water Dispute
14 September, 2023 | Akshara Tyagi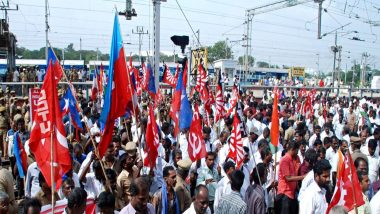 The Tamil Nadu Farmers Association has announced plans to stage a 'Rail Roko' protest on September 19 in response to the ongoing Cauvery water dispute
The Tamil Nadu Farmers Association has announced plans to stage a 'Rail Roko' protest on September 19 in response to the ongoing Cauvery water dispute. This decision was made during a meeting held by the association's office bearers on Wednesday, where they passed a resolution to initiate this agitation.
The protest is intended to take place across all Delta districts of the state, with the primary aim of exerting pressure on the Central government to engage with Karnataka and facilitate the release of Cauvery water for Tamil Nadu.
The association has voiced concerns over what they perceive as bias by the Central government in favor of Karnataka in the Cauvery water issue, which they argue is detrimental to the interests of Tamil Nadu's farming community. P. R. Pandian, the General Secretary of the Tamil Nadu Farmers Association, has accused the Union Government of consistently siding with Karnataka on this matter, to the detriment of Tamil Nadu's water rights.
Pandian also highlighted the active involvement of former Karnataka Chief Minister and BJP leader, Basavaraj Bommai, in intensifying protests within Karnataka against the release of Cauvery water to Tamil Nadu.
Furthermore, Pandian pointed out that during a meeting of the Cauvery Water Management Authority (CWMA), Union government representatives had leveled allegations against Tamil Nadu regarding Kuruvai paddy cultivation.
In his statement, Pandian asserted that there seems to be a "larger political conspiracy" at play against Tamil Nadu in the Cauvery water dispute. He emphasized that it is the responsibility of the Union Government to uphold and enforce the directives laid out by the Cauvery Water Management Authority, ensuring a fair resolution to the long-standing dispute.
Also Read: Assam Government Establishes Committee to Create Anti-Polygamy Law
Catch all the Latest Business News, Breaking News Events, and Latest News Updates on NewsX