PSLV-C56 launch mission successfully placed in right orbit: ISRO Chairman
30 July, 2023 | Srishti Ruchandani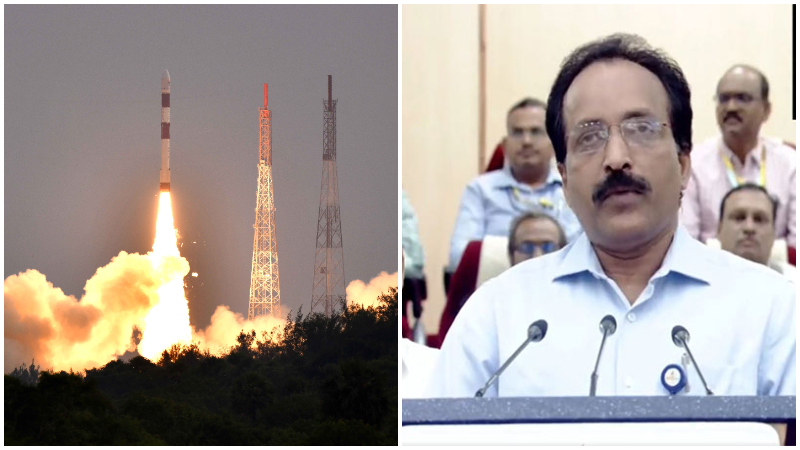 ISRO Chairman said,"The PSLV-C56 carrying seven satellites including primary satellite DS-SAR and six co-passenger satellites have been successfully placed in the right orbits."
Indian Space Research Organisation (ISRO) Chairman S Somanath on Sunday said 7 Singapore satellites — primary satellite DS-SAR and 6 co-passenger satellites, which blasted off into space on launch vehicle PSLV-C56, were successfully placed in orbit.
The launch vehicle with 7 Singaporean satellites lifted off from the Satish Dhawan Space Centre (SDSC) SHAR in Sriharikota at 6.30 am on Sunday. Addressing fellow ISRO scientists after the successful launch, which came on the heels of the launch of India's third moon mission — Chandrayaan 3, Somanath said, "Congratulations! PSLV-C56, carrying seven satellites, including the primary satellite DS-SAR and 6 co-passenger satellites, has been successfully placed in the right orbit. This is a mission of NSIL, and I want to congratulate the customers sponsored by the Government of Singapore for having this mission onboard PSLV."

This PSLV flight marks the 58th overall and the 17th using the Core Alone configuration. The upper stage of the rocket was placed in a lower orbit after injecting all the satellites to assure its shorter orbital life.
PSLV-C56 / DS-SAR is the Dedicated Commercial Mission of NewSpace India Limited (NSIL) for ST Engineering, Singapore. DS-SAR, a Radar Imaging Earth Observation satellite is the primary satellite for the mission.
In addition to this, there were 6 co-passenger customer satellites from Singapore that lifted off on the ISRO launch vehicle.
All satellites would be injected into a 535 km circular with 5 orbital inclination, stated a release from ISRO earlier.
The DS-SAR satellite is developed under a partnership between DSTA (representing the Government of Singapore) and ST Engineering. Once deployed and operational, it will be used to support the satellite imagery requirements of various agencies within the Government of Singapore, the release added.
ST Engineering will use it for multi-modal and higher-responsiveness imagery and geospatial services for their commercial customers. DS-SAR carries a Synthetic Aperture Radar (SAR) payload developed by Israel Aerospace Industries (IAI).
This allows the DS-SAR to provide all-weather day and night coverage and is capable of imaging at 1m resolution at full polarimetry, ISRO said.