Public Media Solution Becomes The First Indian Healthcare Marketing Agency To Offer All-inclusive Services
21 August, 2023 | Anupam Shrivastava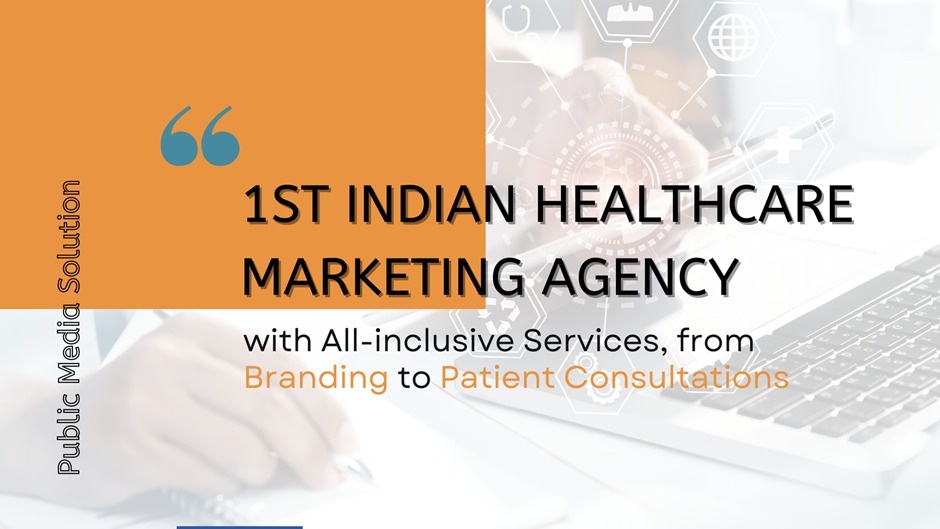 Public Media Solution assists healthcare professionals in brand buiding, ensuring patient health and happiness.
Terms like "leads," "ROI," "conversions," and "impressions" are rarely associated with healthcare institutions in India. While being highly revered in society, doctors often fail to enhance their traction using relevant marketing strategies. One of the key reasons for this is the lack of awareness regarding healthcare marketing services. Even in 2023, not many healthcare professionals and organizations know the feats they can achieve by teaming up with a healthcare marketing agency in India.
Analyzing this gap and leveraging its already established services, Public Media Solution becomes India's first healthcare marketing agency to offer end-to-end services to its clients. Once a healthcare professional comes on board, the company takes care of every activity that builds their brand and gives them the traction they need.
From creating targeted marketing campaigns to helping doctors schedule consultations, Public Media Solution relieves a heavy burden from the shoulders of healthcare experts working in all domains.
Just like any other organization, every healthcare institution harbors specific objectives, mission, and vision. Considering these parameters, the team of marketers at Public Media Solution tailors its wide range of services to help doctors and hospitals create their niche in the industry.
While its marketing services include healthcare SEO, healthcare SMO, healthcare PR, content marketing, advertising, and more, the agency's patient support services help patients and their family members connect with the right doctors at the right time.
Working day and night, the brand builders at Public Media Solution do their best to change the healthcare marketing scenario in India. The highly fragmented approach to receiving quality healthcare in the country often worsens patients' conditions and leads to unwarranted confusion. By bringing a host of different services under a single umbrella, the healthcare marketing agency in Pune helps healthcare professionals across India organize their medical care facilities.
Having spent more than half a decade in the global marketing sector, Public Media Solution uses its acumen to help healthcare professionals build their brands while ensuring that their patients lead healthy and happy lives. From its marketing professionals who discard first thoughts to its patient support team that stays on its toes until a patient receives adequate medical care, every Public Media Solution member is driven by the goal of making radical changes in the domain.
Ravinder Bharti, the founder, and CEO of Public Media Solution, believes that all-inclusive healthcare marketing services create a win-win situation for all parties involved. He says, "Healthcare professionals often struggle to find traction and reach their target audience due to an unorganized approach to marketing and patient support.
The same circumstances tend to prevent patients from receiving quality medical care from the right providers. Our healthcare marketing services are designed to bridge this gap and ensure that every party receives what it sets out to gain!"
Also Read: India has positive intent and open mind on BRICS expansion: Foreign Secretary Vinay Kwatra
Catch all the Latest Business News, Breaking News Events and Latest News Updates on NewsX)