Putin and Kim Discuss Military Collaboration, North Korea Backs Russia in Ukraine
14 September, 2023 | Akshara Tyagi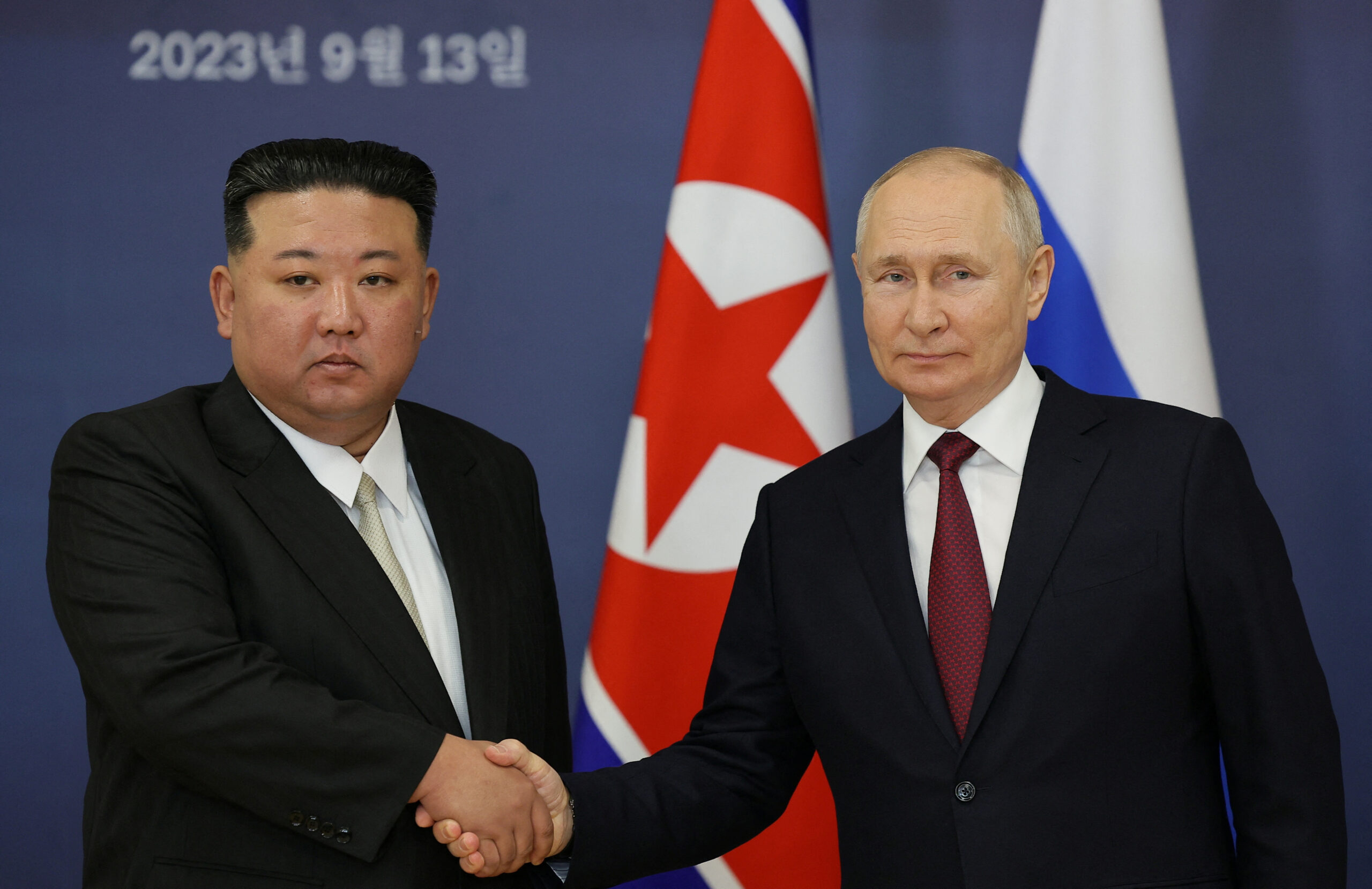 Putin mentioned exploring potential avenues for military collaboration and signaled his willingness to assist Pyongyang in developing satellites
North Korean leader Kim Jong Un's closely watched visit to Russia continues, with discussions between him and Russian President Vladimir Putin cantered on a suspected arms deal. The meeting took place at the Vostochny space center after Kim's arrival on his private armored train.
During their talks, Putin mentioned exploring potential avenues for military collaboration and signaled his willingness to assist Pyongyang in developing satellites. However, the United States has voiced concerns that Moscow's involvement in North Korea's satellite program could violate UN Security Council resolutions, particularly given the ongoing conflict in Ukraine and accusations that Russia is trying to procure weapons to support it.
In an interesting development, Putin has accepted an invitation from Kim to visit North Korea, a rare occurrence as few world leaders have ventured into the isolated nation. The meeting took place at a time when both North Korea and Russia faced strained relations with Western countries.
Kim's arrival in Russia was met with warmth and hospitality from Putin, who personally guided him through the space center. Drawing upon historical ties between the Soviet Union and North Korea, Putin welcomed Kim with the Russian proverb "An old friend is better than two new ones." Additionally, Kim seemed to express support for Russia's actions in Ukraine.
During his visit, Kim is expected to oversee a display of Russian warships and visit various factories, including a stop in the eastern city of Vladivostok before returning home. The duration of his stay in Russia remains uncertain.
This visit comes in the wake of North Korea's unsuccessful attempts earlier this year to launch a spy satellite, with Pyongyang asserting its intent to develop one for military surveillance. However, the United States believes that North Korea's satellite program may also serve to enhance its ballistic missile capabilities due to similarities in technology.
The U.S. has expressed concerns that Russian assistance with satellite technology could further advance North Korea's missile program. In response, the Kremlin emphasized the importance of its relationship with North Korea, downplaying warnings from Washington.
Kim's trip marks his first international visit since 2019 when he met with Putin following the breakdown of North Korea's nuclear disarmament talks with then-U.S. President Donald Trump. While many expected Kim to visit Vladivostok, his train journey took him northwards to Vostochny.
Notably, on the same day as Kim's nearing arrival in Russia, North Korea conducted two short-range missile tests into the sea off its east coast, adding to a series of banned weapons tests.
Kim and Putin's meeting follows a visit by a Russian delegation to North Korea in July, during which Kim showcased Pyongyang's missile capabilities to Russian Defence Minister Sergei Shoigu. Moscow's interest in North Korean arms stems from their compatibility with Russian weapon systems, particularly in artillery shells and guns, which hold significant importance for Russia on the battlefield.
Analysts suggest that North Korea may have a substantial stockpile of arms due to its lack of involvement in conflicts since the Korean War ended in an armistice in 1953. However, it remains to be seen how much North Korea is willing to provide, given its limited resources.
In return, Kim is expected to seek food aid for his struggling nation, which has been grappling with the impact of sanctions and border closures, exacerbated by the COVID-19 pandemic.
Moreover, North Korea may seek more advanced submarine and ballistic technology from Russia, though Putin might set boundaries on certain requests.
Also Read: I.N.D.I.A Block to Hold First Joint Public Rally
Catch all the Latest Business News, Breaking News Events, and Latest News Updates on NewsX