Russian President Vladimir Putin and North Korean leader Kim Jong Un convene at a space center
13 September, 2023 | Akshara Tyagi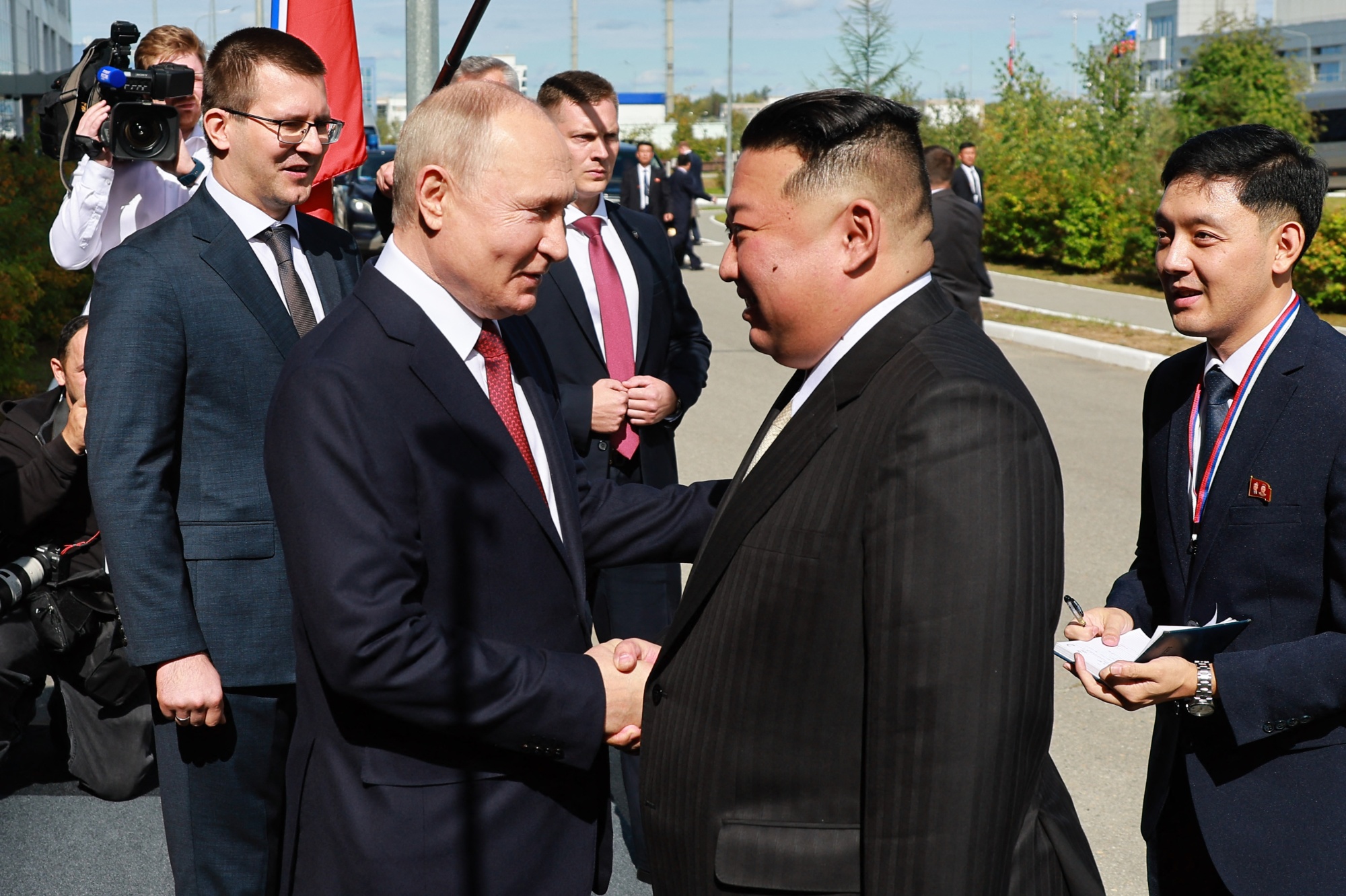 Russian President Vladimir Putin and North Korean leader Kim Jong Un held a meeting at a remote space center
Russian President Vladimir Putin and North Korean leader Kim Jong Un held a meeting at a remote space center located in Russia's Far East region of Amur, as reported by CNN. During their encounter, the leaders are expected to engage in discussions regarding a potential arms agreement, which could involve North Korea providing weapons to Russia amid the ongoing conflict with Ukraine.
The rendezvous took place at Russia's Vostochny Cosmodrome, a space rocket launch site. According to CNN, Putin and Kim exchanged handshakes and had a brief conversation before entering a building. Subsequently, footage showed Kim Jong Un exiting a black vehicle and shaking hands with Putin.
According to a video released by the Kremlin, Putin can be heard saying to Kim, "Hi. Glad to see you. How was your trip?"
In response, Kim Jong Un said, "Thank you for inviting us and welcoming us while your work is busy", CNN reported. The two leaders then entered the space center.
Presently, the two leaders are on a tour of the Vostochny Cosmodrome, as reported by CNN and citing information from Russia 1 journalist of state media. Video footage from Russia depicted Kim Jong Un's arrival at the remote Vostochny Cosmodrome space center, where he disembarked from a green train that transported him from North Korea.
The video also showed Kim Jong Un emerging from the train and exchanging greetings with several Russian officials who were on board. As per CNN, Kim Jong Un had arrived in Russia on Tuesday. His heavily armored private train had entered Russia, coinciding with warnings from the United States about the possibility of the two leaders striking an arms deal.
The train journey proceeded northward through Russia's Primorsky Krai in the Far East region, as reported by CNN with reference to the Russian state news agency RIA. South Korea's Defence Ministry confirmed that Kim Jong Un had entered Russia early on Tuesday.
A video shared by Russia Today on Monday had depicted the train, purportedly carrying Kim, near the Russian-North Korean border near the Tumen River. South Korean Defence Ministry spokesperson Jeon Ha-kyu noted that the ministry was closely monitoring whether North Korea and Russia would proceed with negotiations concerning an arms deal and technology transfer.
According to CNN and citing North Korean news agency KCNA, Kim Jong Un, accompanied by top party officials, government members, and armed forces personnel, departed from Pyongyang on Sunday afternoon.
Meanwhile, Kremlin spokesperson Dmitry Peskov emphasized that the meeting would prioritize bilateral relations between the two nations. He mentioned that it would be a comprehensive visit, including talks between the two delegations, and a formal dinner was planned to honor Kim's arrival, according to TASS.
Kim Jong Un's visit to Russia is significant as it marks his first foreign trip since the COVID-19 pandemic. During the pandemic, North Korea had sealed its borders, as reported by CNN.
Also Read: Uttarakhand Govt approves state's first service sector policy
Catch all the Latest Business News, Breaking News Events, and Latest News Updates on NewsX