"Fulfilled our promise" Says Rahul Gandhi as Karnataka Launches Gruha Lakshmi Scheme
30 August, 2023 | Akshara Tyagi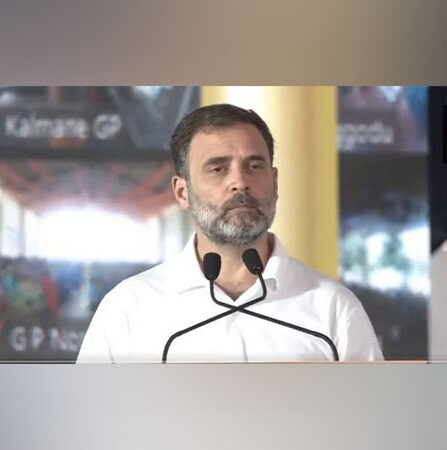 Karnataka's Congress-led government introduced 'Gruha Lakshmi' initiative, providing monthly assistance of Rs 2,000 to female heads of families below BPL
The Karnataka government, led by the Congress, introduced the 'Gruha Lakshmi' initiative by Rahul Gandhi on Wednesday, which is one of the five electoral pledges made by the party during its campaign. This program entails granting a monthly assistance of Rs 2,000 to the female head of families falling under the Below Poverty Line (BPL) category.
The inauguration took place in Mysuru, Karnataka, with the presence of Congress President Mallikarjun Kharge and former President Rahul Gandhi. Rahul Gandhi, addressing the launch event, highlighted that millions of women have now received a direct deposit of Rs 2,000 into their bank accounts.
"Before the elections, the Congress party had made five promises to Karnataka. We had said that when Congress party and its leaders say something, they do it. Today, when we click on the tablet, crores of women receive Rs 2000 directly into their bank accounts," Rahul Gandhi said.
"Like today, Crores of women will be getting Rs 2000 monthly in their bank accounts through direct transfer method," he said.
"We had told you that after elections women in Karnataka will not have to make any payment for travelling on buses. The scheme was called 'Shakti' and we fulfilled it," Rahul Gandhi said.
Drawing attention to Karnataka's five poll promises, Rahul Gandhi said out of the five, four schemes were formed for women." There is a deep idea behind this".
According to Congress General Secretary KC Venugopal, the "world's largest-ever welfare scheme for women" is being launched. Around 1.28 crore female family heads in Karnataka are anticipated to receive direct bank deposits of this financial aid, commencing from today. Karnataka Chief Minister Siddaramaiah affirmed his administration's determination to implement five assurances promised by the Congress party to the state's citizens.
The implementation of these five schemes is estimated to incur an annual cost of approximately Rs 50,000 crore for the state treasury. Earlier, as part of its election campaign in Karnataka this year, Congress had introduced five primary guarantees for the state's residents.
These guarantees encompass: providing 200 units of free power to all households (Gruha Jyoti); granting Rs 2,000 monthly assistance to the woman head of each family (Gruha Lakshmi); offering 10 kg of free rice to each member of a BPL household (Anna Bhagya); extending Rs 3,000 per month for two years to unemployed graduate youth and Rs 1,500 to unemployed diploma holders (both aged 18-25) (Yuva Nidhi); and permitting free travel for women on public transport buses (Uchita Prayana).
Also Read: Delhi: Schoolgirls tie Rakhi to PM Modi on Raksha Bandhan
Catch all the Latest Business News, Breaking News Events, and Latest News Updates on NewsX