Cyclone Biparjoy: Rajasthan CM Ashok Gehlot Conducts 2-Day Survey of Affected Areas
20 June, 2023 | Bhavnish Tawar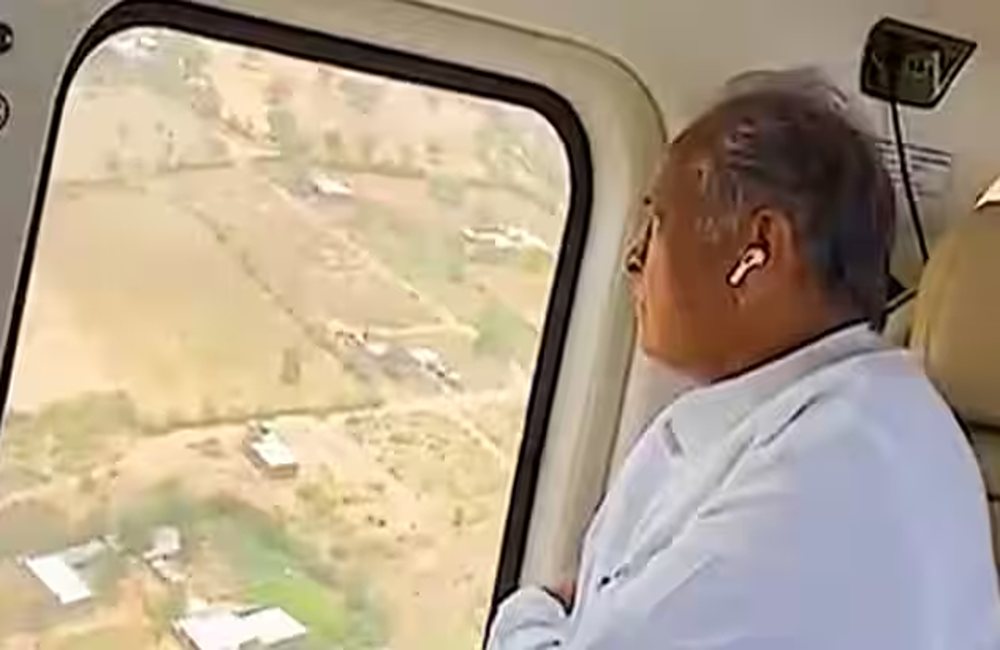 Rajasthan CM Ashok Gehlot commenced a two-day aerial survey of areas affected by the cyclone Biparjoy.
Rajasthan: On Tuesday, the Chief Minister of Rajasthan, Ashok Gehlot, commenced a two-day aerial survey of areas affected by the cyclone Biparjoy. His visit aimed to assess the damage caused by the calamity and meet with affected individuals. Gehlot conducted an aerial survey of multiple regions on Tuesday, including Chohtan in Barmer, Sanchore in Jalore, and Abu Road in Sirohi. He continued his study on Wednesday, visiting Pali and additional areas in Jalore and Jodhpur. According to Disaster Management and Relief Department officials, several districts, including Barmer, Jalore, Pali, Sirohi, and Rajsamand, have experienced excess rainfall in recent days. In the last three days, Barmer recorded 192.37 millimetres of rain, while Jalore, Sirhoi, Pali, and Rajsaman experienced 419.10 mm, 464.66 mm, 318.70 mm, and 251.92 mm of rainfall, respectively.
The Jawaharlal Nehru Hospital in Ajmer experienced flooding after heavy rainfall, which led to water accumulation in its ground-floor facilities, including the orthopaedic department and the OPD. Hospital superintendent Neeraj Gupta informed The Indian Express that almost all the floodwater had been removed as of Tuesday. Patients from the affected orthopaedic ward and OPD were swiftly relocated to an alternate floor while the casualty and emergency areas remained unaffected on the ground floor. The superintendent further explained that the hospital is situated below the road level, making it vulnerable to flooding whenever there is significant rainfall, and water from the Shastri Nagar road often enters the hospital premises via gaps under the boundary wall or gates.
Amit Malviya, the head of BJP's IT cell, took to Twitter earlier and shared visuals from Jawaharlal Nehru Hospital in Ajmer, Rajasthan. He expressed his surprise at the allegedly saturated state of the hospital, comparing it to Venice and commenting that Ashok Gehlot, the current Chief Minister of Rajasthan, could row a boat while getting his photo taken. On Monday, Bhagirath Choudhary, the BJP MP from Ajmer, along with Vasudev Devnani, a former minister and MLA, and other officials visited the hospital and met with the authorities to demand an immediate resolution of the water-logging issue.
As per reports, about 15,000 people were moved from the cyclone-affected districts in Rajasthan to safer places, and different organizations, including the NDRF, SDRF, Army, police, and civil defence volunteers, rescued 1,595 individuals. Among them, 133 were rescued by NDRF, 123 by SDRF, and nine by the Army under challenging circumstances.
According to official sources, the ongoing rescue operations are being carried out by 17 teams of the State Disaster Response Force (SDRF) and eight units of the National Disaster Response Force (NDRF). Furthermore, two columns of the Army have also been deployed in the affected areas to provide the necessary support.