Rajasthan Police Vow Firm Measures Against Accused in Naked Woman Case
2 September, 2023 | Shubhi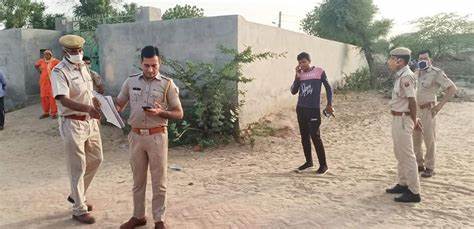 Rajasthan Police have pledged to take firm action against those accused in the Naked Woman case.
Following the reported incident of a tribal woman allegedly being beaten and publicly humiliated in Rajasthan's Pratapgarh district, the Rajasthan police took action on Saturday by arresting three individuals, including the woman's husband, in connection with the case. Law enforcement authorities have emphasized their commitment to taking severe measures against all the suspects involved.
S Parimal, Inspector General of Banswara, discussed the incident and the actions taken by the state police in an interview.
"Strict action will be taken against all the accused. There are a total of ten accused in the case, out of whom, three have been arrested. The others will be arrested soon", said IG Parimal.
The police identified the accused as Nathu Meena (the victim's husband), Velia Veena, and Kanha Meena, as stated by the Banswara IG. Upon noticing the police, they attempted to escape and sustained injuries during their flight. Currently, they are receiving medical treatment at Pratapgarh district hospital and will soon be presented in court.
In Rajasthan's Pratapgarh district, the police allege that a tribal woman's husband and in-laws physically assaulted her and paraded her naked. The incident came to public attention after a video of the incident went viral.
As per the statement by Director General of Police (DGP) Umesh Mishra, the event transpired on Thursday in Nichalkota village under the Dhariyavad police station's authority within Pratapgarh district.. The victim, who had been married for a year, is accused of residing with another man in the same village.
Pratapgarh DGP Umesh Mishra stated that the woman's in-laws are responsible for this dreadful act. They forcibly took her and transported her to their village, where the incident took place. Their anger stemmed from her departure to another location following her marriage.
"After the woman was kidnapped, she was beaten up by her husband who also stripped her and paraded her for about one kilometre in the village", the DGP said.
Earlier Rajasthan Chief Minister Ashok Gehlot had posted on X " The ADG Crime was sent to the scene of crime immediately and we have instructed the police to take strict action against the accused in accordance with the law. In a civilised society, there is no space for criminals like these. The case will be sent to a fast track court to ensure speedy delivery of justice".
BJP leader Vasundhara Raje, the former Chief Minister of Rajasthan, has criticized the Ashok Gehlot government for what she perceives as the state government's lenient approach to crimes against women.
Taking to 'X', Raje said, "..Crime against women in the state has spread to such an extent that Rajasthan is feeling ashamed every day. The Congress government itself is responsible for making the state number one in the country in women's atrocities.
Chief Minister – After all, what is the compulsion that your Congress government does not hear the looting of dignity and screams of daughters in Rajasthan?"
Also Read: Rajasthan: Three individuals arrested for naked parade