Ram Jethmalani memorial lecture series: Is Uniform Civil Court imperative?
17 September, 2022 | Pranay Lad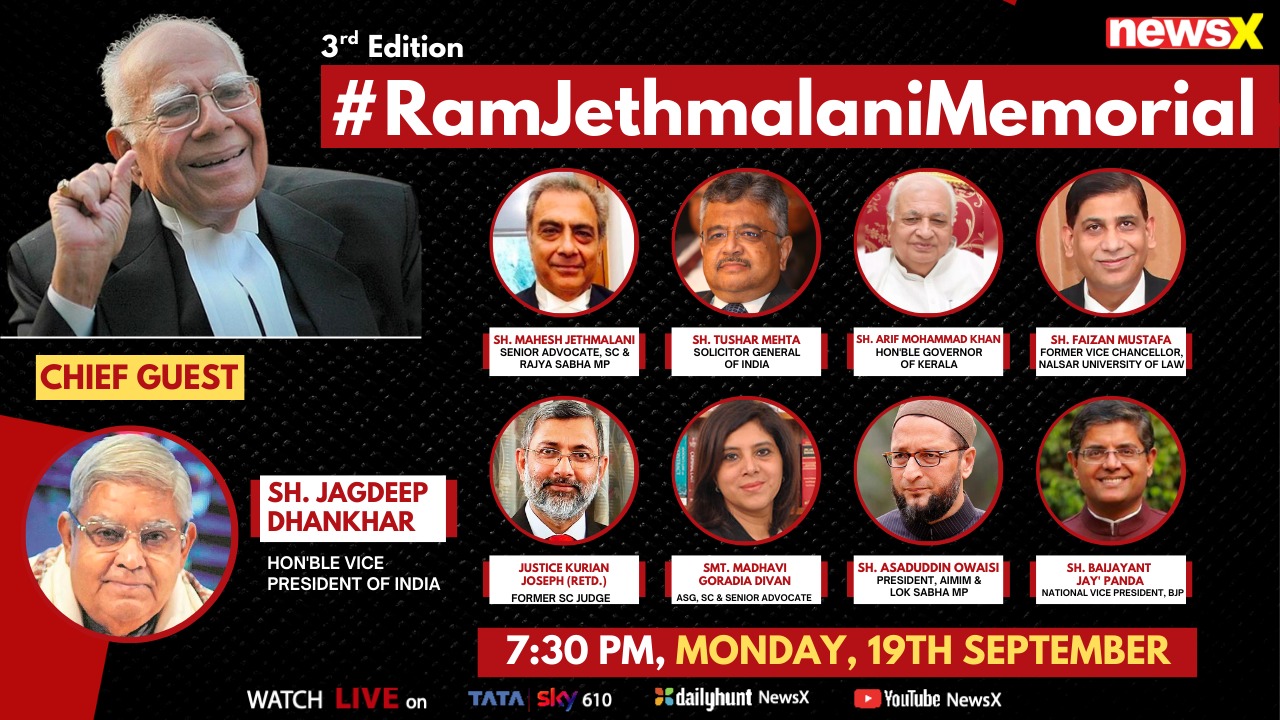 The name Ram Jethamalani doesn't require any introduction. The prominent personality developed a reputation as a renowned jurist and a notable MP over the years by demonstrating his strength ...
The name Ram Jethamalani doesn't require any introduction. The prominent personality developed a reputation as a renowned jurist and a notable MP over the years by demonstrating his strength and charm in case after case. As part of the Ram Jethmalani Memorial Lecture Series, India's Who's and Who offered their opinions on the crucial question, "Is Union Civil Court Imperative?"
The third edition of Ram Boolchand Jethmalani's lecture series will be shown on NewsX on Monday, September 19, at 7:30 p.m. in remembrance of the illustrious former Union Minister and jurist.
The distinguished memorial lecture will tackle the subject that has lately gained political traction in India, and the speakers will offer their opinions on whether the necessity for a uniform civil code (UCC) has become "imperative" in the modern day.
According to a national civil code, the UCC mandates that all segments of society, regardless of their gender, sexual orientation, or religion, get equal treatment.
Speaking at the occasion are  Senior Advocate, SC & Rajya Sabha MP Sh. Mahesh Jethmalani, Solicitor General Of India Sh. Tushar Mehta, Hon'ble Governor Of Kerala Sh. Arif Mohammad Khan, Former SC Judge Justice Kurian Joseph (Retd.), ASG, SC & Senior Advocate Smt. Madhavi Goradia Divan, President, AIMIM & Lok Sabha MP Sh. Asaduddin Owaisi, National Vice President, BJP Sh. Baijayant 'Jay' Panda, Former Vice Chancellor, Nalsar University of Law Sh. Faizan Mustafa. Meanwhile, Hon'ble Vice President of India Sh. Jagdeep Dhanka is the chief guest of the evening.
Jagdeep Dhanka started the lecture by reminiscing his good old days with Ram Jethmalani, where they sat at the bench together or even face to face. He stated that he was a genuis, and it is very difficult to find anyone similar in the coming times.
He felt that the subject will make a difference and will be able to take enough home on the subject.
The Vice president of India recognised Mahesh Jethmalani as a vital Human Resource, and is taking the battle successfully from his father. He looks forward to the deliberations and inputs that will be afforded with their talent and it will help society at large.  
Tushar Mehta, the solicitor general of India paid his regards to the Vice President and humbly said that he comes in this series not in the capacity as a solicitor general but as a fan of Ram Jethmalani.
He stated " The subject is the right choice and not a political slogan of a particular party. People must know this is as the manifestation of desire."
He reiterated that "India is a fast developing nation, the world looks up to us as a country which will do wonders. One shouldn't consider the question of uniform civil court as a question of either any religious issue or any other angle."
Arif Khan, Governor of Kerala, stated that he is the personal beneficiary recipient of his love and affection. He will remember Ram Jethmalani firmly. 
He made a reference o a noting on an official file by George Hamilton, a secretary of state for India when the British crown had taken over India after 1857, he said "one hardly knows what to wish for India unity of ideas and actions would be very dangerous politically." 
He stated that the problem is the colonial hangover not able to get rid of. One shouldn't forget that the British stated that the building block of India was community, Britishers never recognised India as a nation but as a conglomeration of community, and social groups.
Retd. Justice Kurian Joseph also joined the lecture and stated that isn't it the hour to address several other concerns of people of the insecurity of their dignity to live as free citizens of the country. 
He mentioned several articles including Article 25, and the Marriage act and how to make it uniform for several sections of Hindus. He reiterated that we should bring reforms to our personal laws, which are in conformity with the constitutional dreams which will sell the constitutional values.
Madhavi Goradia Divan, AGC, SC & Senior Advocate who was a member of the jury for the lecture said that the process of getting a divorce for an Indian man is not tedious but when it comes to Indian women, it becomes both tedious and mentally draining as it also affects the social image of that lady.
President of AIMIM & Lok Sabha MP, Asaduddin Owaisi, was affirmative of the fact that the Uniform Civil Court isn't imperative. And the one who opposes becomes very unpopular for BJP people, all the people who hold RSS ideology.
And adding further on similar lines he quoted Ram Jethmalani, "If defending unpopular results in unpopularity, so be it. 
He stated that he had his differences from Jethmalani but always respected him for his integrity.
He backed his argument on the basis of 3 interconnected grounds,
the historical ground for UCC in the constituent assembly. 
Fundamental rights. 
Difference b/w law in books and law in action. 
He further stated that Ambedkar didn't see UCC as mandatory, he believed it was voluntary, non-religious secular law accessible to anyone and doesn't adhere to any faith. 
He also reiterated that UCC will be a Hindu civil court and all differences to Islamic practices will be treated as illegal or unlawful while all Hindu practices will be protected under law. The best example is the Hindu Undivided Family act.
Baijayant Jay Panda, BJP national VP, said he had the privilege to interact with the late Ram Jethmalani, and he started the lecture by mentioning Section 15 which states that one can't differentiate anyone based on their religion, is the lack of a uniform civil court actually does that it goes against the constitution. 
He mentioned Article 51, which pertains to gender injustice, and how when one is made subject to atavistic laws from the medieval period, it just doesn't apply and works in the modern world.
His idea to the subject light is, that the same law should apply to every citizen which is fundamental to the idea of democracy, especially in all modern democracies.
Faizan Mustafa, Former Vice Chancellor, Nalsar University of Law, mentioned that Aladdin Munshi and Ambedbkar sought to justify Uniform Civil Court provision in terms of national unity and not in terms of women's rights.
"In cases like Shah Banu and Sarla Mudgal where judges came on heavily against the govt for not doing enough in terms of implementing the directive of UCC, I believe they damage the cause," he further added.
He closed his argument by stating that ultimately it is the policy decision and policy decision should come from the govt rather than the court, the reforms should come in small dosage. As it is UCC suffered due to the over-enthusiastic espousal of its crusaders, he's all for the just court. Just courts are way more important than the Uniform court. There is nothing in this world uniform. 
In the Closing statement by Mahesh Jethmalani, he stated " I pin my ideological flag firmly to the masthead of Uniform Civil Court being imperative, briefly the arguments against having emendated from Owaisi, Mustafa, Kurien have shed some light against the argument but that being said it is imperative to have a Uniform Civil Court.
The inaugural installment of the Ram Jethmalani Memorial Lecture Series was held on September 12 on the ITV network and was carried on the group's TV channel NewsX two days before eminent attorney Ram Jethmalani's birthday on September 14, which falls on the 14th. Trial by media served as the discussion's focal point. The event, which was held through video conference and was presided over by Kartikeya Sharma, founder and managing director of iTV, attracted some of India's top legal minds.