SBSP Chief joins BJP-lead NDA government
16 July, 2023 | Priya Rani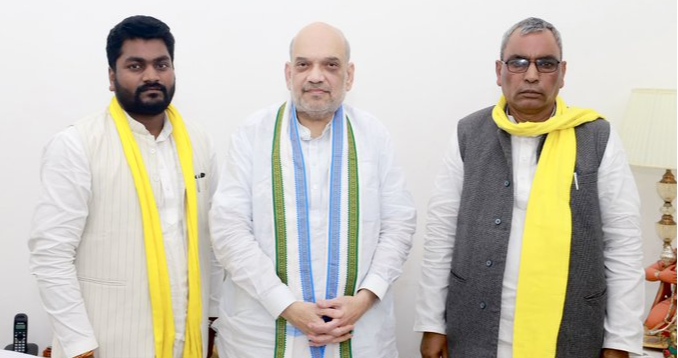 After meeting with Home Minister, SBSP Chief Om Prakash Rajbhar officially joined NDA
Om Prakash Rajbhar, the founder leader of the Suheldev Bharatiya Samaj Party (SBSP), officially joined the BJP-led National Democratic Alliance (NDA) government on Sunday after meeting Union Home Minister Amit Shah in the national capital on July 14.
Following his decision to align with the saffron party ahead of the crucial Lok Sabha elections next year, Rajbhar, who led a two-member delegation to Delhi, expressed his gratitude to Prime Minister Narendra Modi for his inclusive approach towards like-minded parties. He said, "We met Union Home Minister Amit Shah on July 14 and discussed various issues. We have also resolved to contest the 2024 Lok Sabha elections together. I want to thank PM Modi, Home Minister Amit Shah, and Uttar Pradesh Chief Minister Yogi Adityanath for their inclusivity."
Rajbhar further announced in a tweet, "We will be attending the NDA meeting in Delhi on July 18. The ministerial post is not important to me now. There is no competition in Uttar Pradesh."
Amit Shah, welcoming the SBSP into the NDA alliance, stated that Rajbhar's entry would enhance the ruling alliance's strength in the upcoming Lok Sabha elections.
"The inclusion of Rajbhar-ji will strengthen the NDA in Uttar Pradesh. Under the leadership of Prime Minister Narendra Modi, the NDA is consistently striving for the welfare of the poor and marginalized sections of our society," Amit Shah tweeted in Hindi, accompanied by an image of himself with the Suheldev Bharatiya Samaj Party leader.
In another tweet, Shah mentioned, "Met Shri @oprajbharji in Delhi who has decided to join the NDA alliance led by Prime Minister Shri @narendramodi ji."
Rajbhar currently serves as an MLA from the Zahoorabad Assembly constituency in Ghazipur, Uttar Pradesh.
Earlier, on Saturday, Chirag Paswan, the Lok Janshakti Party (Ram Vilas) chief, stated that a final decision on attending the NDA meeting or formally joining the ruling alliance at the Centre ahead of the next Lok Sabha elections would be made after consulting with party leaders and workers.
On Saturday, BJP National President JP Nadda wrote to Hindustani Awam Morcha President Jitan Ram Manjhi, inviting him to the National Democratic Alliance (NDA) meeting scheduled for July 18.
This development follows former Bihar Chief Minister Jitan Ram Manjhi's meeting with Union Home Minister Amit Shah at his residence in New Delhi a few weeks ago, where he announced his decision to return to the NDA.
The upcoming meeting in the national capital will be chaired by Prime Minister Narendra Modi and is being organized to commemorate the completion of 9 years of the central government under his leadership.