Service to poor, marginalised is first yajna for country: Modi
12 February, 2023 | Pragati Singh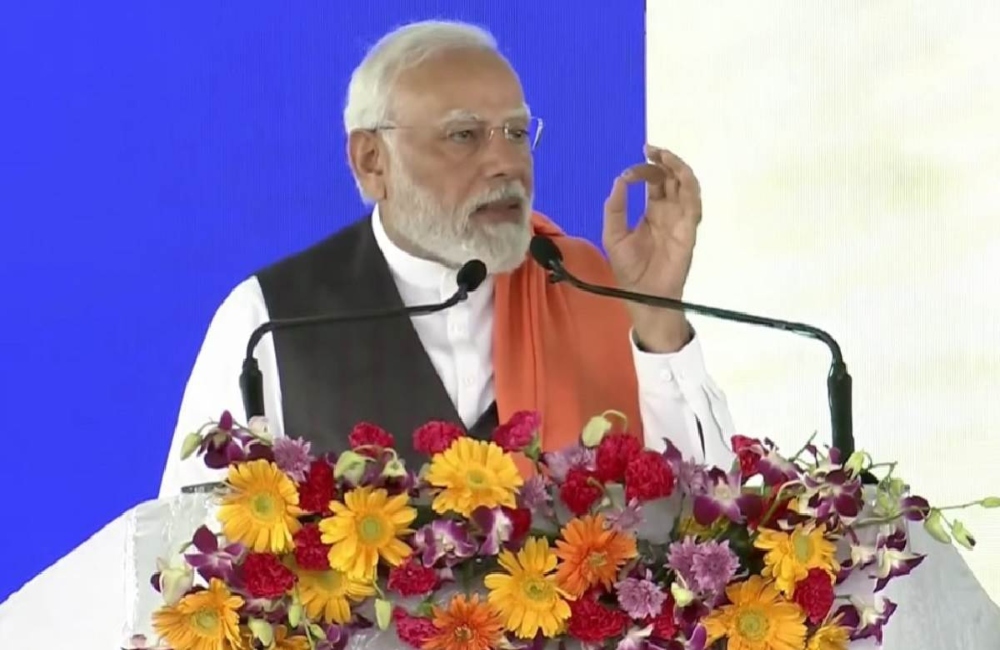 Modi stated on Saturday that service to the poor, backward, and oppressed is the country's first yajna.
Prime Minister Narendra Modi stated on Saturday that service to the poor, backward, and oppressed is the country's first yajna, emphasising the government's commitment to general development and upliftment of the marginalised.
On Sunday, Prime Minister Narendra Modi launched a year-long commemoration of Maharishi Dayanand Saraswati's 200th birth anniversary at Indira Gandhi Indoor Stadium in the national capital. G Kishan Reddy, Arjun Ram Meghwal, and Meenakshi Lekhi, all Union Ministers, were also present.
PM Modi told the crowd at Indira Gandhi Indoor Stadium that Dayanand Saraswati challenged societal prejudice against women and founded the Women's Education Program. According to the Prime Minister, Maharishi Saraswati stood up to these vices roughly 150 years ago.
"We bow to Maharishi Dayanand Saraswati Ji on his 200th Jayanti. He was a beacon of knowledge and spirituality. Today in the 21st century, when the world is engulfed in many controversies, engulfed in violence and instability, then the path shown by Maharishi Dayanand Saraswati ji instills hope in crores of people," he said.
Prime Minister said the country is calling for "pride in our heritage." Maharishi took a holistic, inclusive and integrated approach towards every aspect of the nation and society, he said.
"The seed which was planted by Swami ji, is today giving shade to the entire humanity in the form of a huge banyan tree," he said. The Prime Minister stated that the country is now experiencing the reforms that Dayanand Saraswati prioritised.
"The service of the poor, backward and downtrodden is the first yajna for the country today. Women are now being deployed in Siachen and flying planes like Rafale. Our government removed the prohibition of admission of girls in the Sainik schools," he said.
According to the Prime Minister, policies in the country are determined without discrimination nowadays. He stated that Dayanand Saraswati not only paved his road, but also established several institutions. "He carried revolutionary ideas during his lifetime, lived them and inspired people to live them. He linked every thought with the system," the PM said.
Along with contemporary education, Prime Minister Dayanand Saraswati pushed for an education system shaped in the Indian context via Gurukuls. He emphasised that the country has now reinforced its basis through the new National Education Policy.
According to the Prime Minister, Maharishi Dayanand revitalised societal awareness of the Vedas. He claimed that when Maharishi Dayanand Saraswati was born, the country had lost confidence and deteriorated as a result of decades of enslavement. Dayanand Saraswati, he added, started a forceful campaign against societal ills like as social discrimination and untouchability.
PM Modi said, "Maharishi Dayanand ji also emerged as a logical and effective voice against the stereotypes that had flourished in society regarding women. He fought against discrimination against women and launched a campaign for women's education. Efforts were made to make our history and traditions corrupt. At that very time, the efforts of Maharishi Dayanand ji appeared as Sanjeevani in the society and rejuvenated it."
He stated that Arya Samaj carries the legacy of all Maharishi Dayanand Saraswati's inspirations. Arya Samaj inherited such capability, and as a result, the country has high expectations of every Arya Veer of Arya Samaj, according to the Prime Minister.
On the occasion, PM Modi also did puja and yajna. Maharishi Dayanand Saraswati, born on February 12, 1824, was a social reformer who formed Arya Samaj in 1875 to combat widespread socioeconomic injustices, according to the Prime Minister's Office (PMO). Through its emphasis on social reforms and education, Arya Samaj has played an important part in the country's cultural and social awakening.
The government has made a commitment to honouring social reformers and noteworthy persons, particularly those whose efforts have not yet been recognised on a pan-India scale. From proclaiming Bhagwan Birsa Muda's birth day as Janjatiya Gaurav Diwas to taking part in an event marking Sri Aurobindo's 150th birth anniversary, Prime Minister Modi has been at the forefront of such activities.