Muzaffarnagar Teacher Incites Students to Slap Muslim Classmate in Uttar Pradesh
26 August, 2023 | Akshara Tyagi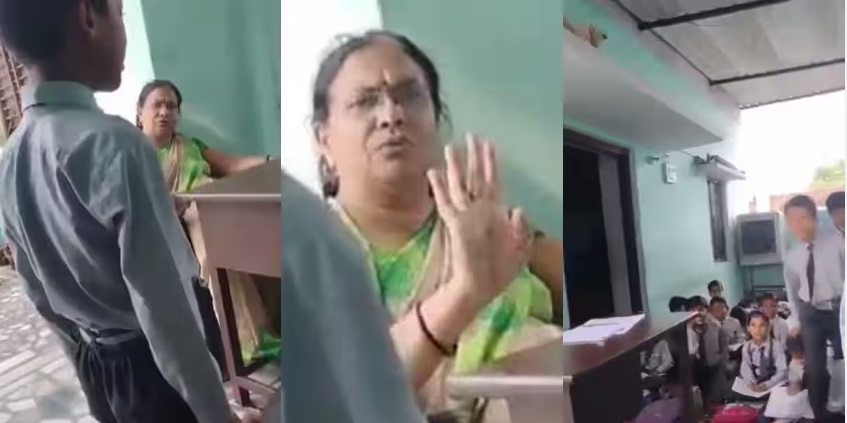 A private school teacher in Uttar Pradesh filmed students physically hitting a Muslim student, causing distress and the teacher watching
In an undated video that has gone viral, a teacher from a private school located in Muzaffarnagar, Uttar Pradesh, can be observed directing students in her class to physically hit a fellow Muslim classmate. The video captures the distressing scene of the children subsequently taking their turns to slap the tearful Muslim student, all while the teacher observes. The circulation of this video on the internet has led to widespread condemnation.
Law enforcement authorities have confirmed their awareness of the video, in which a female teacher is seen instructing the students in her class to assault their fellow classmate.
A video was received at Mansurpur police station today wherein a woman teacher asked the students of a class to beat their classmate for not learning multiplication tables. Some objectionable comments were also there in the video," Superintendent of Police Satyanarayan Prajapat said in a video statement on X, (formerly Twitter) on Friday.
After investigating the video, it was found that the teacher was declaring that those Mohammedan students get spoiled whose mothers don't pay attention to their studies (Jin Mohammedan baccho ki maa unke padhai par dhyan nahi deti hai, unn baccho ki padhai ka naash ho jata hai). The person recording the video also confirms this," the SP said.
The Basic Education Officer has been notified about the incident, and appropriate administrative measures will be initiated against the female teacher involved.
Meanwhile, Congress leader Rahul Gandhi also reacted to the viral video and said, "Sowing the poison of discrimination in the minds of innocent children, turning a holy place like school into a market place of hatred – nothing worse a teacher can do for the country. This is the same kerosene spread by the BJP which has set every corner of India on fire. Children are the future of India – do not hate them, we all have to teach love together."
Priyank Kanoongo, the Chairperson of the National Commission for Protection of Child Rights (NCPCR), has appealed for the video of the child not to be circulated.
Also Read: From Strength to Strength: Adani's strategic initiatives enhance credit profile
Catch all the Latest Business News, Breaking News Events, and Latest News Updates on NewsX