UK Prime Minister Rishi Sunak and His Spouse Arrives in India for G20
8 September, 2023 | Akshara Tyagi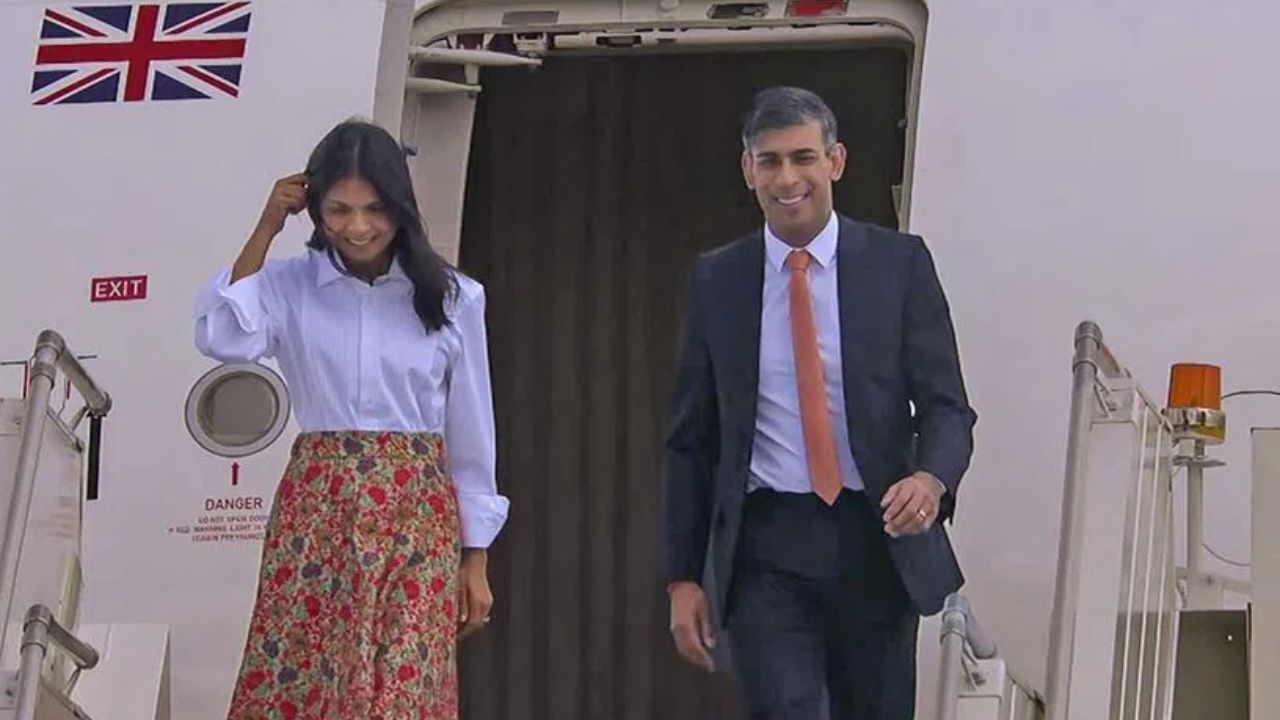 UK Prime Minister Rishi Sunak, along with his wife Akshata Murty, arrived in India on Friday to participate in the G20 Summit
UK Prime Minister Rishi Sunak, along with his wife Akshata Murty, arrived in India on Friday to participate in the G20 Summit scheduled for September 9 and 10. They were warmly received at the airport by Union Minister of State in the Ministry of Consumer Affairs, Food, and Public Distribution, Ashwini Kumar Choubey. To mark their arrival, a group of dancers performed a traditional Indian dance.
This visit to India is significant as it is Rishi Sunak's first trip to the country as Prime Minister since taking office in October of the previous year. Prior to his arrival in Delhi, Sunak expressed his clear agenda for the G20 Summit, which includes priorities such as stabilizing the global economy, strengthening international relations, and providing support to the most vulnerable.
"I'm heading to the #G20 Summit with a clear focus. Stabilising the global economy. Building international relationships. Supporting the most vulnerable. This action is part of that – Putin again has failed to show up for the G20, but we will show up with support for Ukraine," Sunak said in a post on X.
"At the summit, the Prime Minister will stress the importance of those who do choose to attend demonstrating their leadership, both in helping the world's most vulnerable people to deal with the terrible consequences of Putin's war and in addressing wider challenges like climate change and the stability of the global economy," UK Prime Minister's Office said.
Prime Minister Narendra Modi is scheduled to hold a bilateral meeting with Rishi Sunak on September 9 during the G20 Summit, according to sources. The two leaders previously met on the sidelines of the G7 Summit in Hiroshima in May of this year, where they discussed the India-UK free trade agreement, innovation, science, and ways to strengthen the Comprehensive Strategic Partnership between their nations.
Negotiations for the UK-India Free Trade Agreement began in 2022, with the 12th round of talks occurring from August 8 to 31 in a hybrid format. Union Commerce and Industry Minister Piyush Goyal and the UK's Secretary of State for Trade, Kemi Badenoch, reviewed the FTA progress in August, with the 13th round of negotiations scheduled for September. Additionally, Gautam Dev Sood, a relative of Rishi Sunak, expressed his enthusiasm for the UK Prime Minister's visit to India and his desire to meet him.
"We are very happy that he is coming to India. There is a great sense of excitement that we are trying to assemble in Delhi if it is possible to meet him," he told ANI.
When asked about UK PM Sunak's potential visit to Ludhiana, it was stated that there is currently no confirmation. Relatives in Ludhiana are eager and seeking permission to meet him.
The G20 Leader's Summit is set to take place at Bharat Mandapam, with thorough preparations for this inaugural event in India. The G20 includes 19 countries—Argentina, Australia, Brazil, Canada, China, France, Germany, India, Indonesia, Italy, Japan, South Korea, Mexico, Russia, Saudi Arabia, South Africa, Turkey, the UK, and the US—along with the European Union.
G20 members collectively represent over 80% of the world's GDP, 75% of global trade, and 60% of the global population.
India assumed the G20 presidency on December 1 of the preceding year, hosting approximately 200 G20-related meetings across 60 cities nationwide. The 18th G20 Summit will serve as the culmination of a year of ministerial and working group meetings, involving senior officials and civil societies.
The summit will conclude with a G20 Leaders' Declaration, highlighting the commitments made regarding discussed priorities.
Also Read: PM Modi Changes his X Cover Image As Nataraja Statue
Catch all the Latest Business News, Breaking News Events, and Latest News Updates on NewsX