UK PM Rishi Sunak speaks on India hosting G20 Summit, Khalistan Issue, and his Hindu Roots
8 September, 2023 | Gautam Thakral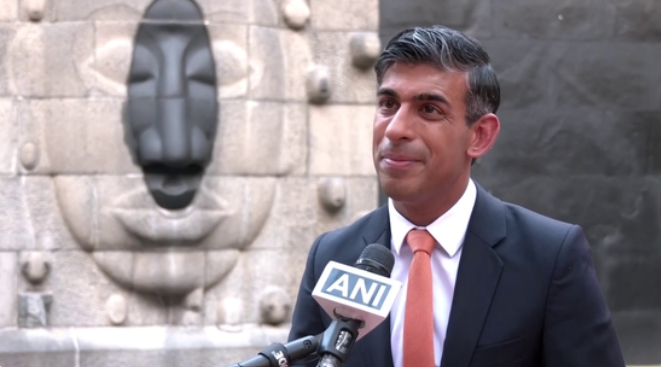 UK PM Rishi Sunak speaks on India hosting G20 Summit, Khalistan Issue, and his Hindu Roots
G20 Summit: UK Prime Minister Rishi Sunak said G20 is an enormous success for India. UK Prime Minister Rishi Sunak on Friday said India is the right country at the right time to host the G20 Summit.
"Feel we will have a very good couple of days of deliberations and decisions made," Sunak told news Agency ANI after arriving in New Delhi for the G20 Summit which begins on Saturday.
"Both Modi ji and I are keen to see a comprehensive and ambitious trade deal concluded between our two countries….Trade deals always take time, they need to work for both countries. Although we have made enormous progress there is still hard work to go", Sunak said on the issue of India-UK trade deal.
'No form of extremism acceptable in UK'
Sunak also spoke on incidents involving pro-Khalistan elements in the United Kingdom. "It's a really important question and let me just say unequivocally that no form of extremism or violence like that is acceptable in the UK. And that's why we are working very closely with the Indian government to particularly tackle 'PKE' Pro-Khalistan Extremism. I don't think it's right", he said.
"Our security Minister recently was just in India talking to his counterparts. We have working groups together to share intelligence and information so that we can root out this kind of violent extremism. It's not right and I won't tolerate it in the UK", Sunak added.
India has expressed concerns over increasing activities by pro-Khalistani extremists in the United Kingdom, especially the attack on the Indian high commission in London in March this year.
'Enormous respect for Modiji'
UK premier Rishi Sunak hailed Prime Minister Narendra Modi, saying the latter has been personally very warm and kind to him.
"And we're working very hard, as I said, on our shared ambition of concluding an ambitious and comprehensive trade deal between India and the UK, because both of us think that would be a good thing and both of us need to make sure it works for our two countries. And at forums like this, I'm very keen to support Prime Minister Modi in making sure that this G20 is an enormous success for India, which I know it will be", he said.
'India rightly cares about international rule of law'
On the issue of India's stand on Russia-Ukraine war, Sunak told ANI,"Well, it's not for me to tell India what positions to take on international issues, but I know India rightly cares about the international rule of law, the UN Charter and respect for territorial integrity. I think those are things that are universal values that we all share. Those are things that I believe, and India, I know, believes in those things too."
'I'm a proud Hindu'
Sunak, the first British PM of Hindu origin, also spoke on Hinduism. "I'm a proud Hindu, and that's how I was raised. That's how I am. Hopefully, I can visit a Mandir while I'm here for the next couple of days. We just had Raksha Bandhan, so from my sister and my cousins, I have all my rakhis, and I didn't have time to celebrate Janmashtami properly the other day", he said.
"But hopefully, I said, I can make up for that if we visit a Mandir this time. But it's something that is important to me. I think faith is something that helps everybody who has faith in their lives, particularly when you have these stressful jobs like I do. Having faith to give you resilience, to give you strength, is important", he added.
'Incredibly special to be back in India'
On his connect to India, Sunak said,"It is personally incredibly special for me to be back in India. It's a country I love dearly, a country where my family are from. But I have come here in this role to represent the UK, to find ways to forge closer links with India and play a part in making sure that India has an incredibly successful G20."
Also Read: G20 Summit 2023 Updates: Will work collectively to ensure world peace, says PM Modi ahead of G20 Summit
Catch all the Latest Business News, Breaking News Events, and Latest News Updates on NewsX