Uncontrollable wildfires in Canada cause anxiety and air quality concerns
9 June, 2023 | Disha Singh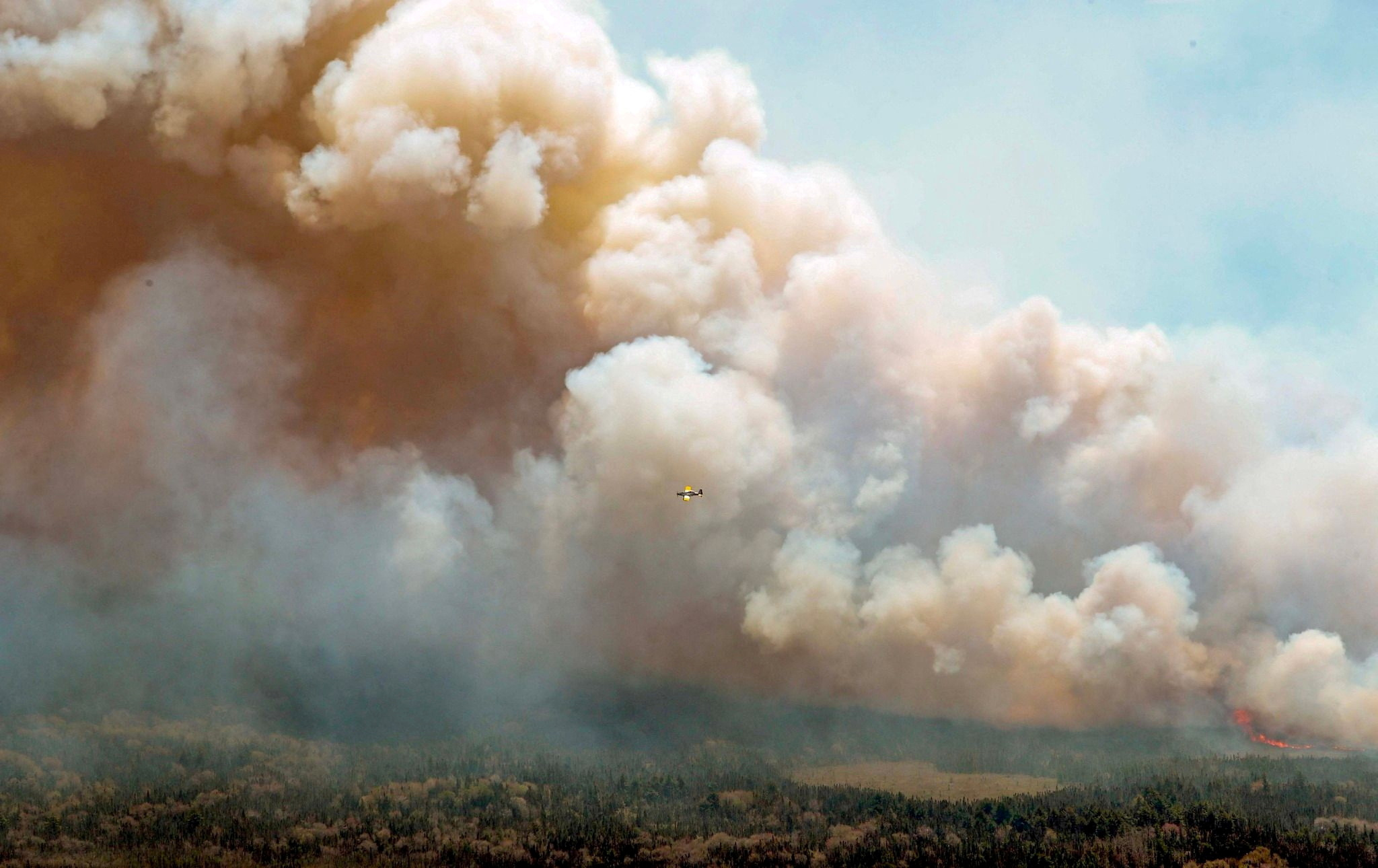 These fires have placed immense pressure on firefighting resources in a vast and decentralized nation where firefighting is managed provincially.
Canada, a country renowned for its scenic landscapes and well-organized systems, is facing significant anxiety due to uncontrollable wildfires. These fires have placed immense pressure on firefighting resources in a vast and decentralized nation where firefighting is managed provincially. This has complicated coordination efforts, particularly as global warming has intensified the wildfire season.
The capital city, Ottawa, experienced a palpable sense of being under siege as a dense haze settled over Parliament Hill and the striking Gothic Revival building that forms part of Canada's Parliament.
Studies on climate reveal that the escalation of larger and more intense fires in Canada can be attributed to heat and drought associated with global warming. As the country boasts the world's largest intact forest ecosystem, drought and high temperatures render trees susceptible to fire while drying out dead vegetation like grass, pine needles, and other combustible materials on the forest floor.
Experts in wildfires discern the tell tale indications of climate change through the dryness, extreme heat, and prolonged fire seasons that have amplified the severity of these fires. The consequences of the wildfires in Canada have taken a toll on human lives, displacing tens of thousands of individuals. The unpredictability brought about by the blazes is so substantial that wildfire authorities in British Columbia have advised local residents to be prepared with evacuation plans and emergency kits.
Prime Minister Justin Trudeau has deployed hundreds of soldiers across the country to assist in firefighting efforts. Mr. Trudeau acknowledged the escalating intensity of extreme weather events and their impact on Canadians, as well as the financial burdens they impose on families, provinces, and the federal budget. "Unfortunately over the past years, we've seen extreme weather events increase in their intensity and their impact on Canadians as well as on their cost to families, to provinces and to the federal budget," Mr. Trudeau said.
Smoke and haze caused by wildfires raging in Canada have spread across the eastern half of the United States, resulting in unhealthy air quality levels in several states. The polluted air, carrying high levels of particulate matter, has posed risks to millions of residents from Indiana to the Mid-Atlantic region. The haze has even obscured the Manhattan skyline.
The cities hit hardest by the phenomenon, such as Buffalo and Binghamton in upstate New York, experienced a dense cover of orange-hued clouds, leading to abnormally cold temperatures. As the situation deteriorated throughout the north-eastern region, the impact was felt. Schools in New York City and Washington, D.C. decided to cancel outdoor activities for the day, New York zoos closed early to ensure the well-being of their animals, and Philadelphia issued warnings advising residents to remain indoors.
The presence of smoke and deteriorating air quality resulted in the cancellation of several cultural and sporting events. This included the cancellation of a Yankees game in the Bronx and a Phillies game in Philadelphia. The smoke infiltrating theatres in New York City caused concern among both audience members and performers, leading to the cancellation of performances for the Broadway production of "Hamilton" and a Free Shakespeare in the Park production of "Hamlet."
Weather patterns have caused the smoke, which came from hundreds of Canadian wildfires, to move southward, hitting New York, areas of New England, the Midwest, and the north-eastern U.S. While the thick smoke in the Northeast is beginning to thin off, a thick haze that stretches all the way to Florida continues to shroud the East Coast. There have been readings above 100 for the air quality index, with certain Mid-Atlantic regions recording over 250 and New York City reaching over 400. Although weather patterns may shift over the approaching weekend, worries concerning air quality are expected to persist in many parts of the country.
Nearly 150 active fires have been reported in Quebec, where the majority of the smoke emanates from. Some of these fires have been burning for days or even weeks. As a result of a storm system off the coast of Nova Scotia, the smoke from these fires has been blown southward into the United States, posing a threat to heavily populated areas. Major fire outbreaks have been less frequent in the United States so far, but longer and more destructive fire seasons have been occurring more frequently in recent years. Officials in Canada are concerned about the hundreds of active fires that are now burning across the nation.
There can be some harmful effects of poor air quality index with the concern of wildfires. During the season of wildfires, the air becomes filled with fine particles consisting of soot, ash, and dust. The Air Quality Index utilizes a measurement called PM 2.5 to monitor this pollution, which assesses the concentration of particles smaller than 2.5 micrometres. Inhalation of these minuscule particles can pose health risks, including an elevated likelihood of heart attacks, cancer, and acute respiratory infections, particularly among children and older individuals.
Research indicates that wildfire smoke might be more detrimental to the lungs compared to regular urban air pollution. This is due to its unique combination of particulates that activate inflammatory cells deep within the lungs while impeding other cells responsible for mitigating the inflammatory response at a later stage. Additionally, during the summer, the amalgamation of smoke pollutants and higher temperatures can lead to increased ozone pollution.
To protect health during the poor air quality conditions, individuals are advised to stay indoors with windows and doors closed. Running air conditioning continuously, using high-efficiency air filters, and employing portable air cleaners can help reduce indoor particulate matter. It is recommended to avoid fried food and engaging in strenuous outdoor activities.
Smoking cigarettes should also be avoided. While exercising outdoors can still be safe up to an air quality index range of 101-150, wearing N95 respirator masks can provide some particle filtration but offers limited protection against harmful gases present in wildfire smoke, such as carbon monoxide. Common face coverings used for COVID-19 protection do not offer significant defence against wildfire pollutants.