Union Minister Anurag Thakur reviews G20 arrangements at ITPO
5 September, 2023 | Srishti Ruchandani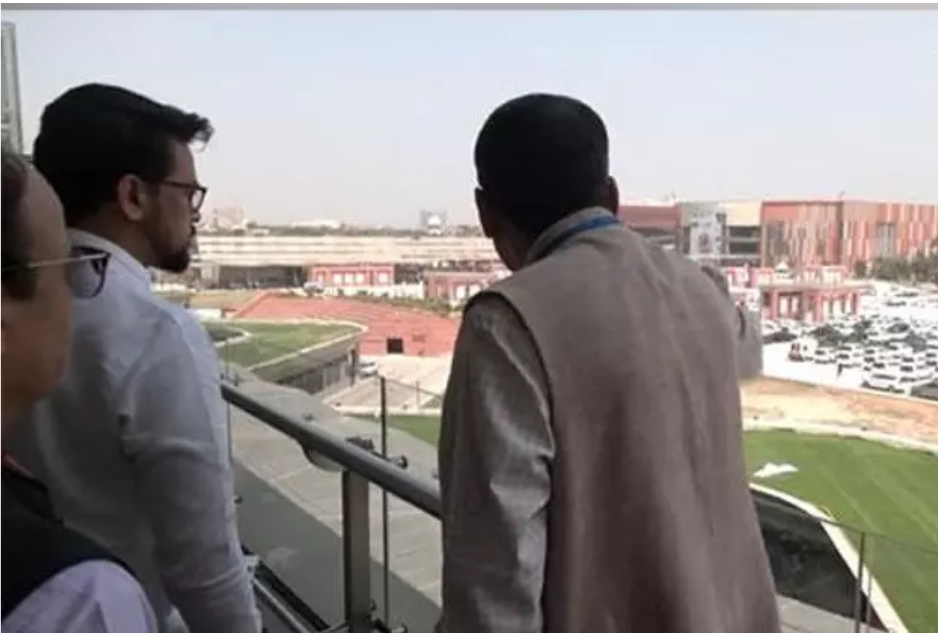 "It is a prestigious moment for India to hold the presidency of the G20. And we have made preparations around the theme of Vasudhaiva Kutumbakam" said Union Minister Anurag Thakur
As preparation for the G20 Summit is gearing up in the national capital, Union Information and Broadcast Minister Anurag Thakur inspected the International Media Centre at the India Trade Promotion Organisation (ITPO) complex on Tuesday. During the review process, Anurag Thakur spoke to ANI and explained the security arrangements and other preparations that are underway for the global event. He said hosting the G20 is a prestigious moment for India."Thousands of international delegates will participate in more than 200 meetings in 60 cities. UHD and 4K cameras are installed at 78 locations in Delhi. Drone cameras are there. 3000 applications have been received from the media and all over the world. Workstations have been built with Wi-Fi and broadband facilities. For emergencies, from first aid to ambulance, every facility is here… RBI has put up an exhibition on digital payments," he said, adding, "It is a prestigious moment for India to hold the presidency of the G20. And we have made preparations around the theme of Vasudhaiva Kutumbakam".

Speaking about India's digital advancement, he said, "It is an international attraction how India has progressed in digital payments. People from other countries say that they have never seen so many meetings at so many venues. This is bigger than Sydney's Opera House. India is a country that has rich art, culture, and values, but we also have new technology and facilities," he added.

Meanwhile, Defence Minister Rajnath Singh said on Tuesday that it is a matter of pride for our nation that the G20 is being held in India. The G20 is a matter of pride for the country. Not just the country but the world is looking at the summit," he told ANI.

Preparation is in full swing in Delhi for the G20 event. From government agencies and civic bodies to security establishments, no stone is being left unturned to make this global event a historic success. Each corner of the national capital is being turned into an art piece by beautiful decorations, graffiti, statues, and fountains. Also, special arrangements are being made at the airports for the delegates.

For the convenience of the foreign guests, many domestic flights are expected to be canceled between September 8 and 10. Apart from the decorations, massive security arrangements have also been made, and several mock drills have been held to ensure tight security.

The Group of Twenty (G20) is the premier forum for international economic cooperation. The event will play an important role in discussing economic reforms and other related issues with the member nations. India held the presidency of the G20 on December 1, 2022, and will continue to work as president till November 30, 2023.