US and Australia Join Forces with India to Safeguard Security and Stability in the Indo-Pacific
29 July, 2023 | Don Tomslee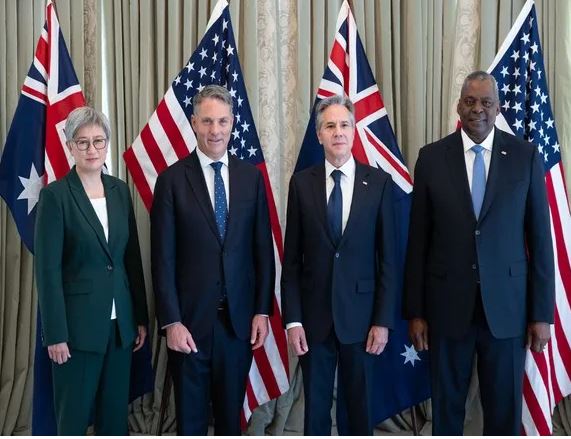 Two nations agreed to deploy a US Coast Guard Cutter to the Pacific in early 2024 to enhance maritime domain awareness
US and Australia have joined hands with India, Japan, Indonesia, the Philippines, and Korea to enhance security and stability in the Indo-Pacific region. This collaboration was reaffirmed during the 33rd Australia-US Ministerial Consultations (AUSMIN), where officials from both countries gathered in Brisbane. The US delegation, led by Secretary of Defense Lloyd J. Austin and Secretary of State Antony Blinken, met with the Australian delegation, including Deputy Prime Minister Richard Marles and Minister of Foreign Affairs and Trade Penny Wong.
During the consultations, both countries reiterated their commitment to strengthening interoperability with Pacific militaries through various joint exercises. They welcomed the participation of Fiji, Indonesia, Papua New Guinea, and Tonga in Exercise TALISMAN SABRE 2023 for the first time, and India, Singapore, Thailand, and the Philippines as inaugural observers.
Progress made under the AUKUS partnership
One of the significant developments discussed during the AUSMIN was the progress made under the AUKUS partnership, a trilateral security pact between Australia, the United Kingdom, and the United States. This partnership aims to provide Australia with a conventionally armed, nuclear-powered submarine capability and develop advanced capabilities to maintain stability and security in the Indo-Pacific region.
Australia is set to acquire three Virginia-class nuclear-powered attack submarines from the USA, with the option to obtain two more if needed. The SSN-AUKUS submarine design will be primarily based on a British SSN model, incorporating some American technology. The UK and Australia will both have access to these submarines, with the UK starting production slightly earlier than Australia, which is new to such sophisticated shipbuilding.
Australia's acquisition of nuclear-powered submarines marks it as the seventh country in the world to operate such vessels. However, it is essential to note that these submarines will not carry ballistic missiles armed with nuclear warheads. They are not ballistic missile submarines (SSBNs), which are exclusive to only a few nations.
During the consultations, the US and Australia emphasized transparency in their capability development and encouraged others to adopt a similar approach.
Furthermore, the two nations agreed to deploy a US Coast Guard Cutter to the Pacific in early 2024 to enhance maritime domain awareness and training in the region, focusing on maritime security concerns, including illegal, unreported, and unregulated (IUU) fishing.
The discussions emphasized the unbreakable alliance between the United States and Australia, which continues to be rooted in shared values and a common commitment to preserving stability, prosperity, and peace.
The strategic collaboration between the US and Australia encompasses various key priorities, including force posture cooperation efforts, more regular and extended visits of US submarines to Australia, and maximizing the strategic and technological advantage of the alliance during a time of heightened strategic competition. They also committed to collaborating on critical technologies and innovation to maintain their asymmetrical capability edge.
Both countries uphold a global order based on international law, with respect for sovereignty and territorial integrity. They aim to strengthen their mutual alliances, partnerships, and trilateral and multilateral security arrangements to bolster regional security and cooperation.
The 33rd Australia-US Ministerial Consultations mark a significant milestone in the ongoing commitment to regional security and collaboration among like-minded nations in the Indo-Pacific region.