US Treasury Chief Yellen to Visit India for G20 Leaders Summit
1 September, 2023 | Akshara Tyagi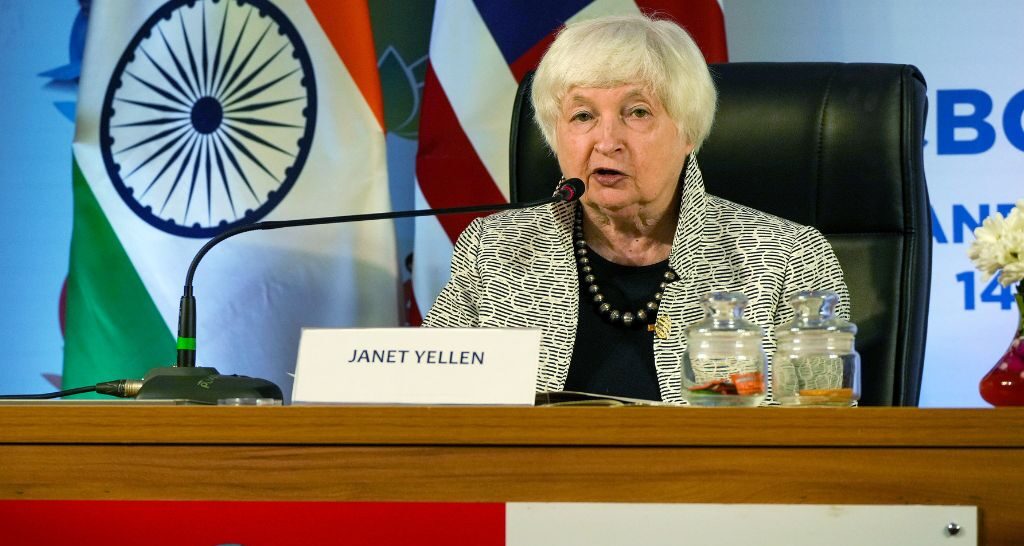 US Treasury Secretary Janet Yellen to attend G20 Leaders' Summit in New Delhi.
Janet L. Yellen, the US Treasury Secretary, is set to take part in the G20 Leaders Summit held in New Delhi from September 7 to September 10, as confirmed by the White House. During her fourth visit to India in less than a year, Secretary Yellen's primary objectives will be to enhance the worldwide economy and provide assistance to low and middle-income nations.
This will be achieved through advancing the evolution of Multilateral Development Banks (MDB), facilitating debt restructuring, and supporting the IMF's Poverty Reduction and Growth Trust (PRGT).
"Secretary Yellen will continue to build momentum for the collective effort that she helped launched last October to evolve the multilateral development banks so the MDBs have the right vision, incentives, operational models and financing capacity to address critical global priorities like combatting climate change, addressing pandemics and global health security, and tackling fragility and conflict," the WH said in a release on Thursday.
According to official statements, the Treasury anticipates that the Multilateral Development Banks (MDBs) have the potential to generate approximately USD 200 billion within the next ten years through ongoing measures and discussions. This projection takes into account the actions already in progress or being considered as part of this initiative.
Additionally, the potential for greater financial impact exists if MDBs adopt certain more intricate recommendations outlined in the G20 Capital Adequacy Framework report. These recommendations encompass aspects such as callable capital.
While in New Delhi, Secretary Yellen will continue to rally "America's partners to maintain our collective economic support for Ukraine, including through contributions from across our coalition." She will also highlight the importance of imposing severe costs on Russia and mitigating global spillovers, the release said.
"Secretary Yellen and our partners will work to address the consequences of Russia's unprovoked war to global growth and poverty reduction, including through the price cap,
which has been achieving its dual goals of reducing Russian revenue while keeping global energy prices stable, as well as efforts to strengthen global food security through the MDBs, leveraging multilateral tools such as the Global Agriculture and Food Security Program (GAFSP), and working towards a successful replenishment of the International Fund for Agricultural Development (IFAD)," the White House release said.
Secretary Yellen will also participate in engagements on the margins of the G20 and will hold bilateral meetings with counterparts. "Additionally, she will join the President for several of his engagements on the margins of the meetings," the release added.
Also Read: Zurich Diamond League: Neeraj Chopra secures second position in men's javelin throw
Catch all the Latest Business News, Breaking News Events, and Latest News Updates on NewsX