US Defence Secy Austin concludes India visit, meets Rajnath Singh, NSA Doval
5 June, 2023 | Srishti Ruchandani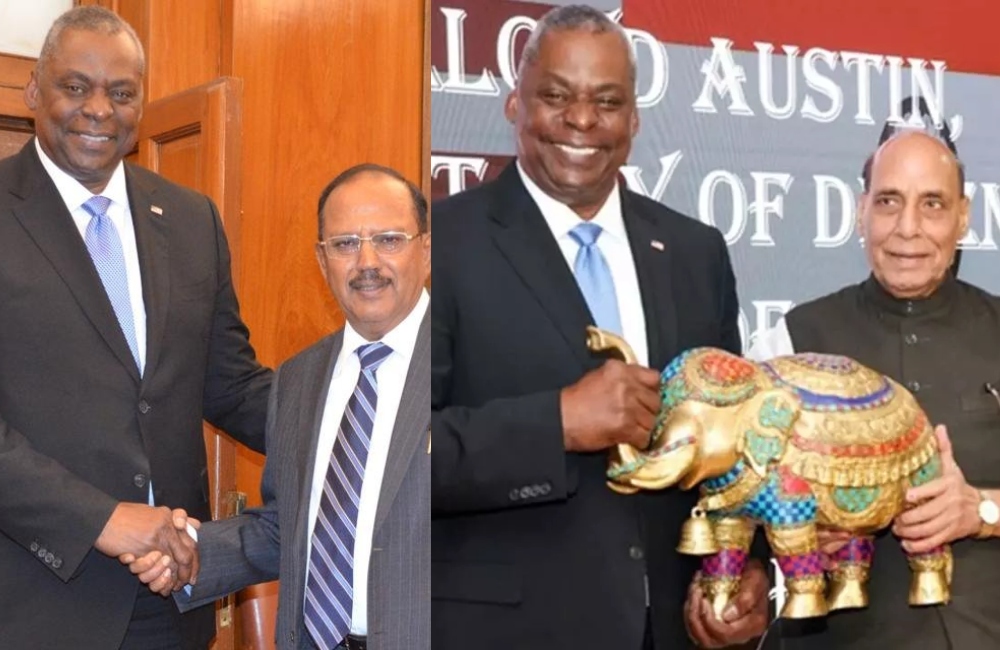 US Defence Secy Austin concluded 2 day India visit from June 4, to reinforce the major defence partnership & advance cooperation in critical domains.
US Secretary of Defence Lloyd Austin held a bilateral meeting with Defence Minister Rajnath Singh and NSA Ajit Doval on Monday in New Delhi. During his meetings, the Secretary and his counterparts exchanged perspectives on a range of regional security issues and committed to collaborating closely with India in support of our shared vision for a free and open Indo-Pacific.
Rajnath Singh and Lloyd Austin concluded a roadmap for 'Defence Industrial Cooperation' which will fast-track technology cooperation and co-production in areas such as air combat and land mobility systems; intelligence, surveillance, and reconnaissance; munitions; and the undersea domain. This initiative aims to change the paradigm for cooperation between U.S. and Indian defence sectors, including a set of specific proposals that could provide India access to cutting-edge technologies and support India's defence modernization plans.
"The two Ministers explored ways of building resilient supply chains. Both sides will identify opportunities for the co-development of new technologies and co-production of existing & new systems and facilitate increased collaboration between defence start-up ecosystems of the two countries. Towards these objectives, they concluded a roadmap for US-India Defence Industrial Cooperation which shall guide the policy direction for the next few years," a Defence Ministry statement said. "The two sides discussed a substantial range of bilateral defence cooperation issues, with particular focus on identifying ways to strengthen industrial cooperation," it said .
The two leaders welcomed the inaugural talks held recently focusing on Defence Artificial Intelligence and Defence Space. They praised the recent launch of a new Advanced Domains Defense Dialogue and committed to expanding the scope of bilateral defence cooperation to encompass all domains. They also welcomed the establishment of the India-U.S. Defense Acceleration Ecosystem (INDUS-X), a new initiative to advance cutting-edge technology cooperation.
In his meeting with National Security Advisor Doval, the Secretary exchanged views about regional and global security issues of concern, including maritime security in the Indian Ocean Region. The Secretary welcomed Mr Doval's perspective about shared security interests and objectives, including his ideas for greater maritime collaboration.
Another point of discussion between them was the greater transfer of technology, to India from the USA, co-production, and building indigenous capacities between the two countries in line with India's Make in India and Aatmanirbhar Bharat initiatives.
The two leaders have also decided to ensure that countries in different regions viz Middle East, South Asia, South East Asia, and Indo-Pacific retain their freedom of action in line with their national priorities and are not coerced into making poor choices.
In all of his engagements, the Secretary underscored the centrality of the U.S.-India partnership to maintaining peace and security in the Indo-Pacific region.