US: Wildfire in Huntsville, Texas Prompts Evacuations
2 September, 2023 | Akshara Tyagi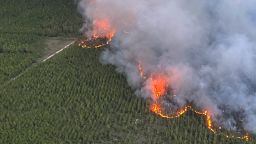 Wildfire in Huntsville prompts evacuations amid high temperatures and Labor Day weekend.
A significant wildfire in Huntsville, Texas, US led to evacuations in certain parts of the city, according to a CNN report. Weather experts anticipate continued high temperatures over the Labor Day weekend. The fire, named the "Game Preserve Fire" and covering an estimated 500 acres, is currently 0 percent contained, as reported by the Texas A&M Forest Service.
Aircraft are being utilized to drop water and aid in firefighting efforts, as confirmed by the Walker County Office of Emergency Management.
Stephanie Harris, the communications supervisor for Walker County, informed CNN that the county's emergency management office has recommended evacuations for those within a three-mile radius of Lost Indian Camp Road, with a substantial area northwest of Huntsville being evacuated.
Huntsville, which serves as the county seat of Walker County, is situated to the north of Houston, Texas.
On July 21, Walker County imposed a burn ban to prohibit outdoor burning. On Thursday night, the emergency management office highlighted that dry conditions had created critical fire weather conditions.
Governor Greg Abbott announced on Friday that he had directed the Texas A&M Forest Service to activate an air tanker base in Austin to assist in wildfire suppression efforts statewide, in anticipation of the Labor Day weekend. Large portions of the southern United States, including Texas and Louisiana, have experienced severe heat and drought conditions this summer, creating an environment conducive to wildfires.
The air tanker base, stationed at Austin-Bergstrom International Airport, is equipped to handle all air tankers from the national fleet, the governor's office said.
"Additional resources through this air tanker base will provide even greater support to state and local officials as they swiftly respond," the governor said in a news release. "With triple-digit heat forecasted for this Labor Day weekend, I urge Texans to remain weather-aware and limit any activities that may cause sparks or flames that could lead to accidental fires."
In June, Texas endured a severe heat wave with triple-digit temperatures. Additionally, a wildfire in Austin persisted for more than two days, resulting in the destruction of at least one apartment building in early August, as reported by CNN.
Also Read: Rajasthan Police Vow Firm Measures Against Accused in Naked Woman Case
Catch all the Latest Business News, Breaking News Events, and Latest News Updates on NewsX