Indian Communities Continue to Be the Building Block of India-Kuwait Relations: MOS, V Muraleedharan
24 August, 2023 | Anamika Singh Parihar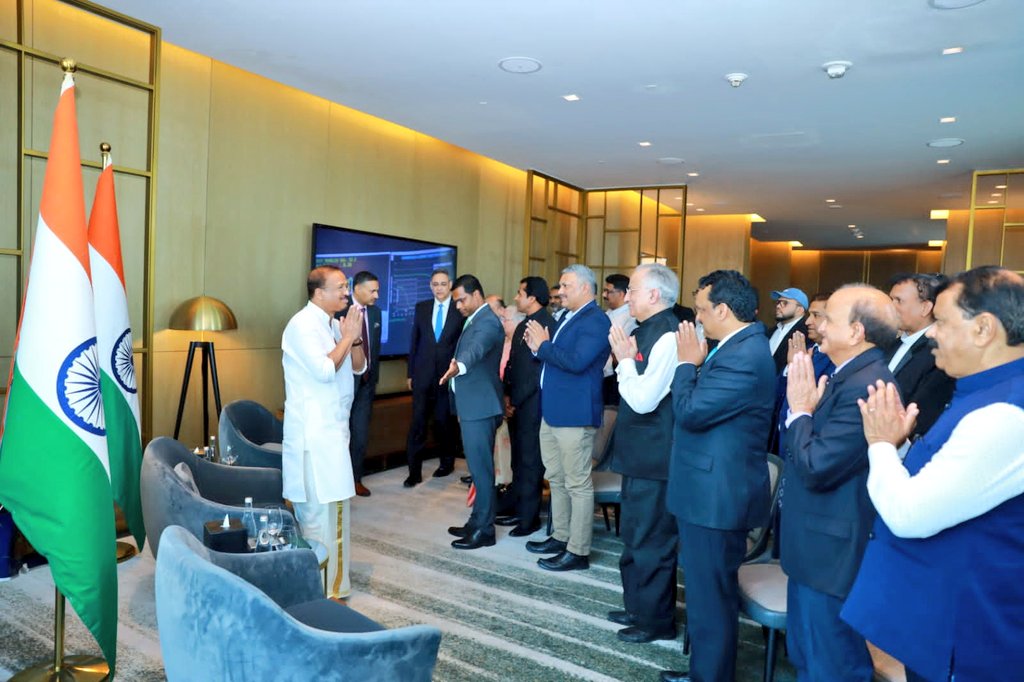 V Muraleedharan emphasizes Indian community's role in fostering relationship between New Delhi and Kuwait
Minister of State for External Affairs, V Muraleedharan, engaged with the Indian community in Kuwait, emphasizing their role as fundamental components in fostering the relationship between New Delhi and Kuwait City. During his visit on August 23, Muraleedharan also had the opportunity to observe cultural presentations at the reception event.
Muraleedharan said in his post on X (formerly known as Twitter), "A pleasure to be amidst the vibrant Indian community in Kuwait and interact with them at a reception hosted by @indembkwt The Indian community continues to be the building block of India-Kuwait relations."
Commencing his journey, Muraleedharan paid respects to Mahatma Gandhi's statue located within the premises of the Indian Embassy in Kuwait.
Over the course of his two-day trip, the Minister of State engaged with the Indian Nurses Federation of Kuwait. "Had a good interaction with representatives of the Indian Nurses Federation of Kuwait (INFOK) in Kuwait City. They make important contributions by strengthening the support system for Indian nurses in Kuwait. Appreciate their work," Muraleedharan said in his post on X.
On August 23, Muraleedharan participated in a virtual event from Kuwait, joining billions of individuals in witnessing the significant achievement of the Chandrayaan-3's successful gentle touchdown on the Moon's southern polar area.
"History is scripted! Thrilled to witness, along with representatives of Indian Community in Kuwait, successful landing of #Chandrayaan3 on the Moon. Kudos to @isro for this historic achievement by becoming the first to land a spacecraft on the south pole of the moon," Muraleedharan said on X.
On that same day, he also had meetings with representatives from professional organizations encompassing doctors, engineers, and school principals based in Kuwait. Sharing his thoughts in a post on X, he expressed his contentment in receiving their affirmative feedback regarding the unwavering support provided by the Indian government for the welfare and prosperity of the Indian community residing in Kuwait.
The historical relationship between India and Kuwait has been characterized by a strong and close bilateral connection, nurtured by continuous cultural and civilizational ties. Kuwait hosts a population of approximately one million Indians. India stands as one of Kuwait's largest trading partners, with the Gulf nation being a significant oil supplier. In the previous fiscal year, bilateral trade between the two countries reached an unprecedented value of USD 13.8 billion.
Also Read: Congress Leader Jairam Ramesh's Response After the ISRO Lander's Success at the Lunar South Pole: "India's space journey began"
Catch all the Latest Business News, Breaking News Events, and Latest News Updates on NewsX)