NewsX A List: CEO Vijay Venkatesh Chronicles the Journey of Launching New Venture Amidst Pandemic Challenges, Embracing Opportunities
5 August, 2023 | Anupam Shrivastava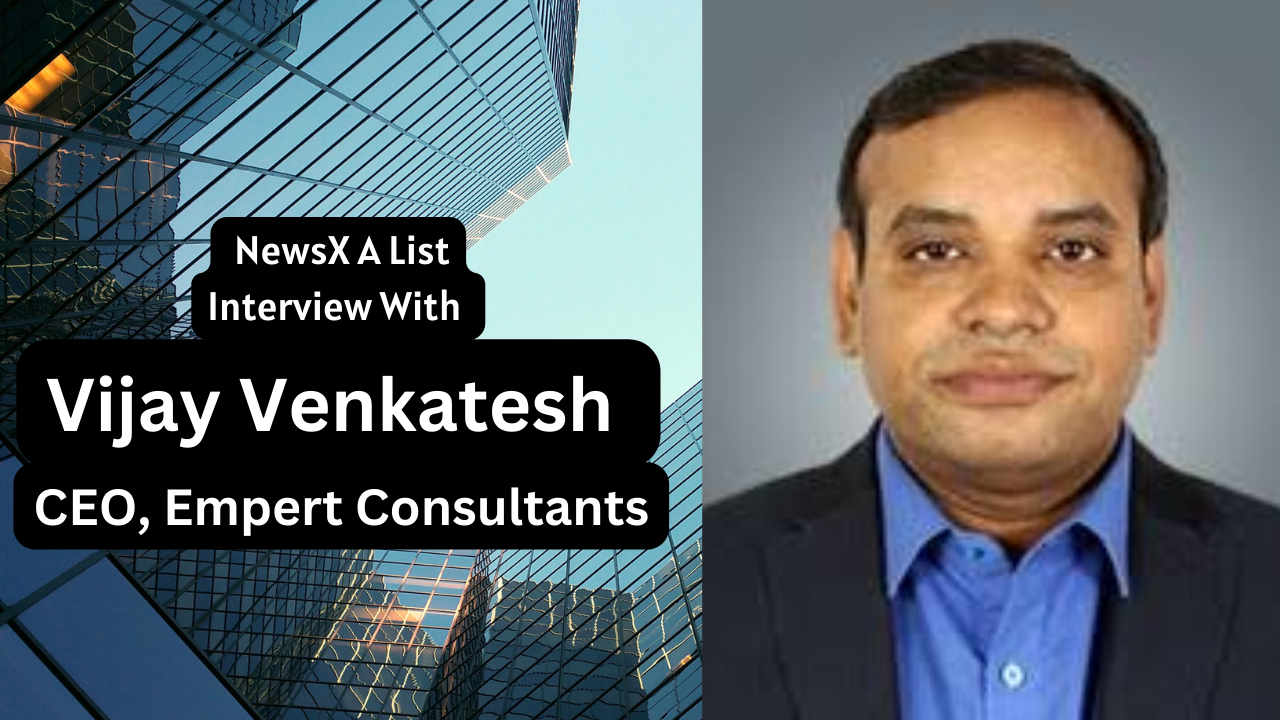 With 17 years of experience in executive workspaces, CEO Vijay Venkatesh decided to take the plunge and start their own organization as decision to launch during the pandemic seemed fitting.
In this NewsX A List Interview, we are joined by Vijay Venkatesh, CEO of Empert Consultants, an Executive Recruitment firm specializing in Leadership Hiring, Niche & Turnkey Hiring, Startup Hiring, and Career Services. With 17+ years of experience in executive search, Vijay has led C-suite and Board level searches for various industries, including Startup & VC firms, and filled over 100+ CXO positions. Prior to Empert Consultants, he worked with leading search firms and global corporations across India, APAC, and the Middle East, serving as SVP & Head of Executive Search with The Headhunters India, focusing on Search Strategy and Delivery. Join us as we explore the insights of this accomplished professional in the world of executive recruitment.
Amidst the challenges brought on by the pandemic, Empert Consultants, Vijay Venkatesh decided to take the plunge and start their own organization in June 2020. With 17 years of experience in executive workspaces and entrepreneurial goals, the decision to launch during the pandemic seemed fitting. The entrepreneur noticed that certain industries were still hiring, such as IT infrastructure, remote infrastructure, and manufacturing, which played a crucial role in their determination.
Reflecting on their experience, Vijay Venkatesh emphasized the importance of having a strong network and working with promoters from various industries. Throughout their journey, the organization encountered both ups and downs but managed to secure support even during tough times, like the 2008 recession.
In 2023, certain sectors were showing significant hiring activity. Manufacturing, both multinational corporations and Indian organizations, were actively recruiting, along with real estate, BFSI (Banking, Financial Services, and Insurance), and other fields boosted by government infrastructure spending and logistics policies.
For those considering a career shift, the entrepreneur advised caution and careful planning. Mid-career crises could be mitigated by seeking guidance from career consultants and exploring hiring opportunities in industries like procurement, execution, banking sales, wealth management, and transactions.
Addressing those interested in starting their own ventures, Vijay Venkatesh stressed the value of creating a business with a long-term vision rather than solely focusing on valuation or immediate funding. Starting small and aiming for value creation were deemed essential components of their entrepreneurial journey.
When it comes to new sectors to explore, the Vijay highlighted the potential of semiconductors. Recognizing the global semiconductor shortage, they predicted a boom in the industry over the next 5-6 years. Youngsters looking to build their careers should consider shifting their focus to semiconductors and related fields like electronics manufacturing, as these industries are expected to thrive in the coming years.
Also Read: NewsX A List: How a Banker Became a Designer to the Stars