The event by comedian Vir Das, which was supposed to take place on Thursday night in Bengaluru, was abruptly postponed due to objections by a right-wing group.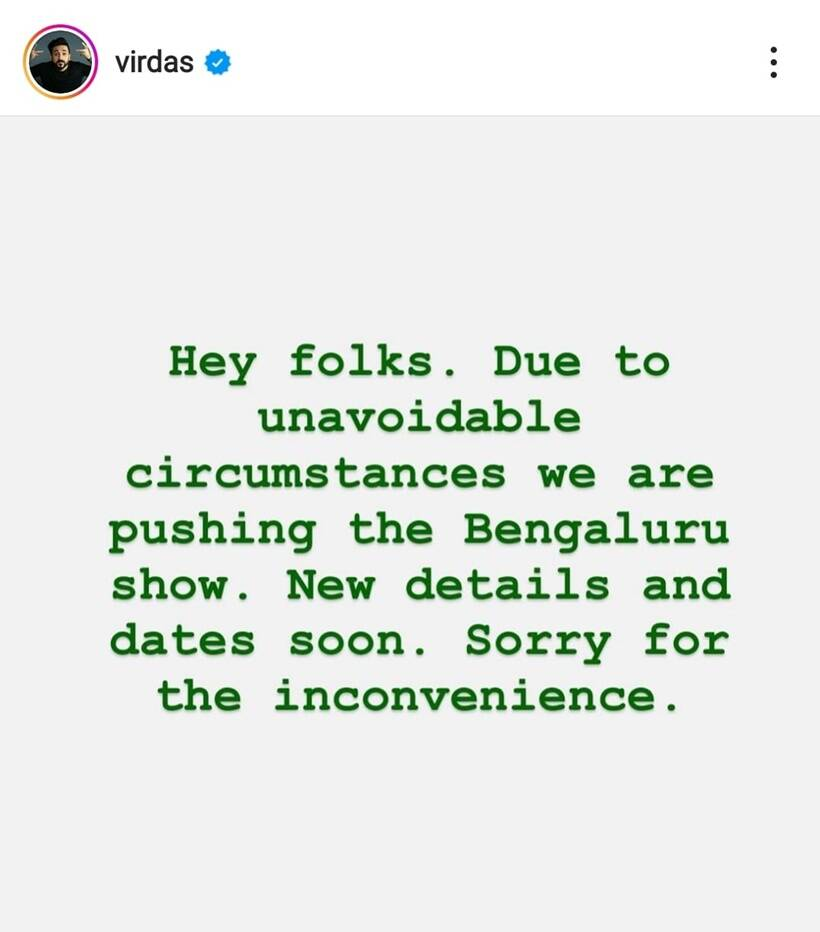 He said in an Instagram post that the event was pushed due to unforeseen circumstances. "Hello, everyone. We are rescheduling the Bengaluru concert due to unforeseen circumstances. New information and dates will be released soon. "I apologise for the inconvenience," he remarked.
Earlier this week, the right-wing Hindu Janajagruthi Vedike petitioned the police to revoke Das' permit to perform the event. The group claimed that Das's presentation would offend Hindu religious feelings.
Mohan Gowda, the outfit's state spokesperson, urged that "(sic) this programme be discontinued immediately" in a letter sent to the Vyalikaval police station.
According to the petition, the comedian made insulting statements against women, Prime Minister Narendra Modi, and India during a performance at the John F. Kennedy Center in Washington, DC, which "denigrated the nation."
The group took issue with a passage in Vir Das's Washington concert in which he claimed, "In India, we revere women during the day and rape them at night."
The performance was set to begin at 5.30 p.m. at the Chowdaiah Memorial Hall in Malleswaram. According to the news agency, the event's organiser, YOSN Innovation, said in a statement that the event has been cancelled.
"The stand-up comedy show of Vir Das, which was set on November 11, 2022 at the Chowdaiah Memorial Hall, stands cancelled due to unforeseen circumstances," YOSN Innovation wrote in a letter to the Chowdaiah Memorial Hall management.